Industry News
The 2021 Two-Factor Evaluation Guide Is Here!
When it is time to evaluate 2FA (two-factor authentication) providers there are some key questions to ask your vendors to determine which solution is best for your needs.
Two-factor authentication (2FA) is the simplest, most effective way to make sure users really are who they say they are. But, not every two-factor solution is the same. Some vendors only provide the bare minimum needed to meet compliance requirements – and some carry lots of hidden costs for deployment, operation and maintenance. Plus, many traditional solutions are clunky, error-prone and require extensive user training and support – costing your employees time and productivity. How can you tell which solution is the right one for you?
We have created this easy to follow Two-Factor Authentication Evaluation Guide – updated for 2021 – to help you navigate the pros and cons of choosing the right solution for your company. 
In this guide we evaluate:
Security - Does your solution reduce risks, and can it provide visibility into your environment?

Strategic Business Initiatives - Does your solution support cloud, mobile and BYOD initiatives? And can it fulfill compliance?

Total Cost of Ownership (TCO) - Does your solution provide more upfront value, or more hidden costs?

Resources Required - What kind of resources will it take to deploy and provision your users?
Learn which key questions to ask before deciding on a 2FA solution. 
In our refreshed Two-Factor Authentication Evaluation Guide you'll also get:
An overview of the hidden costs of some two-factor solutions and how to determine your return on investment (ROI)

What to look for to ensure your solution can protect against the risk of a data breach

A list of resources needed to deploy, provision and integrate your solution

An overview of the different strategic business initiatives, and how your solution fits into them

An overview of how to use a comprehensive set of criteria to customize your evaluation to your organization's needs
When you are ready to find the right 2FA solution for your company, be sure to read this guide to gain clarity and understanding into how to evaluate solutions against your needs. Read our free Two-Factor Authentication Evaluation Guide today.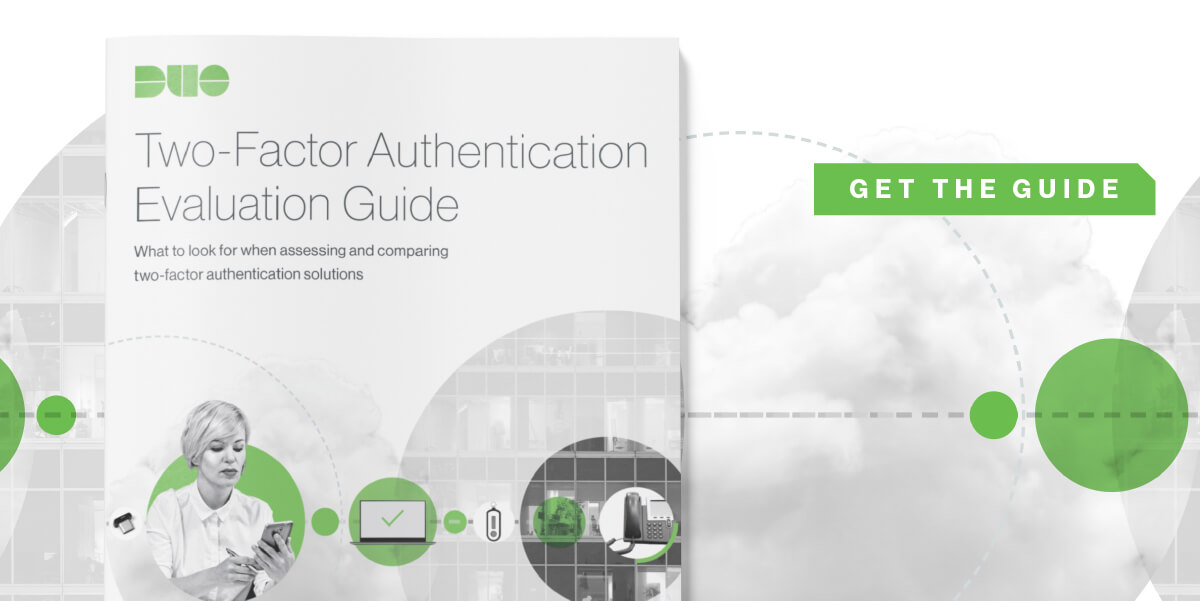 Try Duo For Free

See how easy it is to get started with Duo and secure your workforce, from anywhere and on any device with our free 30-day trial.