Industry News
The Long and Winding Road: Why Duo Values Nontraditional Backgrounds
There is a tradition at Duo that every new employee, down to the newest intern, must give a three- to five-minute presentation introducing themselves to their team. There is even a slide deck of past examples. When it became my turn to present my biography to the Product Design team as their new intern, I copied those examples almost to the T: a slide on my hometown, a few slides for hobbies and interests, and of course, a slide on how I came to Duo in the first place. 
Non-Traditional Backgrounds Welcome
My path to Duo is one of detours and backroads, but on the surface-level (what I would call the "resume-level") my background is clear: I studied creative writing; I taught English composition as an adjunct professor; and I am getting my MSI (Master of Science in Information) specializing in user experience research and design. Mine is a background that has confounded classmates and recruiters alike, nontraditional in its leaps across fields and of logic.
When I applied to Duo's internship program, a few months into switching careers and starting graduate school, I had already come to anticipate one of two responses from recruiters: polite confusion, or outright silence. Imagine my surprise when I received a response not only immediately, but enthusiastically, especially regarding those very experiences that didn't fit into a neat box. 
I'm no longer surprised. Having spent a summer at Duo, absorbing its learner's mindset, and its culture of privileging how one acts over what one knows. More to the point, when I presented my slide on my swervy road to Duo, I quickly found that I was not the only one with a nontraditional background. I met former teachers, journalists, and radio DJs. I talked to a program manager who'd spent years studying trees, a psychology major turned software engineer, and a designer who'd once worked in an immunology lab (with a white coat and everything).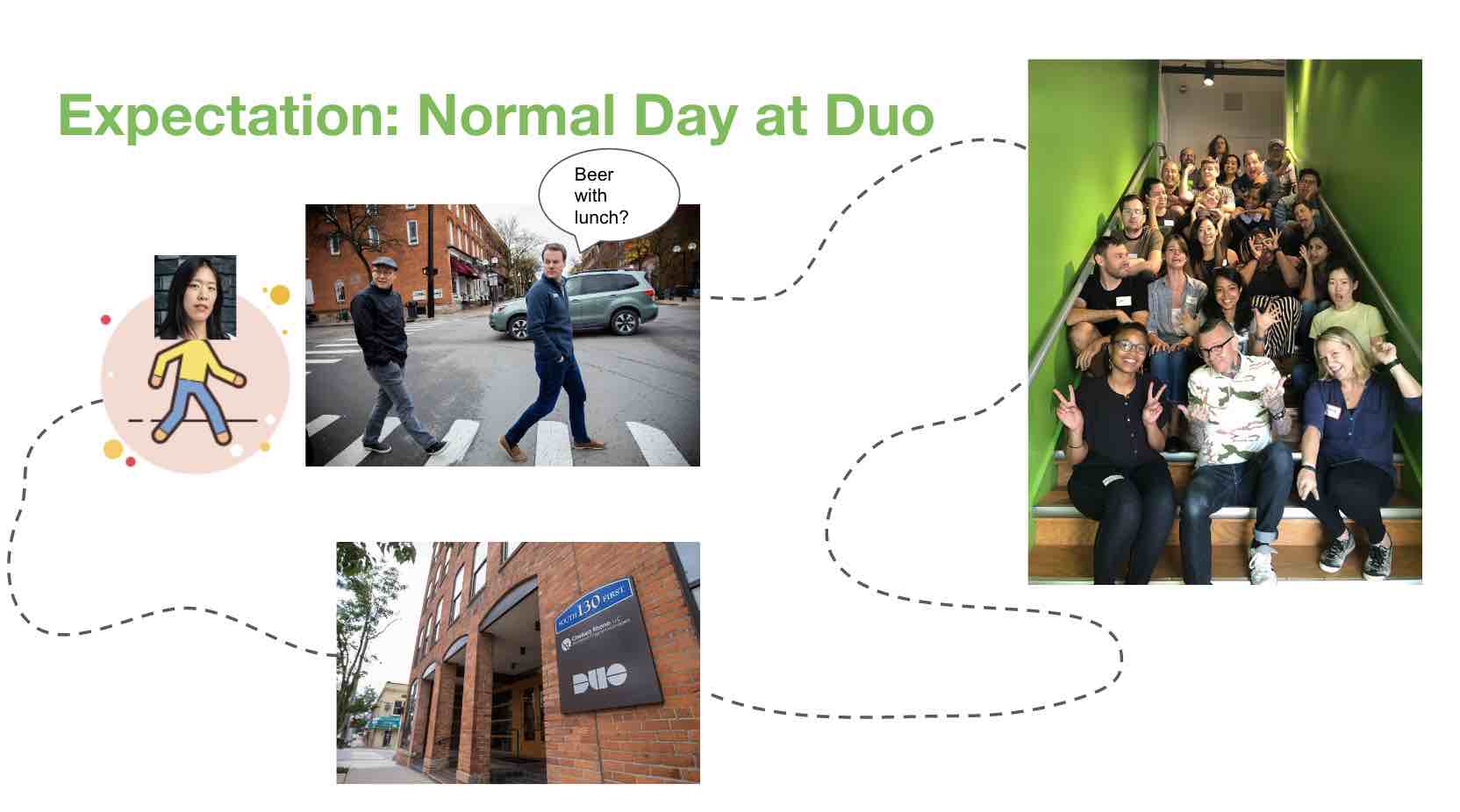 Most importantly I discovered that, like me, these Duonauts have found not only ready acceptance for their special skill sets, but also ways of paying this acceptance forward, seeding opportunities for future employees and building from within a company that is as creative and nontraditional as the people they hire.
Diverse Duonauts
Higher Ed: Alicia Fremling, Product Manager
Alicia Fremling is a product manager who has been with Duo since July 2019. Her background is in higher education, with a post-college stint at Teach For America, but it was during what she jokingly referred to as a "sabbatical" working for a pet resort that she made the ultimate career switch. 
"I noticed that the leaders of these animal welfare organizations all had corporate backgrounds," Alicia said. Her passion for animals and a desire to be their advocate led her to a product management internship at Comcast, where she stayed for two years, and where she found that her past teaching experiences made her uniquely well-suited to the responsibilities of a PM. 
"Product management requires you to understand the importance of relationship building," Alicia said. "Teaching taught me how to create trust and rapport, to make people care about what I was teaching, just as now I have to make people care about the products I'm managing."
Ultimately, Alicia is primed to draw from her past experiences to tackle new challenges at Duo. Even her time at the pet resort gave her product management practice, as she reflects that she went through PM motions when trying out different dog training packages and talking to customers to deduce the best training classes to offer. 
Now Alicia, who hired her first intern this summer, sees an opportunity to spotlight the value of candidates who come from nontraditional backgrounds.
"Someone took a chance on me, a person who had never worked in tech before," she said. "At the end of the day, we're here to solve the customer's problems. The more diverse the mix of backgrounds, the more well-rounded our problem solving is." 
Teacher: Hannah Mullman, Product Management Intern
Her intern, Hannah Mullman, was getting her PhD in Education before pivoting into tech mid-stream, and Alicia recognized that Hannah's research in teacher-training curricula had her acting like a PM (product manager)without the actual label. Perhaps more valuably, however, Hannah brings both a perspective and an attitude that makes her an asset to the team:
"She has a novice's point-of-view, but a learner's mindset. It allows her to dig in, be comfortable with not knowing all the answers, and to ask questions that us 'insiders' would never think to ask," Alicia said
This learner's mindset is a value frequently espoused at Duo – from onboarding onward – and it speaks to a comfort with transitions, ambiguity and not knowing. A comfort, in other words, with not being the expert in the room. More of an attitude than a skill, this mindset is not as easy to deduce from a resume or a technical test.
Journalist: Andrew Dooley, Manager of Customer Enablement
"There are a lot of former journalists on my teams." Andrew Dooley told me. Andrew joined Duo five years ago and now manages two teams within Customer Success. "We don't specifically look to hire former journalists, but they tend to be a good fit for roles creating content for customers. Journalists are good at making sure they actually understand what they're writing about, even if you think you know something, you still ask the 'dumb question.'" 
A former journalist himself, Andrew started in Customer Success as a technical writer. He asked "a million questions" and was willing to leverage his lack of knowledge to challenge development teams to implement even easier and more customer-friendly features. 
When hiring for roles creating technical content for customers, Dooley said having a non-traditional tech background can be an advantage. "Thanks to our amazing enablement team in CS, we can teach you technical skills," he said. "So we look for the traits we can't teach as easily. Can you put yourself in a customer's shoes when looking at a problem? Do you like getting and giving feedback? Are you willing to learn on the spot?"
Designer: Ben Barrie, Program Manager
Ben Barrie, a program manager who also helps run the internship program, has a similar criteria when evaluating the many resumes that come into his inbox. He looks for people who are good at wearing a lot of hats, who are able to think about the skills needed for a job and how they have demonstrated these skills even in less-than-obvious ways. 
As someone with a nontraditional background himself (with stints adjuncting, designing educational signs for the Detroit Zoo, and mapping plants in nature reserves), Ben believes his own hiring manager saw beyond his background when he came to Duo two years before, and this seeded a desire to put less emphasis on the traditional markers of "success." His own time working for nonprofits allowed him to learn how to interact with and influence people despite only holding "soft power"-- for this reason, he also sees the benefit of Duo candidates with food-service experience. 
"I'm developing resources for hiring managers. How do we write inclusive job postings, what are the minimum qualifications we actually need?" He wants to remove signifiers of privilege that are often mistaken as accomplishments. "I want people to ask, 'Do we really need someone with a four-year degree?'"
Psychology: Brittney Braxton, Software Engineer
Brittney Braxton, who joined Duo back in January, is all too familiar with restrictive job qualifications. A psychology major who worked in customer service for three years before entering a coding bootcamp, Brittney found that companies she applied to were wary of her training. 
"They would say, 'We don't hire people like you,' or 'Talk to us in two years,'" she remembers. Other companies that her fellow bootcamp classmates found work in would make them jump through hoops that revealed a fundamental distrust in their abilities. "They would have to take a certification in Java when no other engineers had to do that." 
Duo, on the other hand, never made Brittney feel doubted for her nontraditional background. "From the interview to joining the team, I felt very validated that I was vital to what we were building." 
Diverse Teams Make Better Products
At the same time, Brittney does want Duo to keep finding more ways to hire outside-the-box and she has begun to work with Duo's Employee Programs to recruit from often overlooked sources such as bootcamps, which tend to have people with experiences that vary from food service to academia. "I want to celebrate people who have been underestimated," she told me.
Scientist: Fraser Marshall, Designer
The ethical considerations of building teams with a wide range of backgrounds and skill sets is clear, but perhaps less obvious is how diverse teams help the bottom line. Again and again I heard that diverse teams make better products, but it took a former scientist-turned-designer, Fraser Marshall, to bring his unique worldview to get at the source of this truism. 
"In both science and design, we try not to assume," he told me. "A variety of designers, with different backgrounds and expertises, are able to creatively see all angles of what shouldn't be assumed, see beyond their own internal biases, and collectively test and experiment to find the truth. When you're designing for a variety of users (especially if you're democratizing security), that diversity and variety is essential."
I've only scratched the surface of the Duonauts who have traveled a long and winding road to get to where they are today. After all, a nontraditional background can be more than just a job history; a learner's mindset is not just for those who go back to school. If anything, it is Duo's openness to all backgrounds – straight paths and swervy – rather than a preference for one over the other, that allows an openness in its own employees. An openness towards those with backgrounds both similar and utterly different, but perhaps more importantly, an openness towards one's own path and a trust in one's inherent value.

We're hiring! If your mission is collaborating with inspiring teammates, and creating and supporting products that make a difference, we want you! Learn more at duo.com/careers