Product & Engineering
Unified Endpoint Visibility: Shine a Light on BYOD
One of the fundamental principles of good security is to understand your environment. But as environments get more complex with increasing reliance on cloud applications, bring-your-own-device (BYOD) allowances and mobile and remote work, it's progressively more difficult to gain that understanding. Existing endpoint and mobile device management (MDM) solutions are expensive and complex to install, and also have a long time to value. Most importantly, these existing products do not provide holistic visibility into unmanaged devices.
Duo's promise to its customers has always been to secure your environments by establishing trust, and we recognize that trust needs to be assessed and monitored on an ongoing, granular basis in these modern, fluid environments. Today, Duo announces a new feature set that provides global visibility and requires no setup or installation. We call it Unified Endpoint Visibility.
Duo's Unified Endpoint Visibility helps you better understand your user and endpoint inventory and activity. Traditional endpoint visibility solutions are siloed because they were designed exclusively for Windows or Macs or mobile devices. Duo offers a comprehensive solution - you can see, track and report on all end user devices from a single dashboard: managed devices, unmanaged devices, Windows PCs, Macs, iOS devices, Android devices, ChromeBooks and more.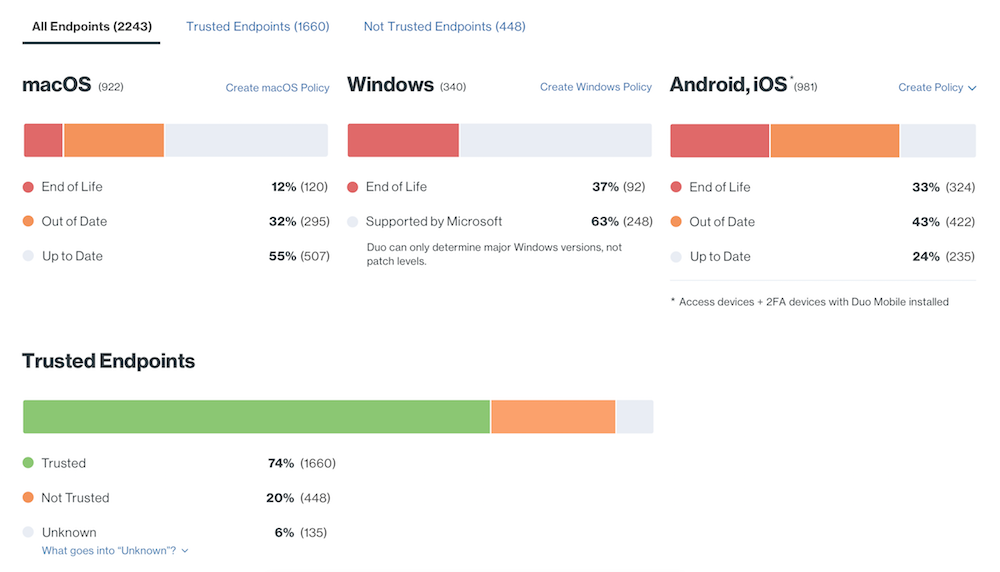 Importantly, the feature set is fully functional without the need to install any additional software on devices. IT and security managers are achieving their basic security goals with Duo instead of deploying complex MDM and endpoint management agents. Creating an inventory of all mobile devices and understanding the security posture of these devices (OS patch level, encryption status, screen-lock status, biometric protection status, etc.) can be easily achieved through Duo without an MDM.
Most organizations see limited enrollment for MDM because of end user concerns around privacy and battery life of devices. These concerns do not exist with Duo because we take an API-centric approach, using some of the latest APIs released by Apple and Google. As Jeff Hassett, Director of IT Operations at BYU- Idaho, kindly articulated: "We are looking at it from a risk-analysis perspective. Device location, ownership, patch level and configuration each represent different risk to us. We continue to work with Duo to help us better understand our environment and see how we can best address that risk."
Unified Endpoint Visibility also helps you understand and track important user behaviors such as how quickly end users update their operating systems, browsers or plugins. It also builds an understanding of when and how frequently end users log into work applications from their personal devices. Tracking these behaviors not only helps you set informed access policies, but also helps tailor a more empathetic approach to different groups of users. As Marián Daníšek, Infrastructure & Operations Manager of Tajco Group, put it: "We are tweaking policy and looking at how our users are behaving. This is the source of data that we can use to argue for policy."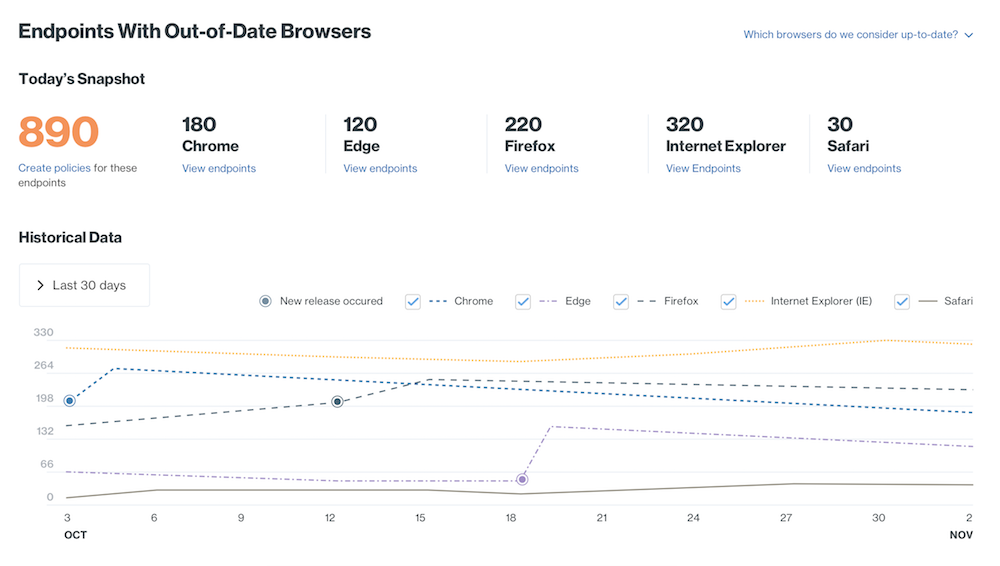 The new Unified Endpoint Visibility feature set will be available in the second half of June 2018 for all customers.