Industry Events
Visit Duo at RSAC 2016: Interactive Demos, BB-8 Giveaway & More!
Duo Security is heading to the West Coast to attend the 2016 RSA Conference hosted at the Moscone Center in San Francisco from Feb. 29-March 4, 2016!
The RSAC is the largest information security conference in the industry, though arguably more focused on the business and policy side, rather than the technical. Keynote speakers include the U.S. Attorney General, and security executives from Microsoft, Intel, MIT, FTC, NSA and many others - check out the full agenda.
If you're also attending this year, stop by our booth #1839 in the South Hall to experience an interactive demo of Duo's two-factor authentication and endpoint security solutions for organizations of all sizes and across all industries. We'll be there on these days, at these times:
Monday, Feb. 29 - 5-7PM
Tuesday, Mar. 1 - 10AM-6PM
Wednesday, Mar. 2 - 10AM-6PM
Thursday, Mar. 3 - 7AM-3PM
On Tuesday, come by to see any of our in-booth presentations on two-factor authentication, end user device visibility, policy-based access controls, and more from Duo and Duo customers.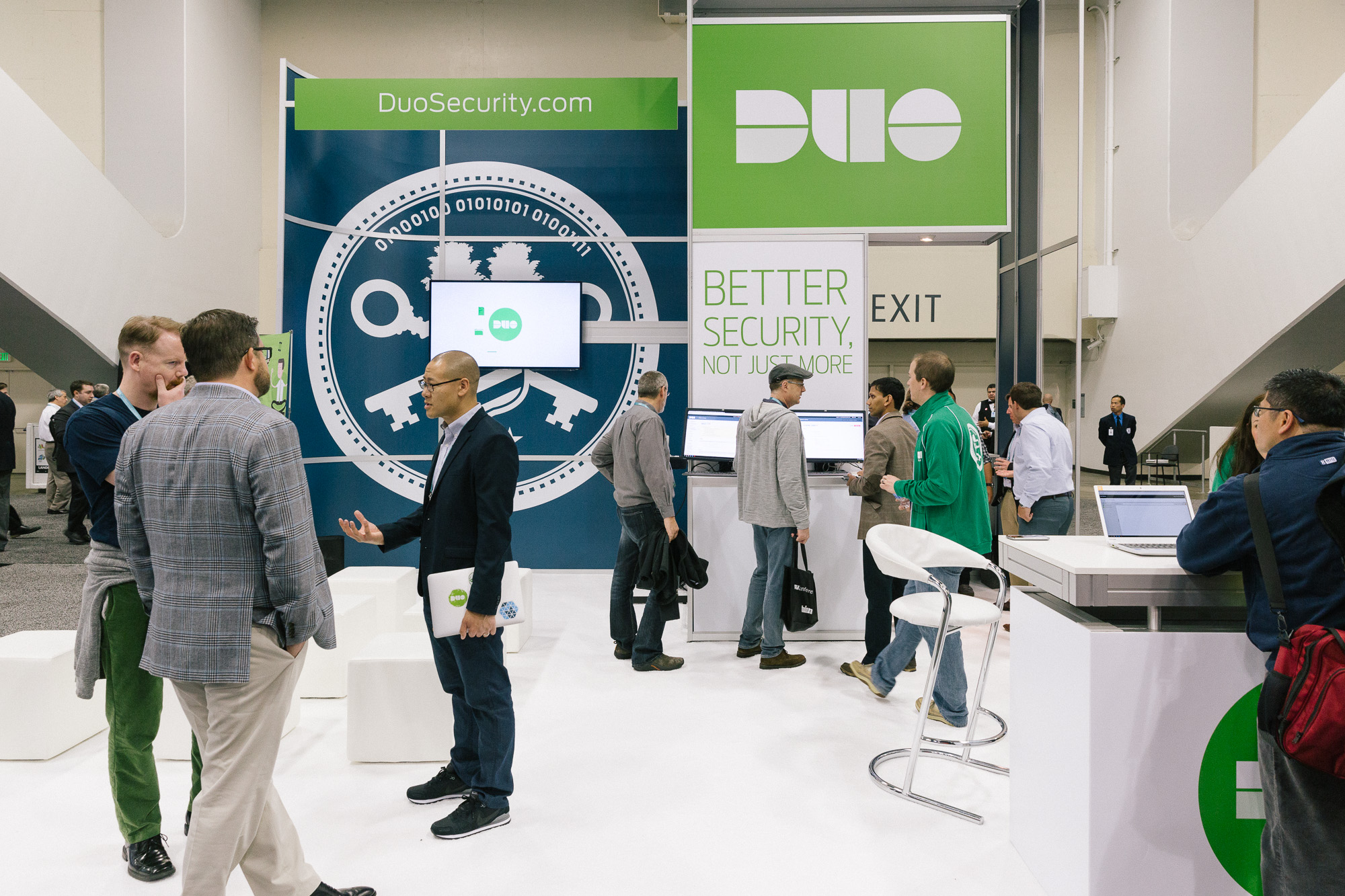 Choose Your Own Adventure Interactive Demo
At our booth, we'll have interactive demo stations set up so you can experience Duo Access from the perspective of:
Users
Sign up for Duo's two-factor authentication in our demo and see how quickly you can enroll a new device (spoiler alert: mere minutes). Then choose your preferred authentication method from Duo's options:
Duo Push - Send a push notification to a smartphone, then tap 'Approve' to log in.
Call Me - Call a phone, log in by answering and pressing a key.
Enter a Passcode - Get an SMS message with a code, type it in and log in.
Then, complete authentication with our demo iPhone and log in securely and quickly.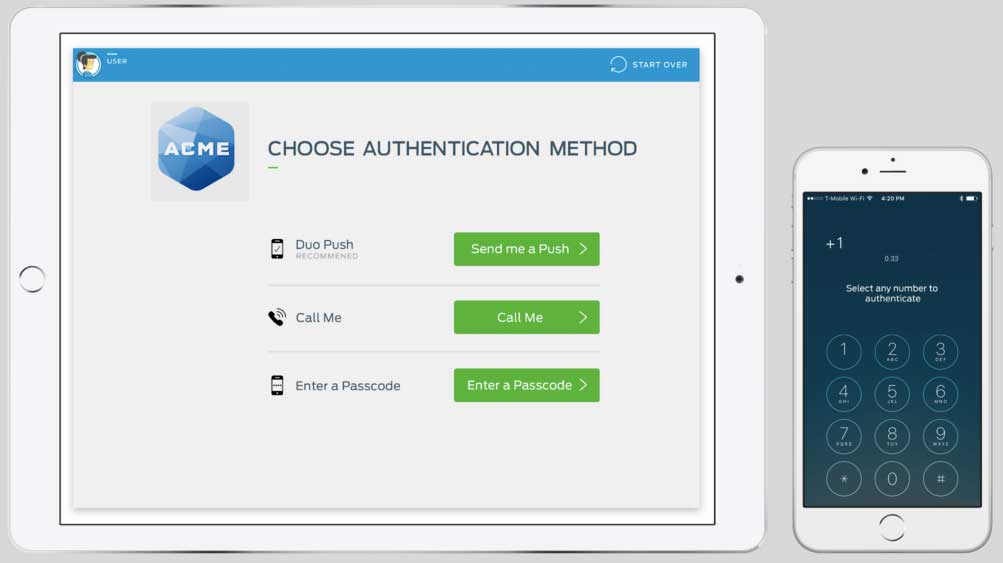 Admins
See a full dashboard of your end users' device analytics, including data on:
Platform, OS version and model type
Passcode, screen lock and Touch ID status
Full disk encryption and rooted/jailbroken status
Browsers and plugin versions
That way, you can quickly identify how many devices and users in your organization are currently out of date. Then learn about the different types of security policy and controls you can create, including:
Set a policy that blocks users from countries you don't do business in, or users on anonymous networks
Block users attempting to authenticate with devices on outdated versions of operating systems, browsers, Flash and Java
Mark a list of devices and networks as trusted, and allow users to log in quickly and securely
Create a new user enrollment policy that requires new users to enroll in two-factor authentication
Hackers
Go ahead, try a hack - and see what Duo does. :P
At the end of each demo, you'll get to take a photo of yourself and customize it with meme-based graphics, courtesy of our talented and creative designers. Share your photo on any social network of choice to get an entry into our BB-8 giveaway - more details below.
Booth Drinks + BB-8 Giveaway
Join us at our booth Tuesday from 4-6 PM for microbrews and wine! We're also giving away eight free app-enabled BB-8 robots! To get entered into the contest, visit our booth and complete a demo.
Drinks With Duo + Women in Security Awards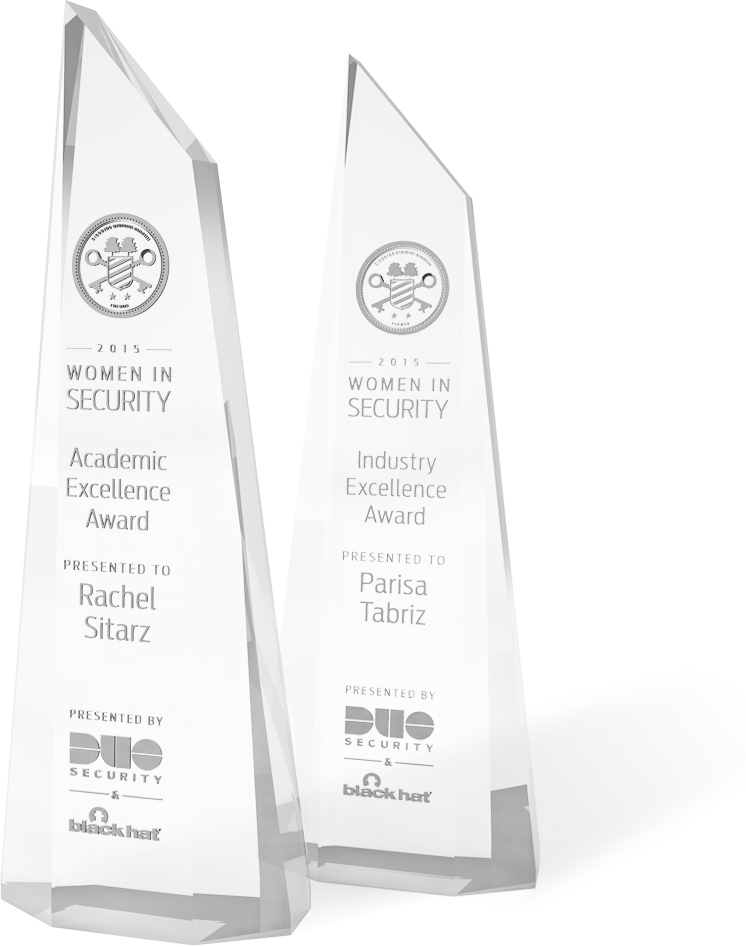 We'll be announcing the winners of Duo's 2016 Women in Security award on Tuesday, March 1 at our invite-only cocktail hour. Our annual award is our way of recognizing the contributions that women are making to inspire a new generation to transform the security industry.
Join us March 1 in San Francisco for drinks from 5-7PM PST and network with some of the great minds in security today. We'll send you venue details after approving your invite request. RSVP today!
Request a Meeting With Duo at RSAC
We'd love to hear from you! If you'd like to set up a meeting with a Duo representative during your time at RSAC this year, send us a message and we'll get in touch with you.