Industry News
#WeAreDuo Employee Spotlight with Amanda Muela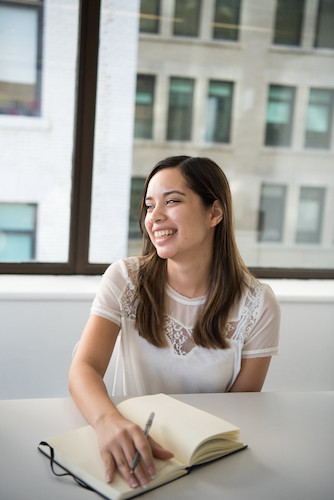 Have you ever wondered what life at Duo is like? Or what it's like to be an Engineer, Product Designer, Account Executive etc. at Duo? How current employees landed their jobs or important lessons they've learned while working at Duo?

We get these questions all the time and that's why we're sitting down with employees to learn what life at Duo is like for them! #WeAreDuo
We sat down with Product Designer Amanda Muela to learn about what she does and her experience at Duo.

Amanda Muela
Employee Name: Amanda Muela
Title / Department / Office Location
Product Designer / Product Design / ATX
How long have you been at Duo, and what do you do here?
Since September 2018. I am a Product Designer, which means I work on the user experience to understand our customers and end users needs and problems. I ensure all designs are easy and pleasurable for our end users.
What's your day-to-day like at Duo?
My days vary. Some days I am focused on exploring new ideas to solve end-user problems. I am also connecting with several key stakeholders across the company to share these new design ideas. Other days I am coordinating with the user research team to plan and strategize future needs. Some days I am observing users work through these new designs in usability sessions, which is my favorite part. And some days, I share those findings across the company in various meetings to drive what we do next.
What tools do you use to help you do your job?
The majority of my job is communicating and sharing what ideas we are trying, what we learned from end-users, and proposing where we can go next. I do this mostly in Slack, posting updates, or jumping on calls with Webex. I also use Invision to share prototypes and collect feedback from the engineering and product team.
How do you and your team collaborate with other teams within Duo?
As I mentioned earlier, my role is about communicating and connecting several teams across the company. This can mean I am working with Engineering, Product, User Research, Project Management and Customer Success. The teams communicate in Slack, Webex meetings, and use a Wiki to track project timelines and progress.
How did you get your job at Duo?
I came across a posting on Linkedin and was naturally curious because we hear more about security breaches and privacy issues these days. As I researched more about Duo, I learned how the company was founded on the foundation of democratizing security. I then applied online, had a portfolio review, and met the team with an onsite interview. I was delighted to be offered an opportunity to grow with Duo.
What is the first thing you do when you come into the office?
I'll start with a cup of coffee and catch up on any missed Slack messages or emails. I'll then prioritize my to-do list, make sure I am supporting any team needs and arrange my day as needed.
Any big projects or goals you're currently working on?
I am part of a large project that is working on the most significant UX update Duo has released in its history, which is exciting to be a part of and see our products evolve in innovative ways.
What's an important lesson you've learned while working at Duo?
The most important lesson I've learned is to speak up and share my ideas often. People at Duo are genuinely interested in your thoughts and ideas to push our products forward. Don't be afraid to show up with new ideas, share your rationale, and dig up any data to help the idea move forward. I've found in those moments that's what drives ideas and team excitement.
How is Duo different than other places you've worked?
Duo has the most humble and kind people I have ever worked with. A key pillar of Duo is to be kinder than necessary, which is instilled from leadership and throughout the organization.
How is your role at Duo different than roles you've had with other companies?
In my past roles, part of my job was to navigate politics about UX and Design. Here at Duo, the level of UX maturity is high across the organization. Therefore, teams can move along in the design journey with you, and everyone is an advocate for our customers and users.
What would you tell someone considering a role at Duo?
Go for it! You'll find many ways to grow your career here and be surrounded by the kind culture of Duo.
We're hiring! If your mission is collaborating with inspiring teammates, and creating and supporting products that make a difference, we want you! Learn more at duo.com/careers