Industry News
#WeAreDuo Employee Spotlight with Anthony Igwe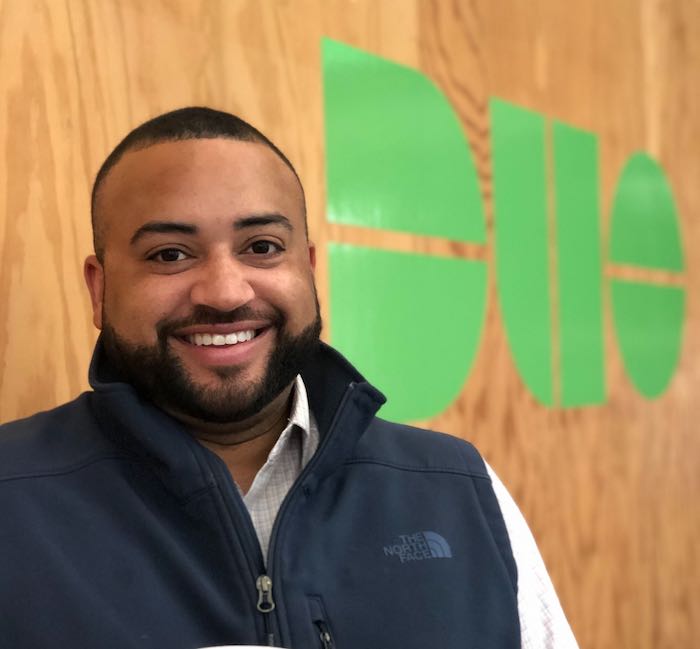 Have you ever wondered what life at Duo is like? Or what it's like to be an Engineer, Product Designer, Account Executive etc. at Duo? How current employees landed their jobs or important lessons they've learned while working at Duo? 

We get these questions all the time and that's why we're sitting down with employees to learn what life at Duo is like for them! #WeAreDuo
We sat down with Director of Sales (West), Anthony Igwe to learn about what he does and his experience at Duo. 

Anthony Igwe
Employee Name: Anthony Igwe
Title / Department / Office Location
Director of Sales, West/ Sales/ San Francisco, CA
 How long have you been at Duo, and what do you do here?
I've been at Duo for two years and I manage a group of West Coast Regional Sellers. 
 What's your day-to-day like at Duo?
My day is centered around supporting my team. Whether I am sitting in on a customer call, doing deal, strategy reviews in 1:1s, or unlocking new cross-functional relationships that will help better empower my team  — there is never a dull moment. Which is what I love about my role here at Duo. I manage a team largely made up of early career sales professionals, so I find a lot of joy in being a player coach. Coaching, training, and helping my team develop critical skills to enable them to move up to the next level of sales.
What tools do you use to help you do your job? 
No sales team would be complete without the use of a customer relation management (CRM) tool to manage all of our customers interactions. We leverage Salesforce to help our reps organize their books of business, to provide front-line leadership with visibility into things like forecasts and pipeline, and senior leadership with a view into important top-level metrics. 
Outside of the general day-to-day duties I use a combination of CRM, spreadsheets, and decks to help me be more effective for my team. I use the CRM to find key reports that will help my team surface new opportunities and spreadsheets to create more real time interactions with my team whether that be creating a Big Deal Board that we are all looking at quarter over quarter or to keep specific 1:1 cadences with members of my team. I use decks for things like team meetings and strategic customer engagements. 
How do you and your team collaborate with other teams within Duo?
Duo's secret sauce is our ability to be there for one another and take others with us. This isn't a place where "ego" exists so it makes it easy for every member of my team to create cross-functional relationships. It's because of this that I encourage my team to reach out to their other regional counterparts to collaborate on sales plays, visit each of the other offices and just sit with other teams. I also encourage them to join Slack channels like Coffee Roulette where every Monday the bot matches you with a random person at Duo with the objective to schedule time and just learn about what that person does at Duo. To this day I'm still a member of the this channel and get a TON out of my interactions.  
One unique thing I do as a manager is when every new hire joins our team they receive an on boarding checklist from me (outside the more formal onboarding and training process) that consists of a list of 20-30 names. From peers, to leaders, to important cross-functional team members. I ask them to reach out and schedule 30 mins and take notes. We usually review in our next 1:1 and I always ask what one thing did you learn from your interaction? Those takeaways tend stick with each person and help them hit the ground running faster than expected. 
How did you get your job at Duo?

I knew about Duo for some time but was always more interested in the earlier stage start up because I felt those companies offered more of an ability to impact the business, wear many hats, and be a part of a fast growing machine. Had it not been for an amazing Duo recruiter reaching out to me on LinkedIn I would have never known that I could get everything I loved about startups at Duo. One thing that meant everything to me during the process was how well everyone listened and cared about what I was looking for, not just what they needed. From the recruiter to hiring manager, to senior leaders, everyone was on the same page during my process and that made me feel very confident that Duo was a company that I wanted to be a part of. 
What is the first thing you do when you come into the office?
I make it a point to talk to each member of my team with a simple goal of just seeing how they are doing. Did they have a great weekend? Are they having a bad day? Are they stressed/exhausted/locked in? It's important as a leader that you understand the pulse of your team, to understand this they need to trust you. My goal is to always have my team look at me as a person they can confide in, a person that they can talk to. So I try to bring a positive force to the office each and every day to make their experience a good one.
Any big projects or goals you're currently working on?
A personal goal of mine is to have every member of my team promoted during their regular promotion cycle. One project I am working on is with our Marketing Operations group to aid in the process of completely revamping our nurture cadences for dormant leads that are lacking more targeted messaging. 
What's an important lesson you've learned while working at Duo?
You will get a lot more accomplished when everyone is working towards the greater good of the company. Putting the company first. Egos kill progress, they stifle innovation. By eliminating them from the equation you open the door for more possibilities and help people and companies realize their potential. In the land of sales, consistency pipeline creation is king. Setting rep and manager-level pipeline targets and measuring our success not only on revenue but how much pipeline we have generated quarter over quarter makes all the difference.
How is Duo different than other places you've worked?
The culture is phenomenal. In sales, we have created a culture of winning where no one person is greater than themselves and where every person is working hard for something bigger than themselves.  So much has gone into developing an amazing culture, product and airtight sales process with the right message to our customers. I have never worked for a place where the NPS score is north of 70. Just outstanding. 
How is your role at Duo different than roles you've had with other companies?
I feel empowered to run my business the way I want to. I feel trusted to make critical decisions without the fear of getting my hand slapped. I feel like my opinion matters. And most importantly, I love the people that I work for and that work for me. Though we have multiple levels of leadership, we very much run a flat organization where any employee at any level can feel comfortable talking to anyone. This starts with Duo's co-founder and general manager, Dug Song. 
Dug makes it a point to travel to all the various Duo locations and talk to people. If there is a new hire he hasn't met before, he will stop by and say hi. He has this innate ability to make you feel so comfortable in a conversation even though he is the co-founder and I think the rest of our leaders take a similar "servant leadership" approach that makes our culture one where our employees can be themselves and focus on bringing the best "them" to the table every day without fear. 
What would you tell someone considering a role at Duo?

If you are looking for a place where you can truly express who you are, focus on bringing the best you to the table every day without worrying about looking over your shoulder, this is the place for you. Come join our highly collaborative sales team and our fun sales culture. Come join the most loved company in security! 
We're hiring! If your mission is collaborating with inspiring teammates, and creating and supporting products that make a difference, we want you! Learn more at duo.com/careers