industry news
What to Look for in a Modern Two-Factor Authentication Solution
Two-factor authentication - there are so many different solutions, authentication methods, integration issues, and security concerns cropping up in the market. With such a large diversity of security vendors, it's easy for IT security decision-makers to get confused about which solution is right for them.
Here are a few important qualities you should look for in a modern two-factor authentication solution:
Cloud-based two-factor authentication.
This means no hardware or software to install on-premises, and no server to set up. That equals less time and money spent setting up, and more time for administrators to spend on other tasks - better for your organization's bottom line.
Easy integration, lots of documentation.
A modern, cloud-based two-factor authentication solution should make it easy for administrators to integrate two-factor into their existing application workflow. Check to see if they offer extensive documentation for your integrations, and how easily it can be done before you sign the contract so you don't run into unexpected integration issues later.
Fast and easy user provisioning.
For large deployments with thousands of users, your two-factor authentication solution should support the ability to provision using methods like Microsoft Entra ID synchronization and bulk user imports via .CSV files. Smaller deployments can take advantage of self-enrollment to allow users to sign themselves up, lightening the load for administrators.
Variety of authentication methods.
SMS passcodes, phone callbacks, passcodes generated via mobile apps, even hardware tokens make it easy for users in different scenarios to authenticate, including on or offline, or with or without phone service.
Secure, out-of-band authentication.
Of course, using an out-of-band method, like generating push notifications via a mobile app is one of the most secure methods, as it eliminates the threat of a potential OTP (one-time password) bypass. Plus, it uses your personal phone, not an extra token, making it easier to remember and harder to lose.
Advanced administrative dashboard.
A comprehensive two-factor authentication solution should come with an administrative interface that gives you complete visibility into your security solution - allowing you to create new integrations; manage users, groups and trusted devices; and have access to APIs. Account recovery should also be included in the admin interface in the event a user loses their device.
Test before you buy.
Ask your two-factor authentication vendor if they'll let you try out their solution on an individual-basis or small deployment scale before you decide to invest and deploy to your entire organization. That way, you can determine if you run into any major integration or usability issues, and you can know what to expect when it comes to mass deployment.
Two-Factor Authentication Guide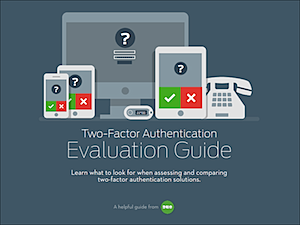 For a more in-depth document, download our Two-Factor Authentication Evaluation Guide!
This guide walks through some of the key areas of differentiation between two-factor authentication solutions and provides some concrete criteria for evaluating technologies and vendors.
In this guide, you will learn:
How to evaluate the security, reliability and scalability of a two-factor solution.
What kind of solution allows you to detect and react to potential threats.
How to determine the time and costs involved in rolling out a two-factor solution.
Key criteria to drive user adoption and increase productivity.
And more! Download our free guide today for a deep-dive into evaluating a modern two-factor authentication solution that can meet your organization's security needs.