Industry News
What's the Buzz on Passwordless?
The passwordless future is sooner than you think. At Duo, we're building a passwordless authentication solution that's as easy to set up as it is to use – with our world-class security baked in. Is passwordless a good choice for you, and how do you lay the foundation? Our experts have you covered.
What is Passwordless, Anyway?
In the Administrator's Guide to Passwordless blog series, Tech Lead Jeremy Erickson covers everything you need to know to determine for yourself why passwordless authentication can be more secure and more usable than today's leading authentication systems. But not every passwordless product or system meets the security high bar administrators need.
Your Journey Begins with Multi-Factor Authentication
Advisory CISO J. Wolfgang Goerlich details in our white paper, Passwordless: The Future of Authentication, how pairing passwordless technology with strong MFA to protect access across cloud and on-prem is a practical way to provide the broadest security coverage today. With MFA in place, you can reduce your reliance on passwords and modify password policies to require less frequent resets, alleviating help desk burden and reducing user frustration.
"We'll remove the password down the road, but the first step really is reducing the security vulnerability and ensuring that we can rely on that strong factor, and we get there by beginning with multi-factor."
MFA + Passwordless = Raising the Bar
In considering a passwordless solution, we want to raise the security bar, not lower it. Part of ensuring that passwordless is just as secure as multi-factor is ensuring that it is multi-factor.
Read about why MFA and passwordless are a powerful pair.
Passwords Are Safer Than Biometrics, PINs Are Just Passwords, and Other Tall Tales
On your path to passwordless, it's key to separate fact from fiction around biometrics, PINs and passwords.
"Whatever form it takes, passwordless should be easy to deploy, increase security, and be frictionless for users."
Learn more about common misconceptions related to passwordless authentication methods.
No Phishing, Please
To prevent phishing, your authentication solution should offer a few general properties.
"Passwordless should also raise the bar by substantially reducing or even eliminating the risk of phishing attacks. Any 'passwordless' solution that cannot meet this bar is simply inferior."
Get a rundown of the properties you should look for in an authentication solution to prevent phishing, and the difference between platform and remote authenticators.
One Step at a Time
Passwordless is a leap forward on the path to a strong and usable authentication system, consisting of many individual steps that you must navigate.
"A phased approach to providing secure access for the workforce can take you closer to a fully passwordless future."
Review the high-level phases of the passwordless journey.
Bonus: We Bid Passwords a Fond Farewell
Video Producer and Twitter sensation Ben Armes shares a poetic passage about the problem with passwords and welcoming a passwordless future.

Duo's Passwordless Authentication Resources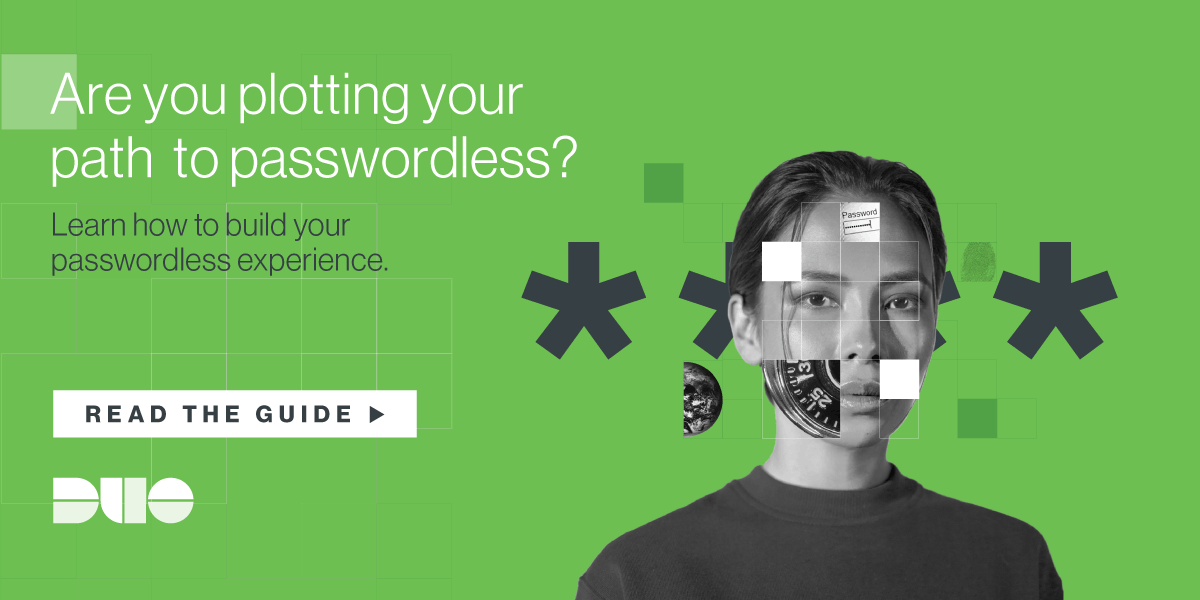 Try Duo for Free
Want to test it out before you buy? Try Duo for free using our 30-day trial and get used to being secure from anywhere at any time.