Duo's Endpoints analysis shows at a glance the security status of operating systems, browsers, and plugins used when connecting to your Duo protected applications and services.
Overview
In Duo, Endpoints are both the laptops, desktops, tablets, mobile phones, and other devices where your end users access Duo protected applications and services, as well as 2FA Devices, which are the enrolled phones and other mobile devices where users approve Duo authentication requests. You can now see information about the security status of your endpoints accessing your applications and approving application access from the top-level Endpoints tab in the Duo Admin Panel.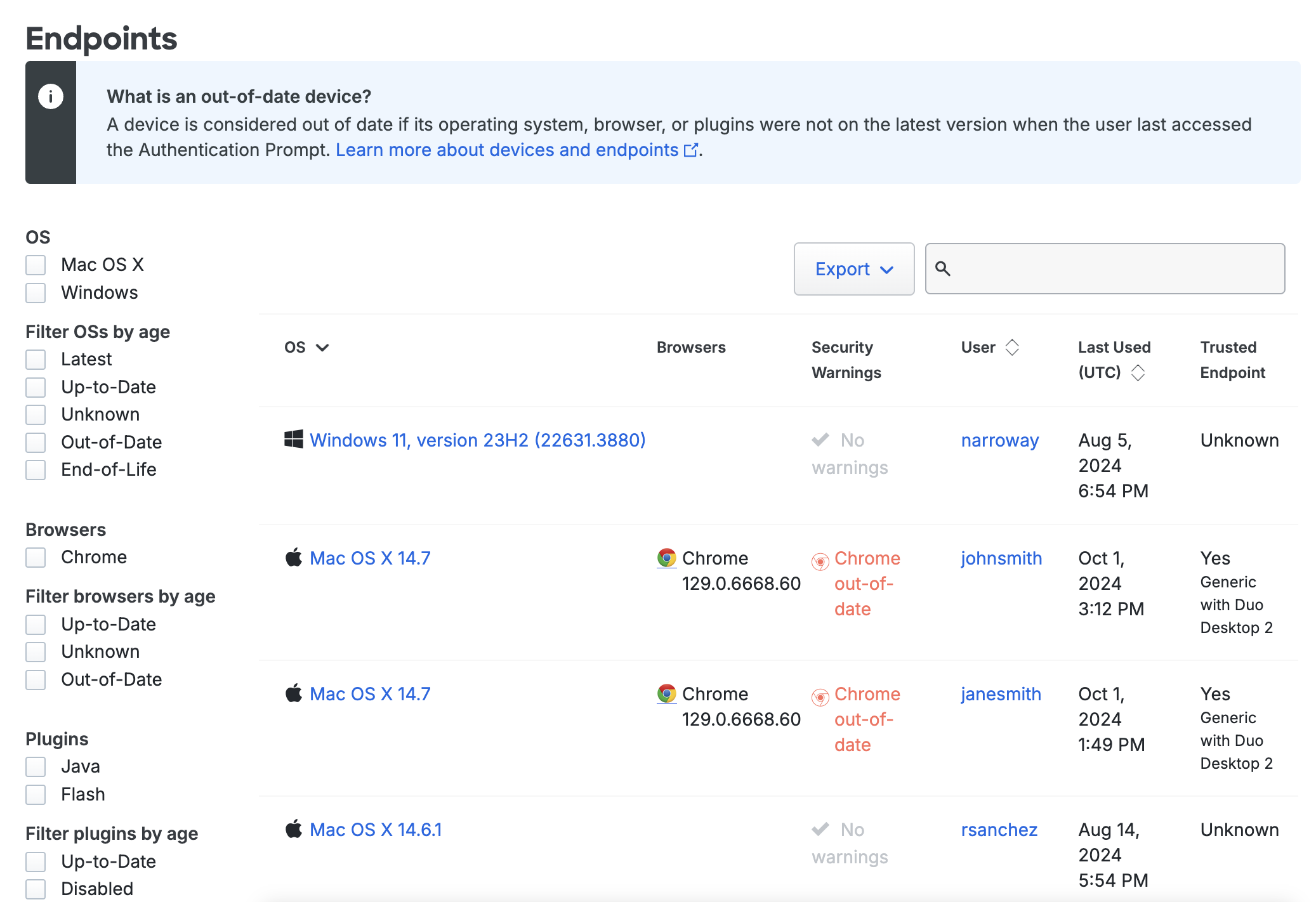 Duo gathers mobile device and computer operating system platform and versions, browser types and versions, and Java and Flash plugin versions if detected in the browser. Duo Beyond customers can also determine whether a device is managed or BYOD with the Trusted Endpoints feature.
Imformation for a given endpoint is purged after 30 days of inactivity.
Filtering
You can filter the Endpoints list by operating system and version, browser type and version, and installed plugins. For example, checking the boxes next to "Windows ", "8.1", "Firefox", and "Java" on the left side of the Devices page then displays all PCs running Windows 8.1 that accessed your application using Firefox with the Java plugin enabled. Checking the Out of date filter option for browsers or plugins shows you all browsers and plugins not at the latest generally available version.
Endpoint Details
Clicking on an endpoint's operating system takes you to that endpoint's details page. You can view which users have authenticated to Duo using that endpoint, as well as the operating system, browser, plugin, and trusted endpoint information.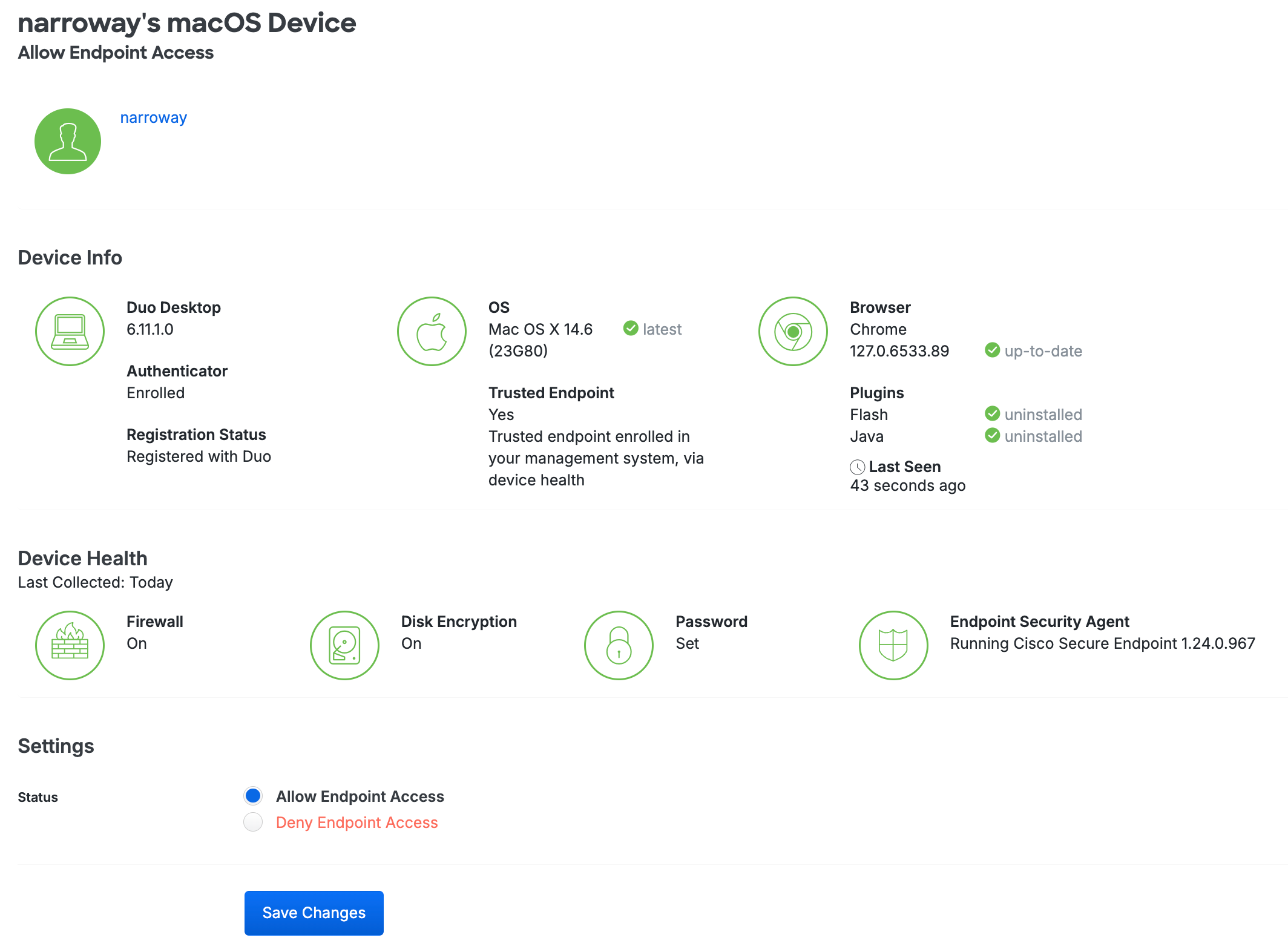 When the endpoint browsers and plugins are up to date, the various details are green. Information shown in red indicates a less secure status.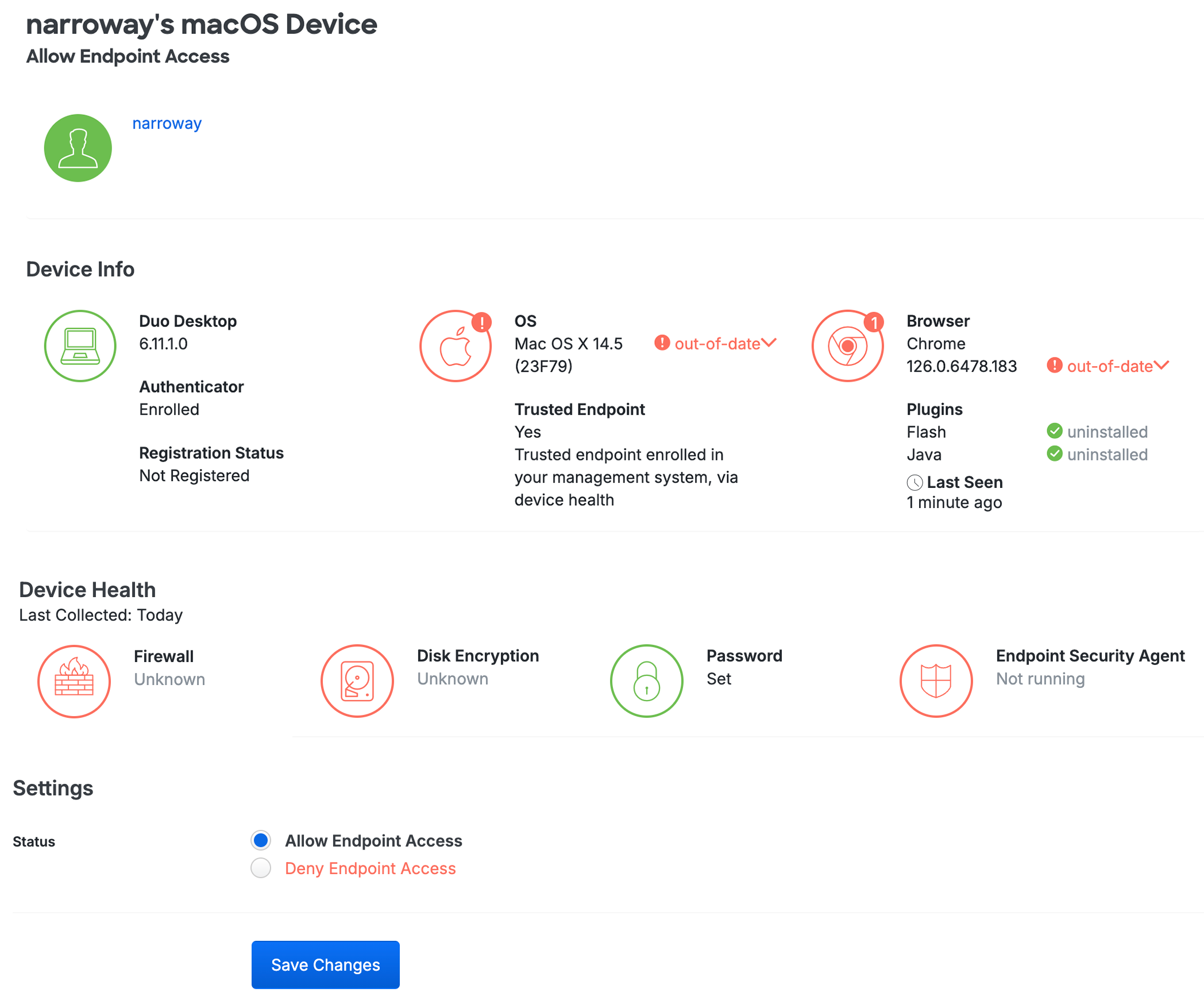 Click the out-of-date link to see the current version of the affected software.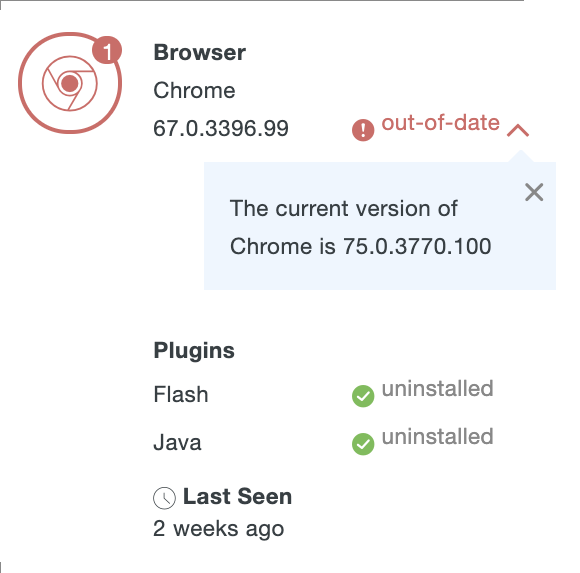 Clicking on the username shown in the Endpoints table, or on the user tile on the endpoint's details page, takes you to the properties page for that user. Scroll down to the Phones and Endpoints tables to see platform, version, security warnings, and other information about access and authentication endpoint devices associated with that user.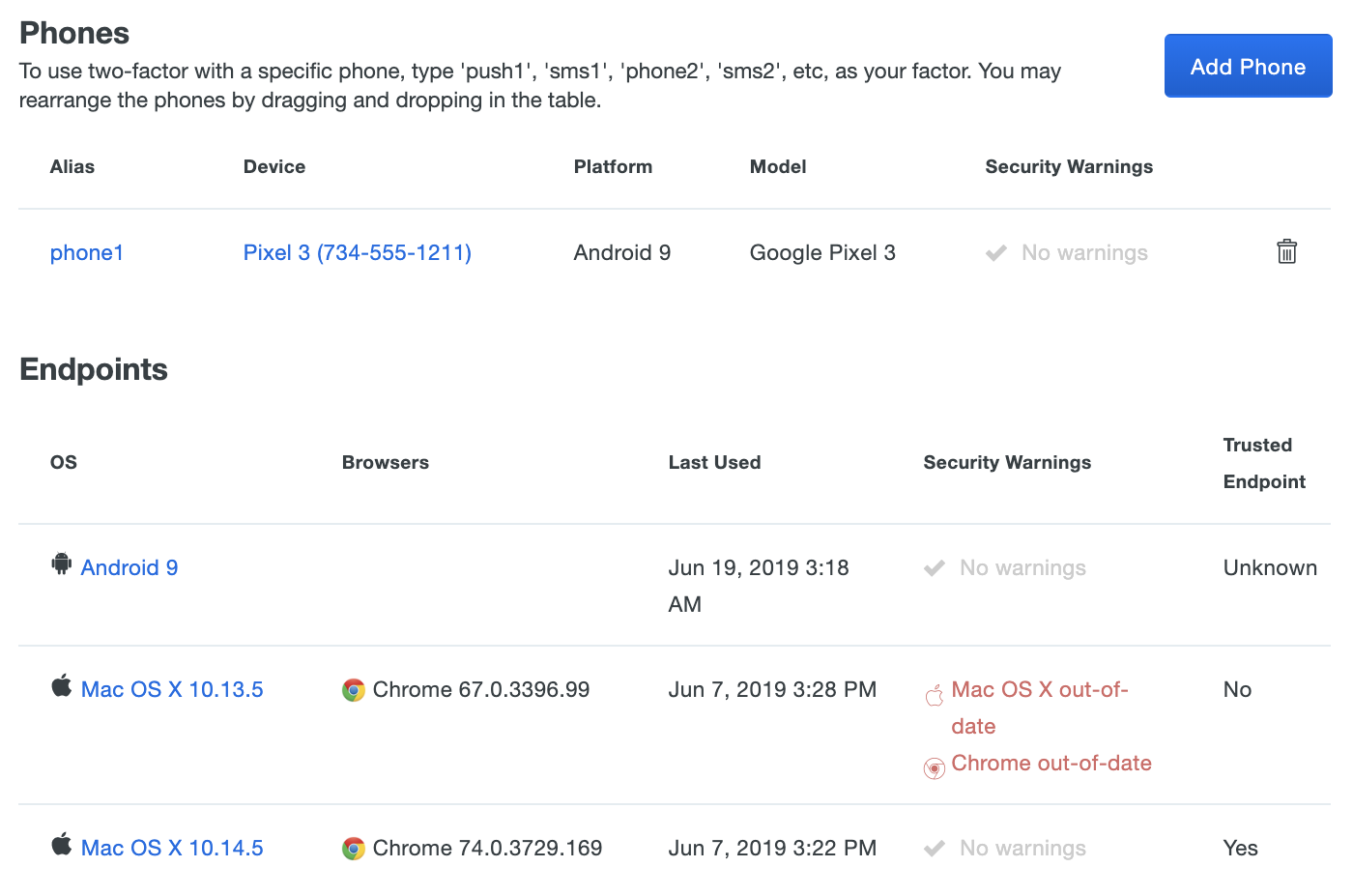 Access Control
Use the Operating Systems, Browsers, Plugins, and Trusted Endpoints policy settings to restrict access and authentication from certain operating systems and versions, inform your users when their web browser or select plugins are out of date, and optionally block access to applications protected with Duo from unmanaged devices or devices with outdated software. Users authenticating via the Duo Prompt see a notification when the selected software is older than the current release version. If you choose to block access to users with outdated software or selected operating systems, users are unable to complete authentication to access your applications.
Self-remediation notifications and access controls are available for the following:
Operating Systems: Computer and mobile device platforms
Browsers: Chrome, Chrome Mobile, Edge, Firefox, Internet Explorer, Mobile Safari, Safari, and all other browsers (which includes Firefox Mobile).
Flash
Java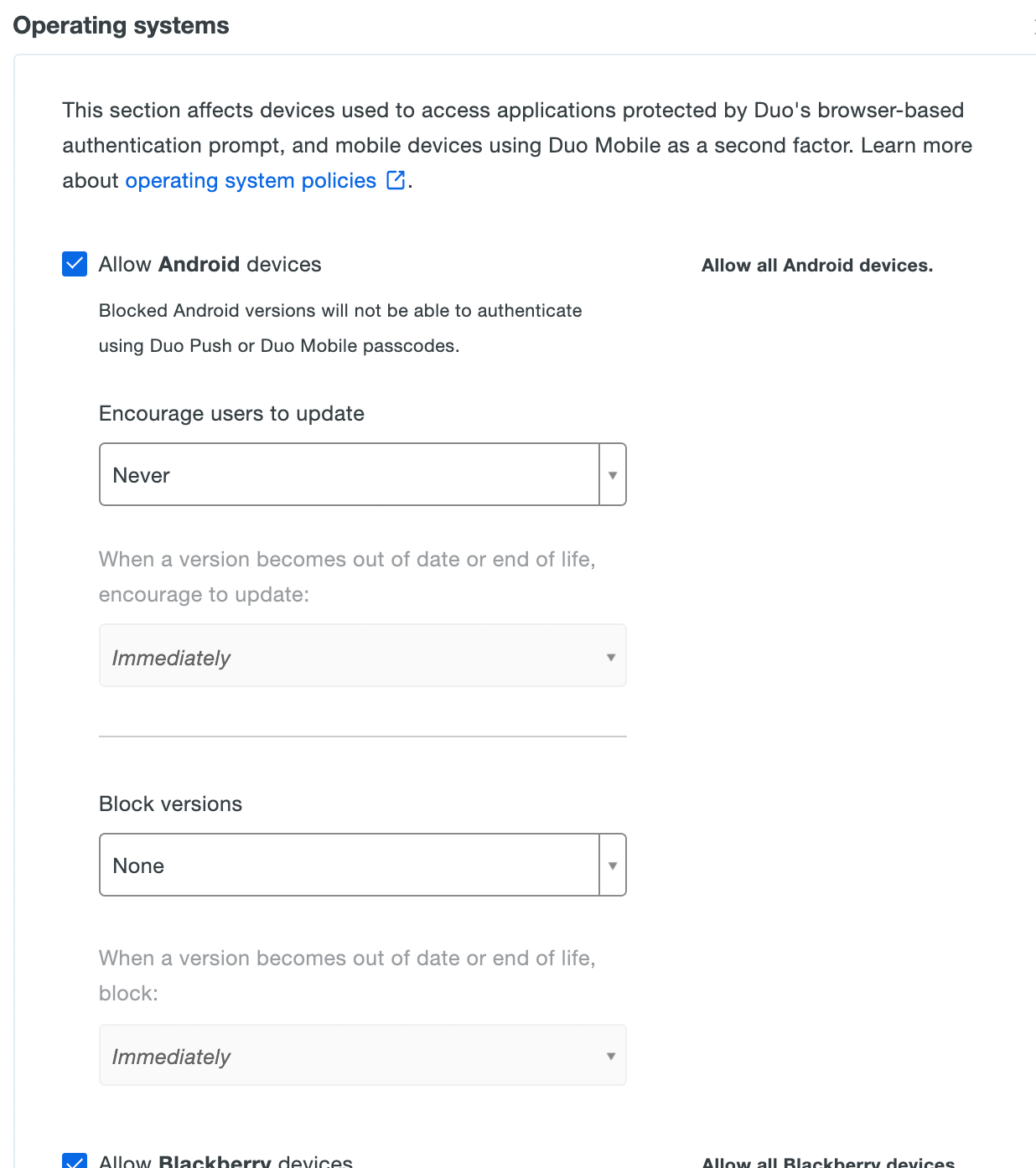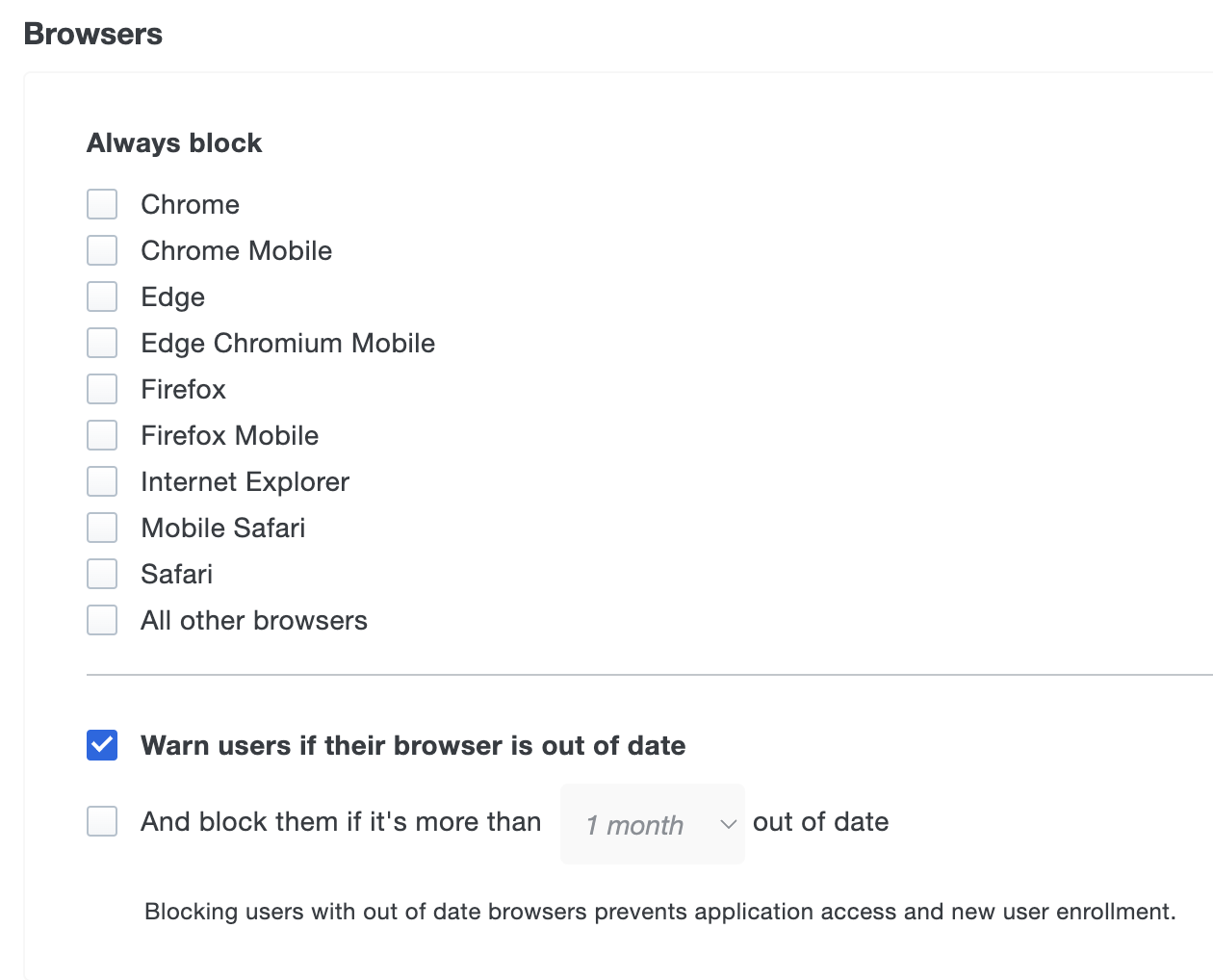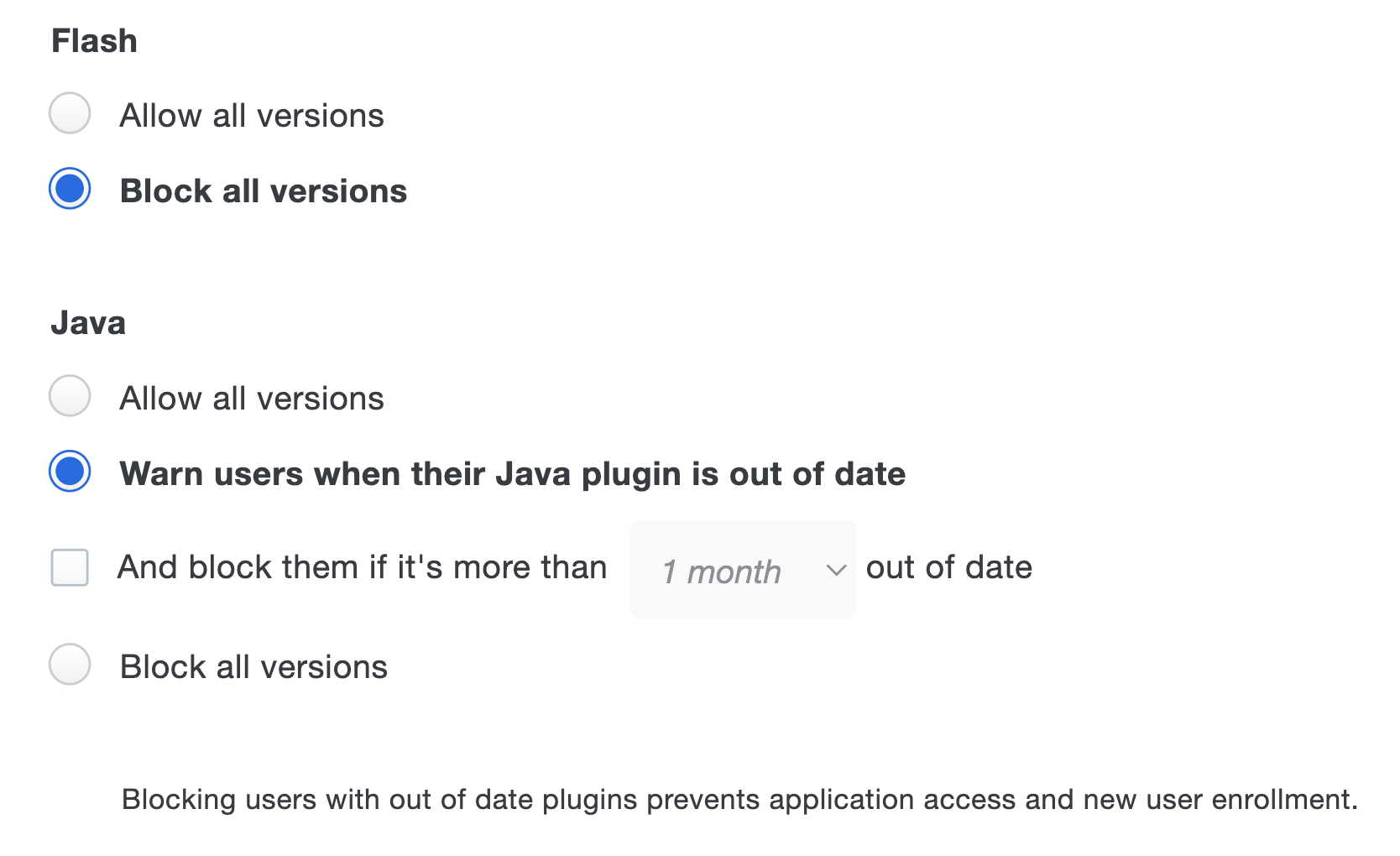 See the Policy & Control documentation for more information.
Troubleshooting
Need some help? Try searching our Knowledge Base articles or Community discussions. For further assistance, contact Support.
Ready to Get Started?
Sign Up Free