Industry News
New 2020 Duo Trusted Access Report Examines Securing Remote Work
The time has come where we analyze authentication data and produce our wildly popular Duo Trusted Access Report. 
The 2020 Duo Trusted Access Report details the security state of thousands of the world's largest and fastest-growing organizations. The report examines 26 million devices used for work and 700 million user authentication events per month to more than 500,000 unique corporate applications, based on de-identified and aggregated data from Duo's customer base.
This year our report is also interactive!
In this report you learn:
The security consequences of a massive shift to remote work and its security challenges

What caused a 90% spike in blocked out-of-date devices attempting to access protected business apps 

How biometrics is configured on 80% of devices, paving the way for a passwordless future 

How authentications to virtual private networks (VPN) and remote desktop protocol (RDP) swelled by 60%

How the sheer volume of activity caused Duo's monthly authentications to jump from more than 600 million to 800 million per month, with 71.9% of the increase due to remote access technology

Why more Duo customers are setting policies to disallow SMS as an authentication method

The rise of authentications to cloud apps and the fall of authentications to on-prem apps

Which phones are updated quickest after a security patch or update is released 

Which operating systems and browsers are most frequently used

Regional differences in remote access, policy enforcement and application use

Which policies are used most frequently across industries and which industries have the most out-of-date devices.
These are just a few of many findings you will see when you download the 2020 Duo Trusted Access Report. 
"As work from home for most began, the priority for many organizations was keeping the lights on and accepting risk in order to accomplish this end. Duo is in the business of helping others stay in business securely, and was able to provide CISOs a backstop when security took a back seat to business resilience." — Dave Lewis, Global Advisory CISO at Duo Security at Cisco.
This year's report is our best yet! You will enjoy interacting with it and learning more about what is happening with secure access this year. Let us know what you think. Tweet to us at @DuoSec
Download the free 2020 Trusted Access Report today!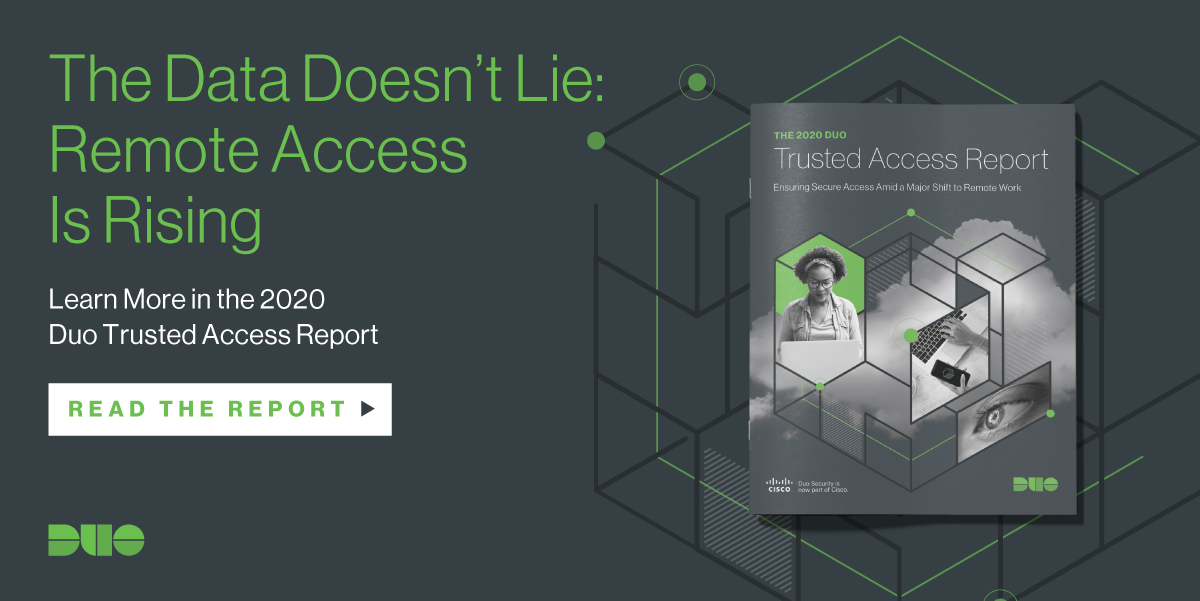 Try Duo For Free
With our free 30-day trial see how easy it is to get started with Duo and secure your workforce, from anywhere and on any device.