Product & Engineering
Calling All Developers: Building Together With Duo's Tech Partner Program
Hi folks, I'm excited to announce today that we are officially launching the Duo Technology Partner Program. We've been hard at work designing and building this program from the ground up, so I'm thrilled to share with you what we have planned for our developer community.
First, why are we doing this? Over the past few years, Duo has worked with hundreds of vendors to support our customers' various security initiatives, from simplifying two-factor authentication (e.g. our U2F integration with Intel) and improving device security posture (e.g. our Trusted Endpoints integration with VMware Airwatch), to more advanced use cases like using Duo as a critical step in security response workflows (e.g. building Duo into the securitybot workflow) or enforcing granular access management on firewalls (e.g. our integration with Palo Alto Networks).
Regardless of the use case, one thing is clear: our customers consistently rely on us to provide best-in-class interoperability with the rest of their IT investments.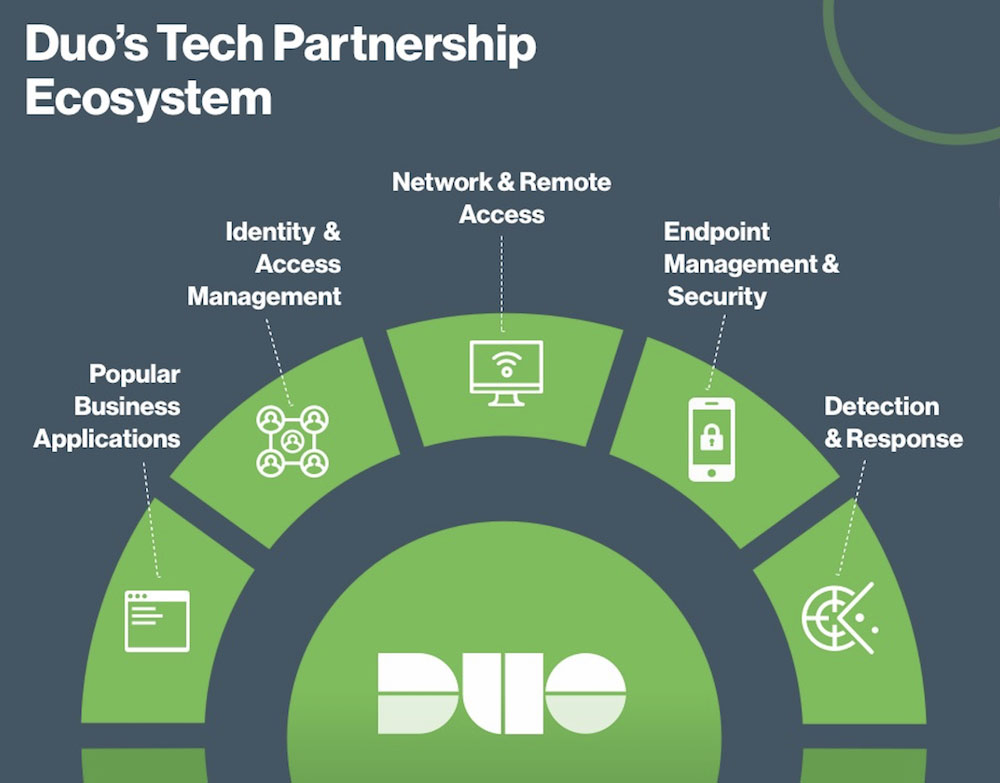 Partnering With Akamai to Deliver Better Security
In fact, we're doubling down on our partnerships to help customers adopt a modern, zero-trust security architecture. We're proud to welcome Akamai to our partner community. Duo and Akamai are working together to offer a best-in-class application delivery and security solution for customers looking for a more secure remote access alternative to VPNs. Visit the Duo and Akamai partnership page to learn more.
For Our Customers
Our customers are our primary motivator for formalizing how vendors will partner with Duo. Ensuring a delightful customer experience, from initial deployment to ongoing management, is of the utmost importance here at Duo.
On average, it takes less than 20 minutes to set up an integration between Duo and any given application, compared to the days or weeks it takes with other authentication solutions. This is something that we are extremely proud of and consider a critical part of the overall customer experience.
This program will help us provide even faster and easier deployments for a larger number of applications. It also enables us to address new customer use cases as Duo grows beyond authentication.
Program Benefits
For our developer community, the benefits are equally exciting. As a partner, you get access to Duo's network of 10,000-plus customers and 2,000-plus resellers. You'll build and collaborate with hundreds of other developers who are also creating on the Duo platform.
You'll get access to a full Duo developer account to build, test, and certify every integration you create with us. You'll even engage in joint sales and marketing activities with us to drive interest for your own product; our partners have found that adding Duo generates instant security value for their own customers.
Interested in working with us? Here are a few ways to learn more:
That's all for now. We can't wait to see what you build with us.
Ruoting Sun,
Head of Technology Partnerships