Industry News
Celebrating Duo's 2021 Community Impact Award Winners
Giving back to our local and global communities has always been a big part of Duo's culture. This tradition inspired us to launch the Duo Commmunity Impact Awards, now in its second year, which recognizes and celebrates how Duo team members made an impact in their communities over the past year. 
Joining me on the awards committee were Megan Furman, Chief of Staff / Head of Operations; Emily Reid, Head of Employee Programs; Stephanie Frankel, Head of Brand Team; and Kristina Birk, Release and Documentation Manager / Duo Gives Planning Team.
We received a wide variety of nominations across Duo, and we loved hearing about all the amazing things our team is doing to make the world a better place — volunteering, coaching, mentoring, running community initiatives, and so much more both inside and out of the workplace. We also loved seeing how many people nominated someone else. Each nominator shared that they're personally inspired by seeing their colleagues' efforts, and we think they'll inspire you, too. 
We're really excited to highlight our five winners, who each earned a $5,000 grant for Bright Funds, Cisco's charitable giving and matching platform. This allows our winners to award non-profits that they're personally passionate about, further spreading their positive impact and kinder-than-necessary attitude.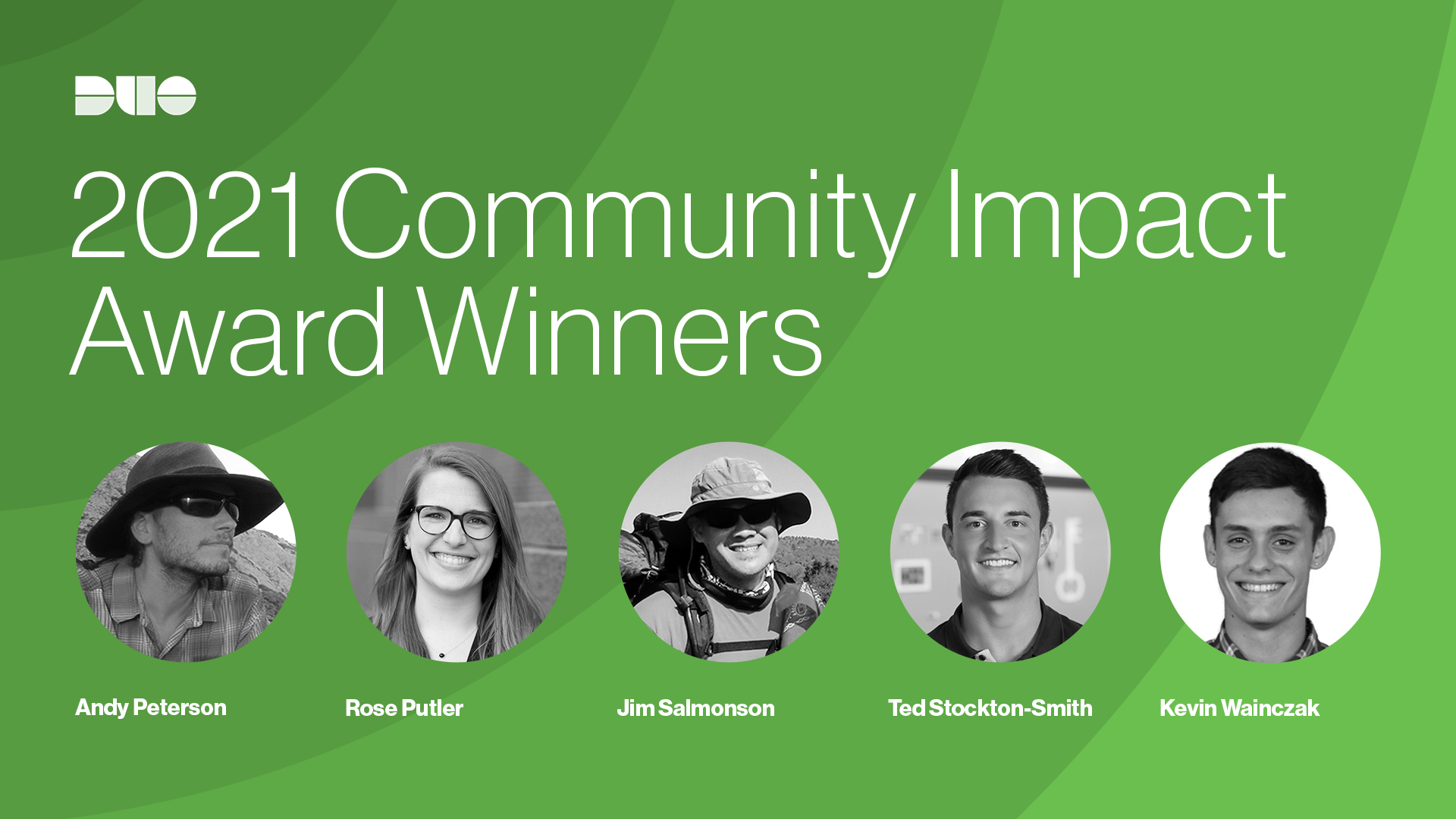 Andy Peterson, Technical Solutions Architect, volunteers at nonprofit animal welfare organization Friends of Upland Animal Shelter in Upland, California. He spends most of his free time working to drive animal welfare education and activities to improve the situation for lost and abandoned animals. He typically volunteers around 100 hours per month doing various activities including fostering puppies, supporting as a volunteer board member, committee member, and everything in between.

Rose Putler, Data Scientist, volunteered with Our House, a southeast Michigan-based organization helping young people with foster experiences transition successfully into adulthood. She not only participated in one-on-one and group mentoring with the organization, but also reached the milestone of more than four years working with her mentee, Alexis! (You can learn more about Rose and Alexis in this interview.) Having moved from Michigan to Boston after working with Our House for so long, she's thrilled to be able to support them from afar and hopes to find a similar organization to work with in her new hometown. Rose hopes folks get inspired to be more compassionate and to advocate for policies which respect the dignity of the disadvantaged and the value of their time.
Jim Salmonson, Federal Systems Engineer, has been giving back in a variety of ways over the past year. He volunteers for the development of future Cyber Warriors as well as promoting music and arts in high school programs. Jim has been able to connect his network of cyber professionals and resources to help Junior ROTC leadership mature their programs, where he consults and mentors the senior directors to engage Cisco Systems and expose this community to current security capabilities, while developing good cyber citizens. In addition, Jim has been an active volunteer on the weekends for the local philharmonic and high school band programs to keep music active in the community. Jim provides audio/video services to the programs to keep kids connected and active safely during the pandemic.
Ted Stockton-Smith, Account Development Representative (ADR) Manager, has spent countless hours volunteering within COVID-19 vaccination centers since the beginning of the year. He has selflessly given his spare time, along with his Time2Give hours (a Cisco benefit providing team members 40 hours per year to give back to our communities) to one of the most important causes of the past 18 months. Being able to regularly spend three hours in the morning or on weekends assisting a team that vaccinated thousands of people a day, and then start work at 9AM ready to mentor, coach, and manage the ADR team is really inspiring.
Kevin Wainczak, Software Engineer, was driven to get involved in his community after a year when many people felt a strong sense of disconnection. He is a volunteer coach in pole vault at a local high school, working with athletes of all skill levels. Developing trust within such a difficult sport really allows the kids to achieve their best, and Kevin has fun and takes pride in seeing the enthusiasm and hard work that they show up with every day. He hopes that the athletes come away more confident than when they started, and that they feel like part of a team.
With so many impressive submissions, we wanted to highlight five more honorable mentions! Each of these Duo team members was awarded a $100 Bright Funds grant to donate to the non-profits that matter most to them.
Daniel Bagwell, Software Engineer, assisted with the distribution of COVID-19 vaccines at the Dallas, TX Fair Park Vaccine Mega Center. Because the site was only open during business hours, Time2Give allowed him to volunteer when others could not.
Courtney Eastman, Account Executive, organized a group to convert a trailer into a home for a family who lost their father and were living in a hotel. Donating replacement flooring, cabinets, and appliances, along with painting, cleaning and landscaping, took about five days.
Madhavi Kongara, Data Warehouse Developer, has been involved with Wayne County Senior Services initiative, providing meals to homebound senior citizens through Meals on Wheels. For the past nine months, she's delivered meals to 10-20 seniors each week.
Amelia Lombard, Learning & Development Lead, volunteered twice a week in a virtual Algebra 2 classroom from January through June. During the one-hour classes, she and the teacher divided the class and supported their respective groups as they worked through math activities.
Mike Spitz, Head of America SMB Sales, is part of the Ann Arbor Community Academy, a volunteer group of citizens who connect with the city to understand more about what goes into day-to-day operations in Ann Arbor, Michigan. Through AACA, Mike learned about and got involved with several other initiatives, including one to plant 10,000 trees!


We're seeking top talent! If your passion is collaborating with inspiring teammates, and creating and supporting products that make a difference, we want to hear from you. Check out our open positions!