Industry News
Creative Jobs in Tech: Making Security Accessible Through Design & Dad Jokes
Art Director Steven Samuels' dad jokes have created some of Duo's most memorable designs. Samuels' approach to his creative tech job is ensuring that design always considers the audience and most importantly, solves problems.
If you also value problem solving through creativity and design, check out our open positions.
What distinguishes designing for cybersecurity?
Steven Samuels: Things can look great, but if they don't compel the audience, it isn't successful. We need it, whatever touchpoint "it" is, be it a report, an ad, physical experience, to resonate with the target audience in substance. Style helps draw them in, substance keeps them coming back.
Designing for cybersecurity is different from designing for general consumer brands and products — even different from other highly specialized, focused industries. What has always been different about Duo and now with Cisco, is not to peddle fear, uncertainty and doubt (FUD).
We always want to be credible, helpful experts — the trusted advisor. We focus on telling stories of solutions and enablement, not breeding fear under threat, but reassuring our stakeholders (internal and external) that we are here to help them focus on their missions. That's where I get really excited, especially with a company like Cisco, because not only are we innovating on the security side, we're using design to creatively solve problems to connect and protect.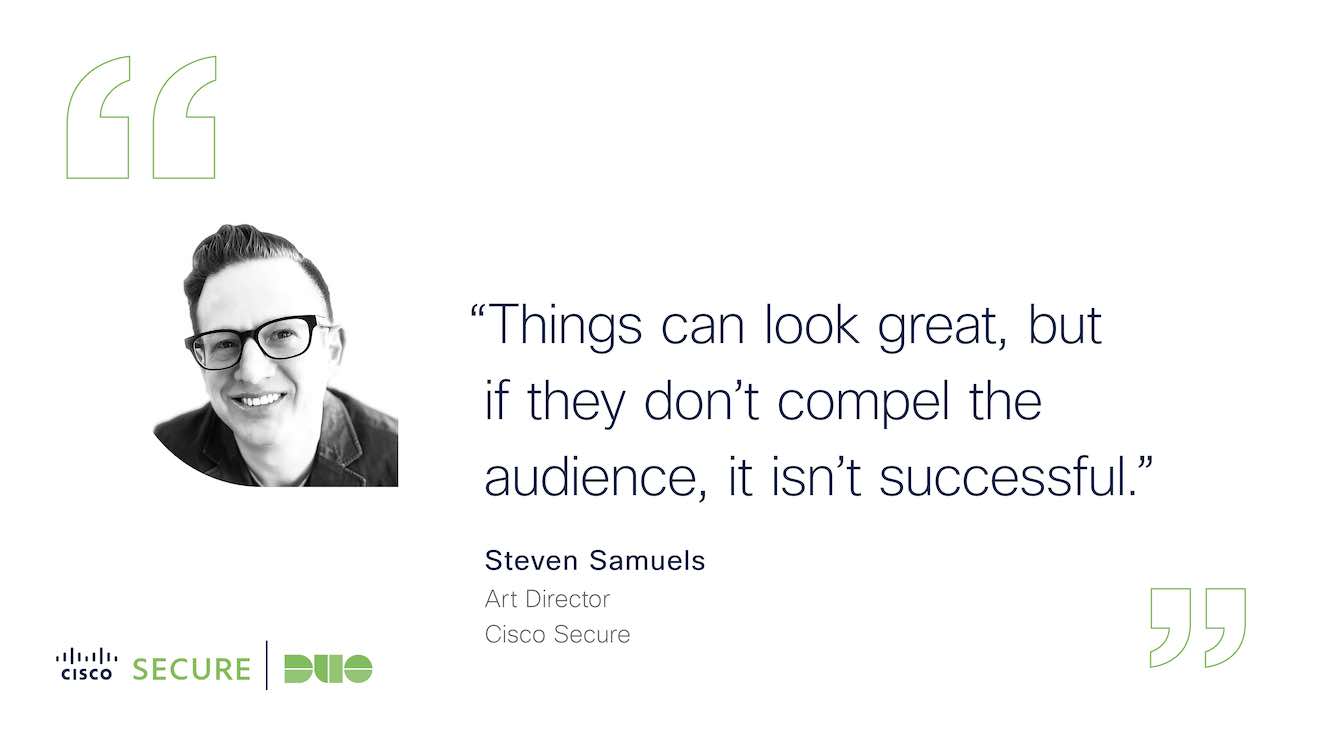 Design is often at the center of that. Whether it is bringing clarity to a complex concept, tuning the look and feel of our touchpoints out in the world, from our trade show exhibits to small but mighty gestures like a push authentication, micro-experiences compound over time into brand perceptions. All these things coming together, that's really where I like to play.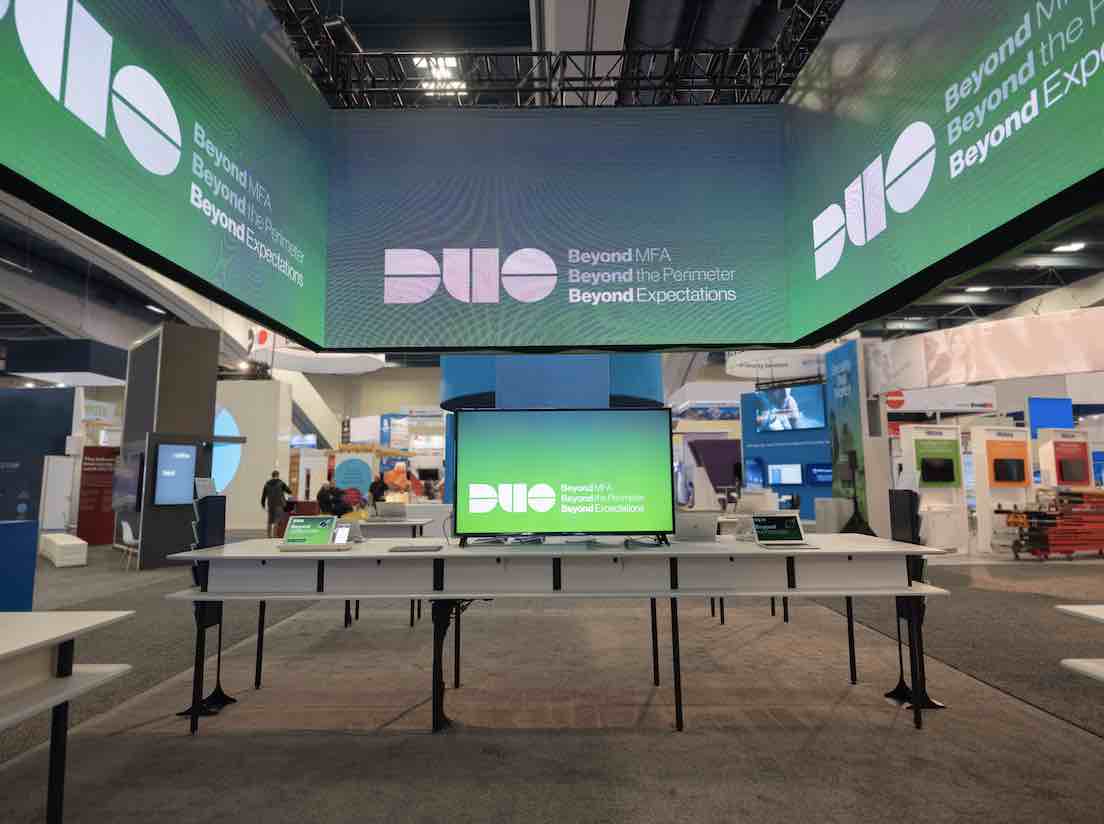 How do you differentiate art from design?
Steven Samuels: Design is the act of solving problems, it's not just making stuff pretty. Styling serves a function – no doubt. Art asks questions and provokes as well as serves decorative functions, too.
Design also provokes, but we must also deliver results and solutions – questions and provocation are not enough. So, generally speaking while art and design often overlap, they are distinguished by their desired results and outcomes.
To generalize and illustrate the point (pun intended), a painter can paint whatever they want because they are their own stakeholder (or not, depending on who they're painting for). Design is generally different because we have different objectives, deliberate audiences and economic agendas.
How do you define a brand and how do you develop a brand as a designer?
Steven Samuels: Brand is not just logos or colors, it's a gut reaction. I like to say it's a soup of impressions and it's our street cred. It really is a weaving of relationships.
Telling a dad joke at the end of a meeting turned into one of our most popular things, but what I like to point out about these is they're branded expressions. It is successful because it's unexpected; it is a bold signal from a confident brand that is different, so it acts differently and demonstrates that real people, real experts are behind it, which builds trust.
"Zero Trusts Given" is topical, tongue-in-cheek and works. Tuning these branded expressions has been very critical to the success of how Duo builds emotional resonance.
When we mix storytelling with strong concepts and tuned brand messages, you get results like the Duo exhibit at RSA Conference a few years ago, when our story and concept was to lift the perimeter. We made this huge box that had 360 LED screens on the inside, with seamless animation that Story and Media Leader Martin Thoburn built in VR so we could test it to see what the video would look like pre-build, and lifted the perimeter above our exhibit space.
[Editor's note, if you want to read more of Samuels' thoughts on cultivating creativity, check out our first conversation: A Tech Career for Non-Engineers? From Baking Cups to Ergonomics, the Inner Workings of Tech Art Design]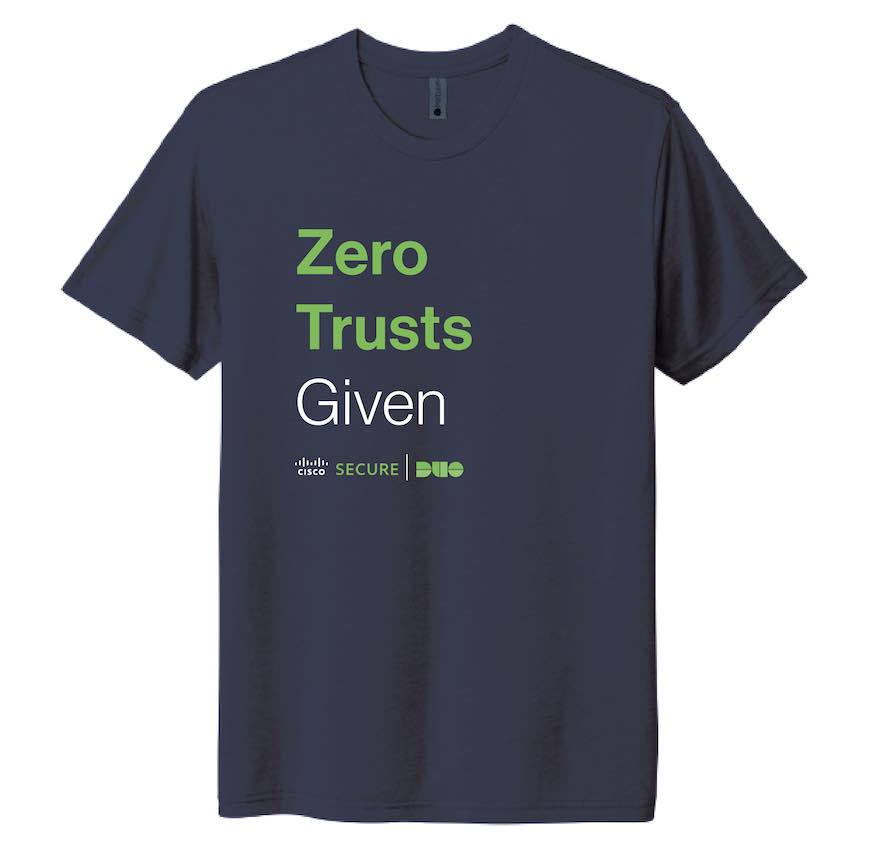 What meaning do you find in designing for security?
Steven Samuels: We strive to make our messages consumable — that means delivering content that speaks clearly and is helpful and sensible. We don't need to rely on fluffy stats; our audiences see right through it. They keep us honest, and we keep them current and effective — which is meaningful for all of us. Some of the issues that face our industry can have real-world, life or death, even global consequences. Big picture, I see the work we do as being a step in enabling security practitioners to do their jobs better — which keeps us all safer, so I find a great deal of meaning and importance in that.
Security has taken on a whole new meaning just in the last few years. Some elections and different breaches and magnitudes of importance of infrastructure, all kinds of things come together in this really incredible way, often in the palm of our hand.
Security impacts everyone. "Oh, you work at Duo? I have that on my phone." It becomes personal almost instantly. So whether they're seeing the deeper issues and different things involved and behind the scenes, there are different degrees of visibility for different user groups with whom we are often engaged. With the rise of remote work, security has become a household issue.
What advice do you have for people who want to get into art directing and design, especially in the cybersecurity space?
Steven Samuels: My advice is: Do what interests you, because you can probably find a lane to swim in, and more importantly thrive in, since there are so many ways to creatively engage with security.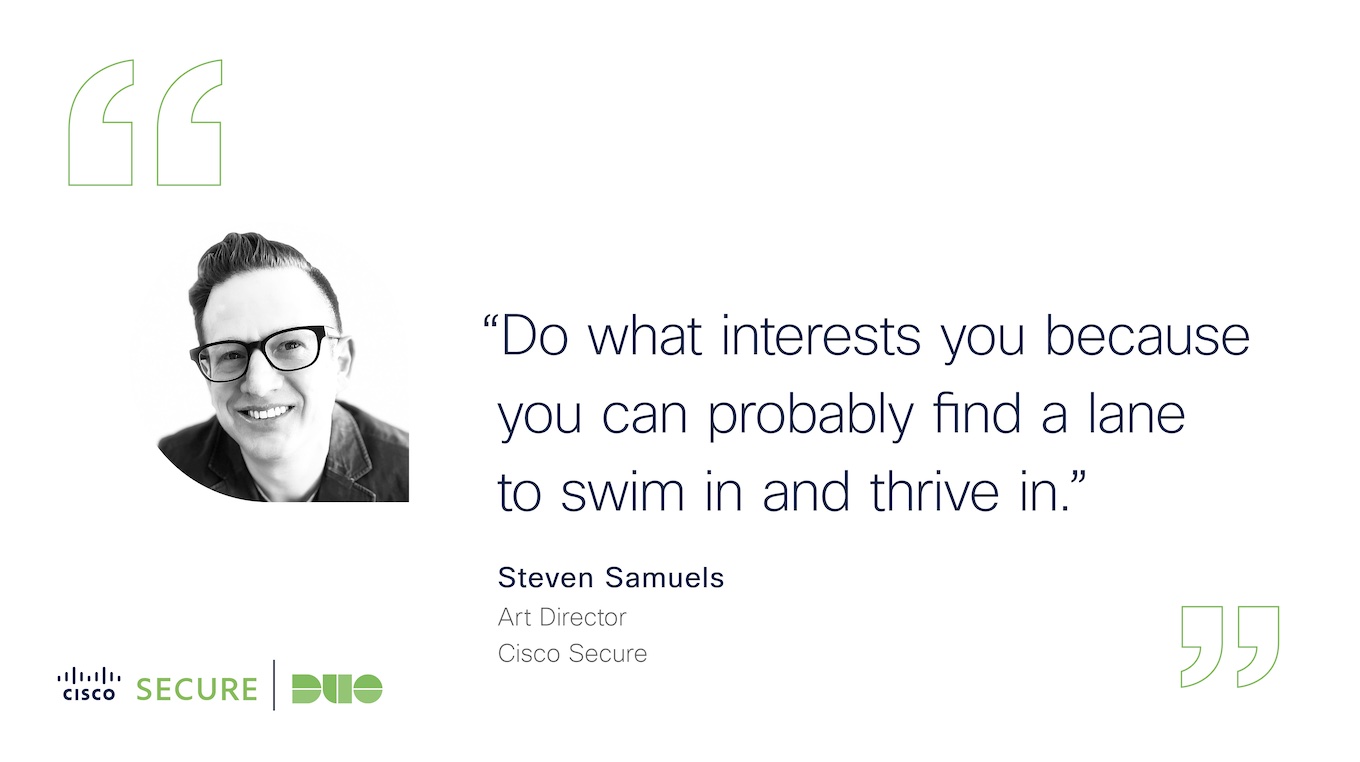 There's an undertone to security that is inherently creative and DIY. That comes through different things like brand and marketing design, product design or UX, UI design. These different disciplines are constantly blurring with one another more than ever.
Ready to find your creative job in tech?
If you're interested in finding your swim lane, please visit our open roles. To learn more about Samuels' day-to-day approach to working on Duo at Cisco, check out our first conversation: A Tech Career for Non-Engineers? From Baking Cups to Ergonomics, the Inner Workings of Tech Art Design.