Product & Engineering
How Design Thinking Drives People-Focused Innovation at Duo: Design Thinking in Action
Part two in a three-part series on design thinking at Duo. Previously: An Introduction to Design Thinking at Duo
Design thinking virtual crash course
Previously offered in person, the Design Transformation team at Cisco Secure hosts a four-hour virtual crash course in which participants learn how to apply Cisco design thinking fundamentals while solving a real and common challenge.
"We really wanted to build a program that would not just expose people to the methodology, but it would also teach them the skills and also provide the tools so that they can go back and apply them," Valeria said. Activities include empathy research, reframing problems, dynamic ideation, prototyping and practice concept pitching.
In addition to formal trainings, Valeria and her team provide customized working sessions, facilitation and coaching to bring design thinking principles into customer and team experiences. "We do a lot of coaching and mentoring," Valeria said. "Anyone interested in design thinking can always come to us and we'll dedicate as much time as we need to help them figure out the right tools for their specific context for their specific work for their specific project or team."
The Duo Blog caught up with some Duo team members to learn why they got involved with design thinking and how it's impacted them.
Cisco Secure Web Marketing opportunity workshop
In spring 2021, the Cisco Secure Brand team needed to evaluate the state of Cisco's security marketing portfolio on the web and make recommendations to bring together these disparate website properties to foster a more cohesive experience. Over the course of three months, the project team held many stakeholder interviews and researched everything from the back end to the look and feel of each brand's website, starting to consider how to optimize the experience.
That's when Emily Gordy, a creative project manager with the Cisco Secure Brand team, tapped design thinking: "We had so much information and so many thoughts and feelings, but we didn't really know how to distill it. We didn't know how to translate our pages and pages and hours and hours of notes into actionable next steps."
Ahead of the workshop, the participants organized their data into categories. Next, during a two and a half-day workshop, they transformed this initial research into a prioritized action plan. By the end of the session, the team arrived at six top ideas, with each participant making a workflow suggestion for how to execute the ideas, and they created a combined roadmap that balanced their new work alongside their existing work.
"I think if we'd just continued down the path that we were going, we could have meetings and discuss ad nauseum, just taking notes and things like that. But we did some really off-the-wall things in the design thinking session that were wonderful in helping us generate more creative ideas," Emily said.
One of her favorites was an exercise called Art Museum, in which participants were given individual break-out time to visualize what they wanted for the future state of Cisco Secure on the web and explain the thought process behind their images and what they represent, and then share via an online whiteboard tool. "It was a really cool way to approach the idea, especially for a team of creatives, and maybe a language that's more comfortable for some of us to speak. It really generated some unique ideas and helped us identify areas of commonalities between people from all different capabilities."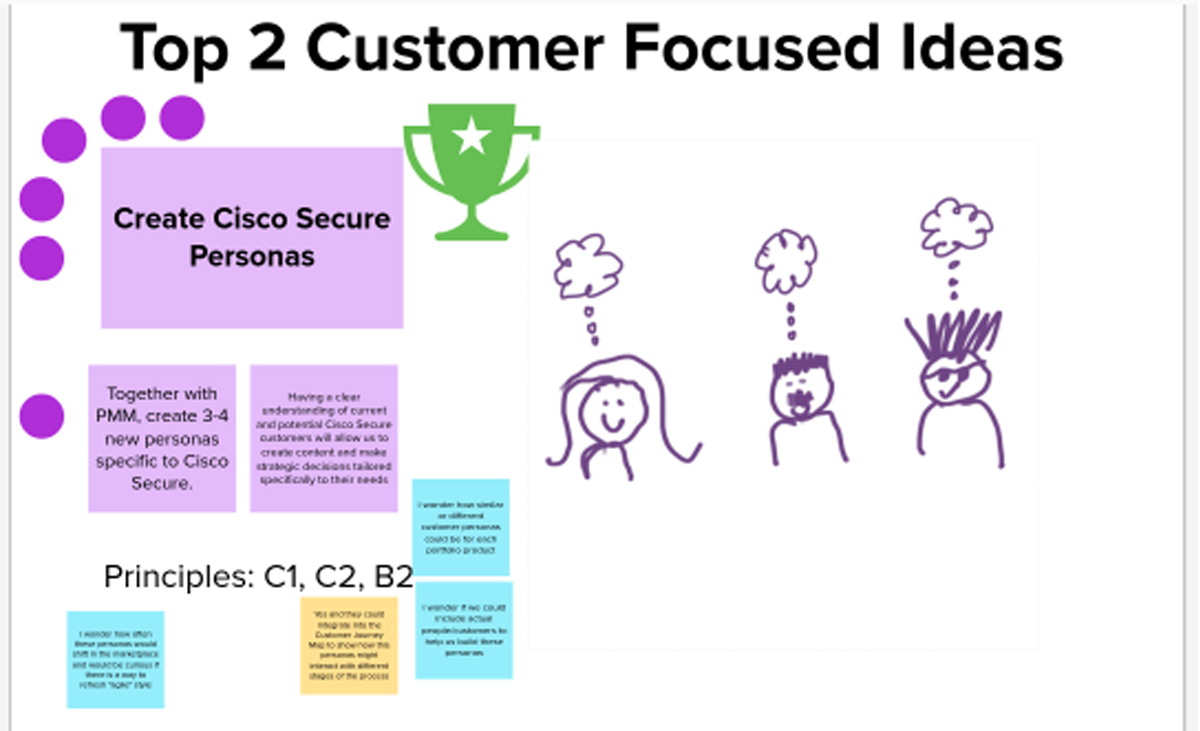 Reflecting on the experience, Emily shared that not only did the ideas generated help form the foundation of the work that the Brand team's web designers and developers have been doing, but it also changed the way she approaches her role. "Project management can so often just be by the book and looking at bandwidth, workload, timing and all of that. It was a nice reminder that not everything has to be so prescriptive and quantitative. It illustrated the importance of keeping your team engaged — as opposed to just getting everybody in the room and saying, 'Hey, let's go around in a circle and share our thoughts.' If you're leading with activities and being really intentional about how you're generating ideas, I think the quality of the ideas that come out is really improved upon."
If you're leading with activities and being really intentional about how you're generating ideas, I think the quality of the ideas that come out is really improved upon.
Team Leap and Team Norms working session
Manager of Employee Programs Anndrea Boris runs a team responsible for onboarding, internships and community engagement. As this is a new team that formed in late 2021, Elayna Spratley — who previously led design thinking at Duo and is now Design Thinking Program Lead of the Cisco Workforce Experience team — recommended the Team Leap and Team Norms working session to build connections, get to know each other's working styles and uncover the similarities and differences that make a team strong.
While most of these personalized design thinking sessions seek to solve a specific problem, Team Leap and Team Norms are about shaping the way team members interact. Anndrea described her goals for the session as, "Today we will leave feeling closer to our teammates, aligned on team norms, and smiling."
The half-day session prompted participants to discuss four areas: working style, strengths, developmental goals and pet peeves. "We were able to build empathy and find moments where teammates can have these deeper connections on more of a personal level, and then collaborate on how we'd like to work together as a team."
"Recognizing the way we communicate, the way that we have our teamwork, how we're organized, what our best skill set is, I think that all ties into how you solve problems," Anndrea added. "A lot of the problems that come up in our programs are connected to other departments or teams, so we have to have these strong relationships with other team members. I've noticed when a problem pops up, we solve it together. And if it pops up again, our team knows how to solve that problem."
Anndrea highly recommends Team Leap and Team Norms, especially if you're a newer manager or a manager who's newly forming a team: "It led to a really great team conversation of how we can understand each other and our strengths. I got a lot of value out of it, and I know my team really enjoyed it as well. I'm just very grateful that we had this session because I think it did kick start our team off on a really great note having this as our foundation to build off of."
Design thinking resources