Industry News
DJ Graffiti + Duo = Remote Work Culture That Unifies and Inspires
World-renowned DJ Graffiti's longstanding relationship with Duo Security has been a conduit for cultivating a remote work culture through intentionality, inclusivity and authenticity. DJ Graffiti, aka Martin Smith, has been a key part of Duo's family since the beginning. His deep care for team members and alignment with Duo's eclectic, kinder than necessary culture has grown despite the world's rapid transition to remote work. DJ Graffiti shares his journey, and team members reflect on what makes DJ Graffiti such an important part of what makes Duo, Duo.
DJ + Marketing = DJ Graffiti
DJ Graffiti has always had an entrepreneurial spirit and love of music. He studied marketing and computer and information systems at the University of Michigan (U of M). Sophomore year, his passion for music and friendships with other emerging DJs led him to build his own crate of records and equipment. By graduation, he was DJing parties and bars and clubs downtown, crafting his identity as a DJ and marketer.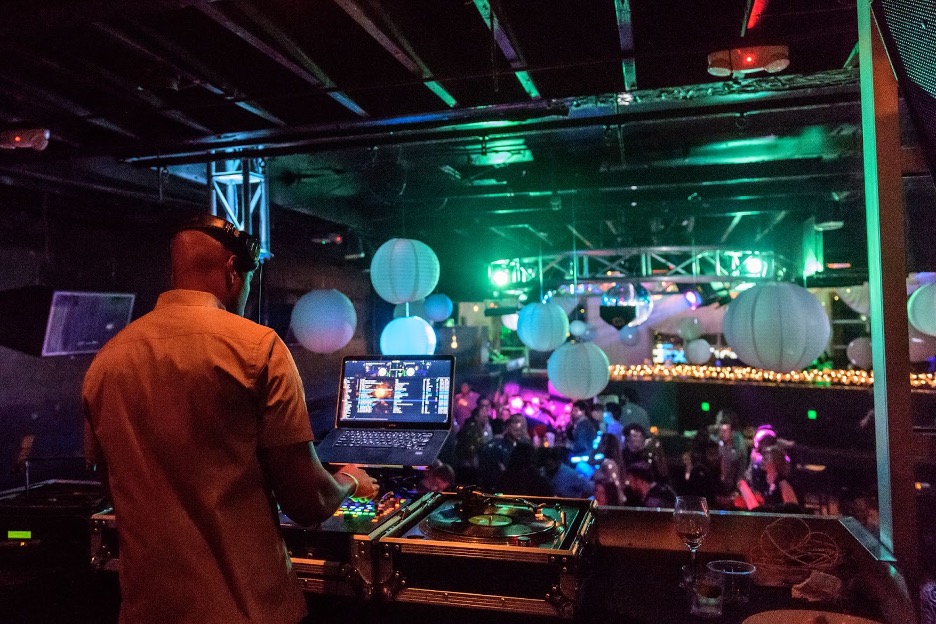 After studying entertainment law at U of M Law School, Smith's interests in DJing and marketing dovetailed. Companies wanted to reach the people attending his events, which led him to sponsorships and brand launches. In his first ten years as a DJ, Smith opened for legendary artists including Beyoncé, Jay-Z and Snoop Dogg.
However, Smith realized that the travel of DJ life wasn't for him, a self-described, "calm, kind of Midwestern lifestyle person." Instead of DJing multiple nights a week, he leaned into his other love of marketing — social media — which was blowing up at the time, especially for musicians. "Everybody from a business perspective was saying, 'How do we do what these music artists are doing?'" To answer that question, Smith started a marketing and music management company with some partners. Smith took over sole ownership of the marketing arm and rebranded as Overflow, the agency he's run since 2014.
Right place, right time, right vibes
As fate would have it, Smith's company's first office was the birthplace of Duo Security: the Northern Brewery Building. To get a desk, Duo co-founder Dug Song was the person to talk to, "Dug Song's a very welcoming person, always very kind, and loves community and just talking to people."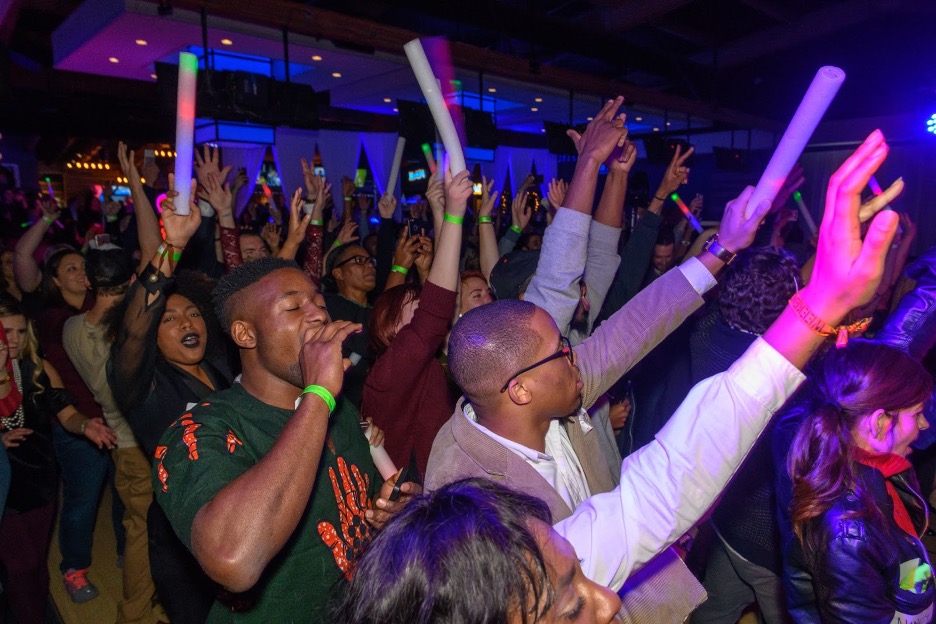 A hallmark of the shared space were Beer:30 gatherings on Fridays, where Smith watched Duo grow from five to 500 people, soon needing a DJ: "I had been around the whole time. Both Dug and co-founder Jono were big hip hop heads; I was a hip hop DJ. We all connected and bonded over that." Global Events Manager Emily Boring was a main collaborator with Smith, and together they brainstormed how to plan memorable, meaningful events.
Greetings, Duo! Meet me on the dance floor
Boring remembers the first event she and Smith worked on. A holiday party in 2016 at Necto in Ann Arbor, it was "a smashing success, especially thanks to Martin. People danced all night! The fun never stopped."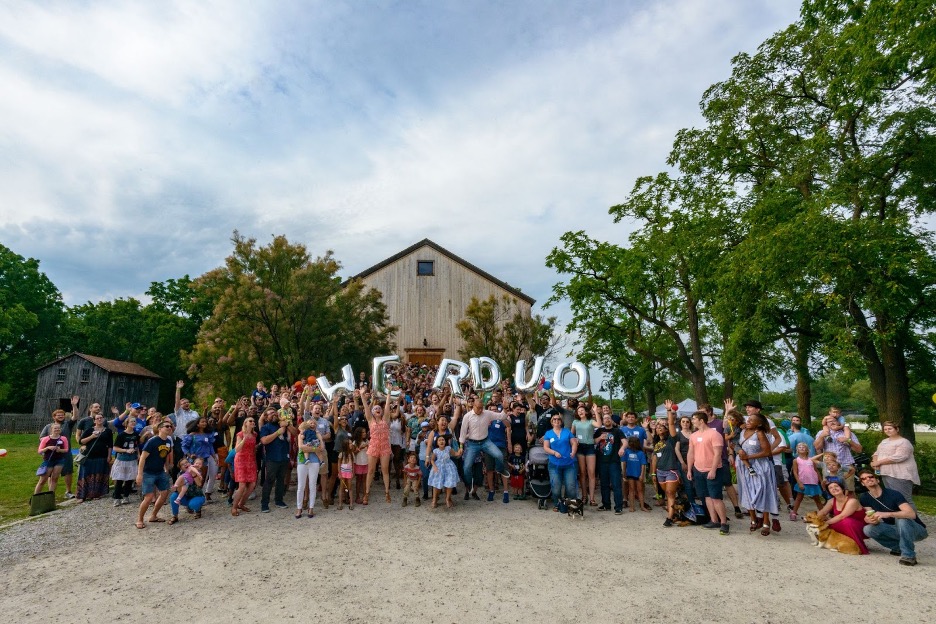 The partnership continued for all Ann Arbor events, including family picnics which Smith made fun for adults and children alike. Photographer Doug Coombe was a major partner in capturing those memories and took all the photographs included in this post.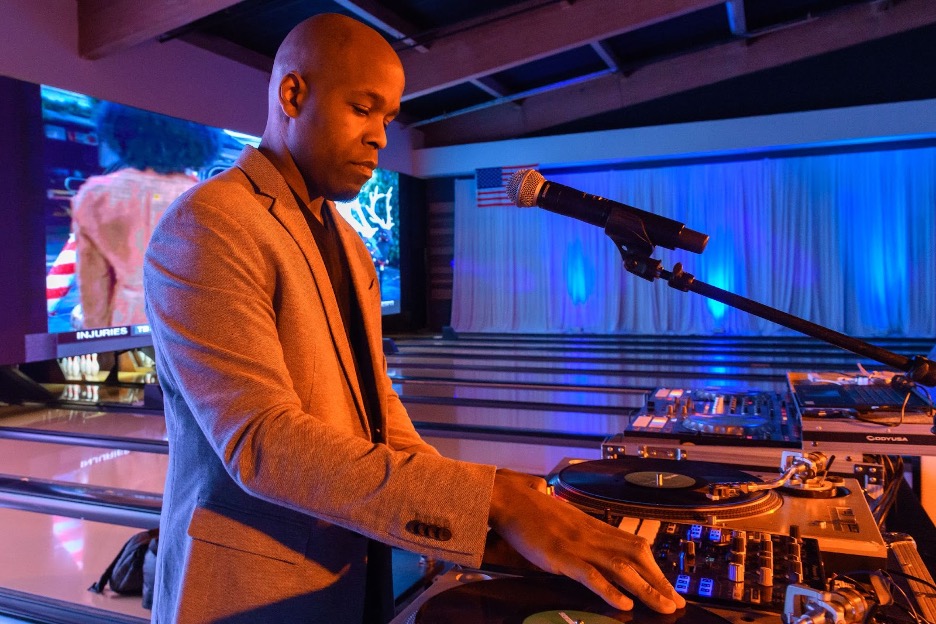 For Ann Arbor's 2017 holiday party, a stage was built over Revel & Roll's bowling lanes and featured otherworldly visitors. Smith production managed the event and DJed for a few hours before Duo's resident DJ and employee, Selina Style, took the stage.
Then, an alien voice blared over the speaker, inviting everyone to the dancefloor. "Ten-foot robots came out and danced with the employees with huge saber lights," Boring shared. DJ Selina Style announced one more surprise: "that's when Redman came running out to the stage and played an entire show. Everyone literally freaked out. It was one of the best nights of our lives, and I could not have pulled it off without Martin by my side," said Boring.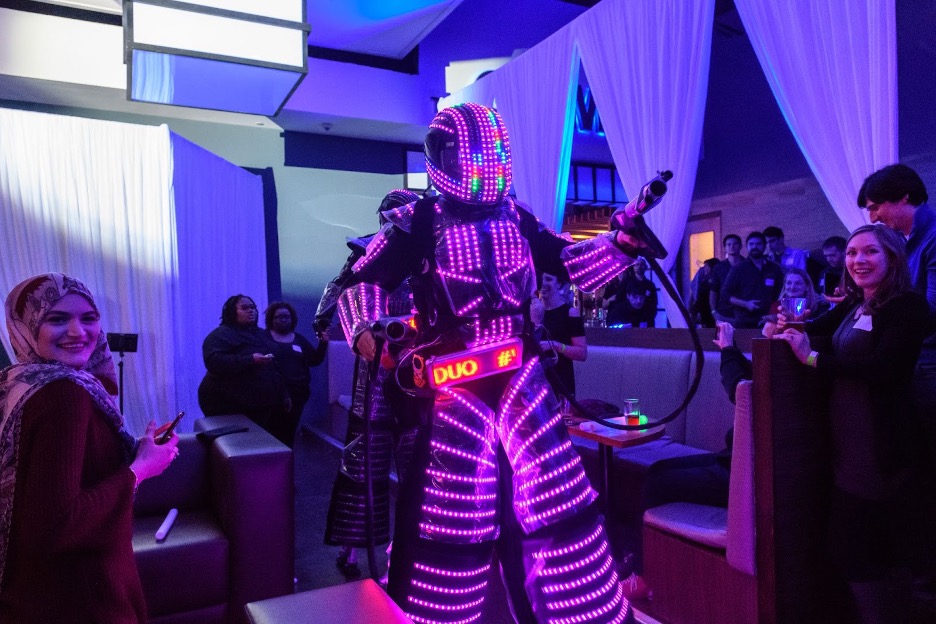 DJ Graffiti has supported Duo through many changes like when Duo was acquired by Cisco. The night before the acquisition celebration, the venue lost power. The all-day 100+ person event held in July's Michigan humidity ran on back-up generators. Storms started in the middle of DJ Graffiti's outdoor set but he continued inside by candlelight. "It was one of the craziest days of my life, and I could not have gotten through it without Martin. He kept reassuring me that everything was going to be alright — and it was, even in the most unforeseen circumstances," Boring remembered.
It all goes back to culture
What keeps Smith coming back to co-create innovative Duo events? "Duo has some really cool, eclectic people who have diverse taste in music. Duo has always been a company where culture was important."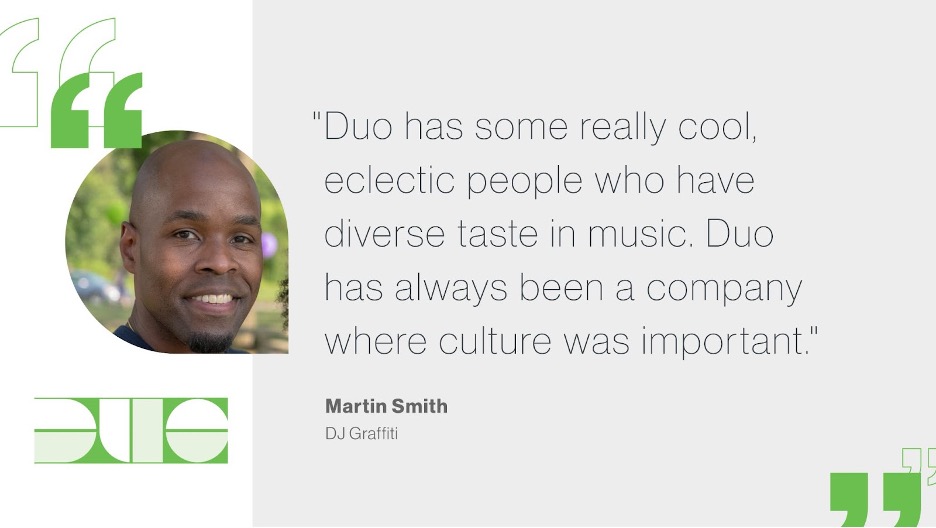 The way DJ Graffiti resonates with and contributes to Duo's culture is deeply felt. "DJ Graffiti is tailor-made for every Duo event — he embodies one of the most important core Duo values, which is inclusion for everyone. His sets are perfect, as they are full of feel-good music from every genre and culture," shares IT Support Manager Frank Erve.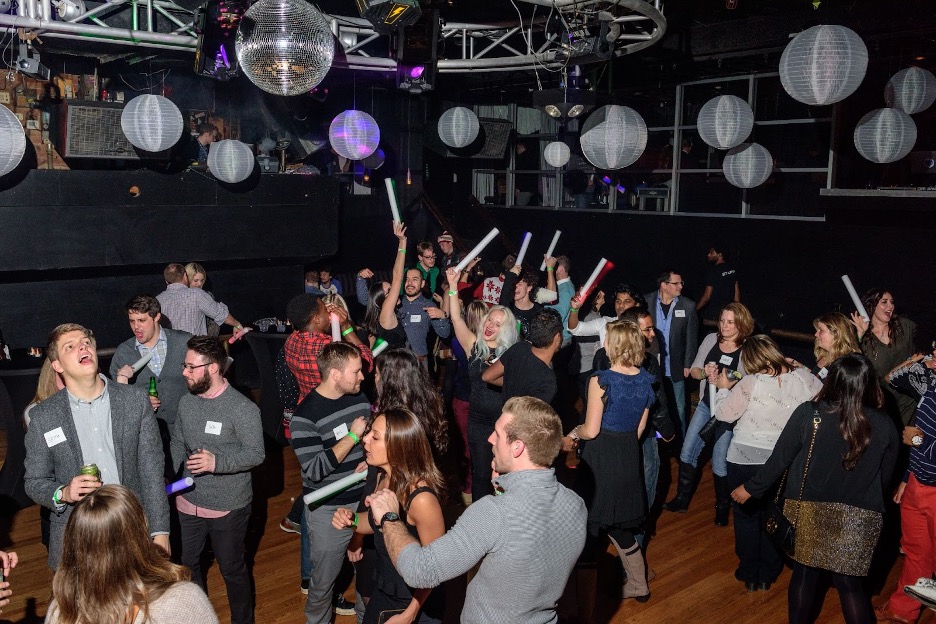 Sr. Product Manager Deidre Ellis puts it this way: "DJ Graffiti is a treasure, and he really embodies what Duo culture is all about — taking care of each other, taking care of yourself, finding the fun in life, and ultimately being kinder than necessary. He really makes us feel #TogetherAtHome."
Tapping into Duo's remote company culture
While running Overflow, Smith considered DJing "a really well-paying hobby" which he did once or twice a week at most. Then COVID-19 hit.
Smith "was determined not to fight against the change, but to go with the flow of it and look for opportunities within it." Duo was the very first company he DJed with virtually. Since then, he's done many virtual events, "One constant throughout that whole process is being able to tap back in with my Duo family. It's like coming home."
As a new, fully remote employee, Ellis wasn't sure what to expect when DJ Graffiti emceed her very first virtual Duo Lightning talk (monthly teamwide Duo meeting). "Not only did DJ Graffiti speak from the heart, but he made sure to lift up everyone in the room while he did it. It really gave me a taste of what Duo culture was going to be like, and Duo has lived up to it!"
Smith explains, "A lot of companies say, 'We're like a family,' but then hard times come and you see them do things that don't feel like what family would do to family. And so, the way everybody would treat each other, the diversity of people who I would see at Duo, all of those things fit really well with my own personal values and what I enjoy being around."
When fostering remote work culture becomes a mission
Smith recalled a transformational Duo event early on in the pandemic with DJ Jazzy Jeff: "It shaped how I view a lot of what I'm doing right now, and the value of what I'm bringing to the table.
The scheduled event ended up being within a month of George Floyd's passing. Employees questioned the timing of a virtual celebration but due to DJ Graffiti and DJ Jazzy Jeff's emphasis on the healing power of music, the event was one of the most meaningful yet.
It went on in a very healing way and has shaped what I'm doing right now. We don't ignore what's going on. For a company like Duo Security that prides itself on being kinder than necessary, everybody needs to be able to fill themselves up because you can't pour from an empty cup.
Boring recalled the event's impact this way: "DJ Graffiti has always been such an authentic artist. He always speaks his truth. We were able to learn together, grow together and have a safe space to heal together. DJ Graffiti reminded us that despite all the hardships, it was still important to celebrate our wins together — to fill up our cups so that we can be strong and continue to protect those who need us most."
How to build remote company culture
While challenging at first, Boring has ensured virtual events maintain key Duo elements. There is always an ASL Interpreter, closed captions and recordings available for those who can't join live. "I also strive to make sure most events are kid-friendly since there are some that could be watching from home."
DJ Graffiti advises engaging people during virtual events by having them be part of the process, which for him includes taking live song requests via chat. Boring shares that this has "contributed to an overall sense of togetherness. Martin has a way of recognizing everyone in the room and making sure every single person is having a good time."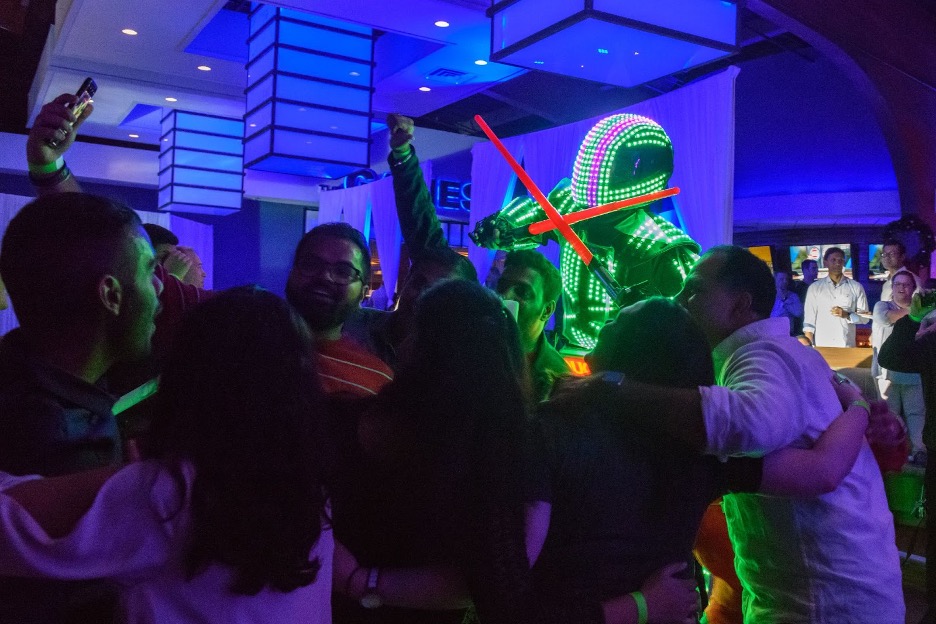 Executive In Residence Ash Devata affirms, "DJ Graffiti's energy is contagious. What I personally appreciate is his preparation and attention to detail about small things that are specific to our people at Duo. Whether it's the talk track he has before and between songs or the animated backgrounds he selects, it always felt personal and joyful. His hosting not only brought the Duo people together, but it also invited family members of our employees to take part in our celebration. It's very cool and inclusive."
Smith describes his mission as "Spreading joy, spreading love and doing that through sessions that involve music. Duo means so much to me, because I know for a fact that I wouldn't be in this career as it stands right now, if it weren't for Duo Security opening that door. So, I'm so grateful, and so thankful, and always excited to participate."
Join us
If you want to be part of a vibrant remote work culture where inclusivity, passion and community are valued, check out Duo's open roles.