Industry News
Duo Is Top Rated by TrustRadius in 2022
Duo Security is honored to be a 2022 Top Rated by TrustRadius cybersecurity product in the Authentication, Cloud Computing Security and Single Sign-On categories. With an outstanding user interface and experience, a wide range of use cases and an extensive scope of deployment, Duo's multi-factor authentication (MFA) cybersecurity product suite is beloved by its users and by the thousands of companies it protects, from the retail industry to the financial services sector – even academia and K-12.
What is a TrustRadius Award?
Since 2020, Cisco Duo has earned impressive marks from TrustRadius' buyer intent software platform, which distributes its awards with the intention of helping organizations compare and verify the quality of software products.
What makes earning a TrustRadius accolade impressive for Duo?
Unlike some awards that rely solely on the breadth of public relations (PR) campaigns and media pitches, Top Rated by TrustRadius awards are determined exclusively by verified consumer reviews. The organization states that "there is no paid placement or analyst opinion."
For Cisco Duo, this means that our customers have had outstanding things to say about Duo as an authentication MFA and two-factor authentication (2FA) provider. They've also praised its cloud computing capabilities and ease-of-use as a single sign-on (SSO) vendor.
Duo Security is named Best of Authentication in 2022
One of the most trusted sources for business to business (B2B) software insights, TrustRadius has also collected additional data on the Duo authentication app's customer experience. Our impressive scores have subsequently earned us three additional Best of Authentication 2022 awards including Best of Feature Set, Best of Relationship and Best Value for Price.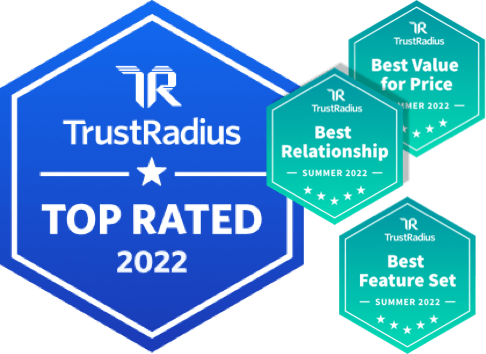 TrustRadius' "Best of" awards, much like the Top Rated awards, are based entirely on verified client reviews. There are three specific categories, all of which are areas of recognition for Duo this year:
Best of Feature Set 2022
With scores based on the product's comprehensiveness, Best Of Feature Set awards are given to companies with the most extensive and autonomous feature suites. A customer will give high scores to a product with a wide range of features and applicable use cases for said features.
"Cisco Duo stacks up well with competitors like PingID; the user interface is simple and easy to use. This solution is very scalable and could be utilized by organizations of any size." - Dustin Howey, Digital Marketing Consultant at DH Marketing in a TrustRadius review of Cisco Duo
Best Value for Price 2022
Best Value for Price awards are given to companies that rank high in consumer scoring of a product's initial investment price, deployment and training costs and, ultimately, return on investment (ROI).
"We will have a smaller attack surface which will provide us the ability to better spend our budget on directed improvements instead of having to cast a wide net." - Sean Muller, IT Security Manager at Paraco Gas Corporation in a TrustRadius Review of Cisco Duo
Best of Relationship 2022
Best of Relationship is an award for products that maintain excellent consumer ratings in "Would Buy Again," "Implementation Expectations," and "Sales and Marketing Promises," which speaks to both the integrity of the brand and its ability to deliver on its claims and its self-service capabilities.
"Duo Security helps me sleep better as I worry less about an external attacker gaining unauthorized access to my network." - Jeff Robinson, Chief Technology Officer/Director of IS at Hattiesburg Clinic in a TrustRadius Review of Cisco Duo
Duo Security Wins at TrustRadius
TrustRadius awards speak volumes about both customer satisfaction and the overall quality of a product. Duo Security is honored to have earned Top Rated, Best of Feature Set, Best Value for Price and Best of Relationship in 2022 and seeks to continually achieve these ratings in years to come.
Discover Duo's numerical scores, real customer reviews and satisfaction ratings on TrustRadius