Industry News
How Duo Enables Compliance and Improves Security for the NYDFS Finance Regulation 23 NYCRR 500
Financial institutions are out of compliance if they missed the March 1, 2019 final deadline for the New York State Department of Financial Services (NYDFS) cybersecurity regulation - 23 NYCRR 500.
23 NYCRR 500 Regulation 
To keep pace with advances in technology, the NYDFS has mandated the 23 NYCRR 500 cybersecurity regulation, which is designed to protect customer data and information systems of regulated entities. 
The regulation basically requires regulated entities to adopt a cybersecurity program based on the risk assessment of their information systems and meet the minimum standards prescribed by the NYDFS.

The New 23 NYCRR 500 Regulation States: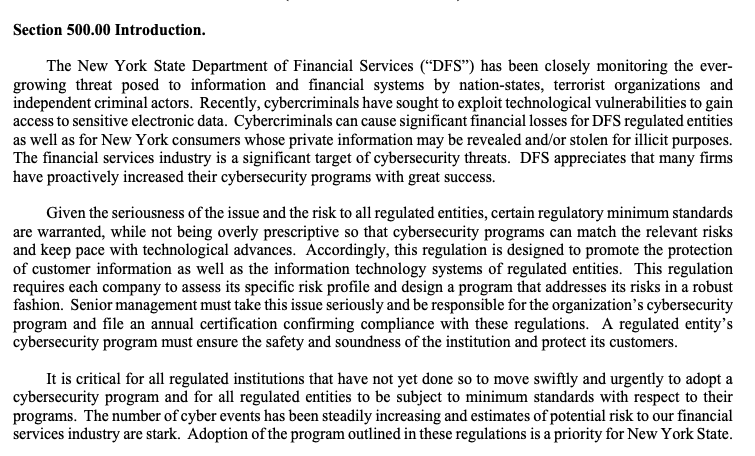 23 NYCRR 500 Requires Implementation of Multi-Factor Authentication

Who Does 23 NYCRR 500 Affect?
If your firm requires a license from DFS to operate in the state of New York, then most likely you are a "covered entity" and so are your firm's third-party service providers. 

The Costs of Non-Compliance
If you are unsure whether your organization is a "covered entity" — now is the time to act because non-compliance will have monetary and reputational consequences. 
DFS's newly created Consumer Protection and Financial Enforcement Division will enforce this regulation, and could calculate penalties (as per the New York Banking Law) with fines starting at $2,500 each day during which a violation continues — and up to $75,000 per day for knowing and willful violations. 
Financial Services - Current State of Affairs
Financial services is one of the most regulated industries with strict standards of compliance. Following the financial crisis in 2007, was the enactment of the Consumer Protection Act (Dodd-Frank) in 2010 to provide more guardrails around financial business practices. 
Regulating authorities such as Federal Trade Commision (FTC), Financial Industry Regulatory Authority, Inc. (FINRA), Federal Financial Institutions Examination Council (FFIEC) and the National Association of Insurance Commissioners (NAIC) have placed a strong emphasis on consumer data protection and privacy with cybersecurity programs. 
Even with all these regulations, breaches still make the headlines more frequently than we would like — the most recent one being the Capital One data breach where more than 100 million credit card applications were stolen. 
The New York State Department of Financial Services (NYDFS) released the following statement regarding cybersecurity on July 30, 2019:
"Today's news about Capital One is just the most recent breach threatening the financial security and privacy of our consumers. These attacks are occurring with alarming regularity, and we remind all DFS-regulated entities to comply with required updates to their information and technology systems and to meet the standards set by New York's cybersecurity regulation."
Cybersecurity for Financial Service Pulse Check


How Duo's Solutions Help Fulfill the 23 NYCRR 500 Requirements:
Conclusion
In today's world, data is more valuable than oil. Rightly so, regulatory authorities have started holding organizations across industries accountable for the consumer data they collect. While NYDFS is one of the first to roll out a cybersecurity regulation, it would come as no surprise if other institutions at the state or federal level follow suit.

Therefore, organizations will find it beneficial to stay ahead in the compliance game. Complying with regulatory requirements helps prevent penalties and fines due to willful violations. More importantly, compliance minimizes risk of a breach. Many organizations choose Duo because of the ease with which they can achieve compliance and improve security posture. 
Customer Story
Read how Duo helped Citizens Union Bank (CUB) comply with various regulations.

Sign-up for a free trial to experience the product and see how Duo can satisfy some of the requirements outlined by the New York State Department of Financial Services (NYDFS) 23 NYCRR 500 regulation.