Product & Engineering
A No-Code Way to Connect On-Premises & Legacy Applications to Duo
Single sign-on (SSO) and multi-factor authentication (MFA) are now required for most compliance programs and cyber insurance policies, and the Cisco Duo secure access solution is a go-to for adding these critical security capabilities to modern SaaS applications that natively support SSO protocols (e.g., SAML, OIDC). However, most mid to large-sized companies continue to use on-premises enterprise applications with legacy authentication that does not support SSO protocols, where the "premises" may be the company's own datacenter or its public cloud environment. The reasons for this continued reliance on on-premises and legacy solutions are many, including leveraging existing IT investments, difficulty of migrating to modern authentication, application performance concerns and cost.
Datawiza is a new proxy-based, no-code way to add Duo MFA, SSO and Passwordless solutions to on-premises and legacy applications. Built by security experts, Datawiza connects homegrown applications, business applications such as Oracle JD Edwards, PeopleSoft, E-Business Suite, Hyperion, Siebel, Outlook Web Access (OWA), and open source tools to Duo. You simply deploy super-lightweight, cloud-native and container-based proxies at the front end of these applications to automatically create a bridge between the applications and Duo. No code changes to your existing applications are required. The diagram below illustrates the integration's architecture: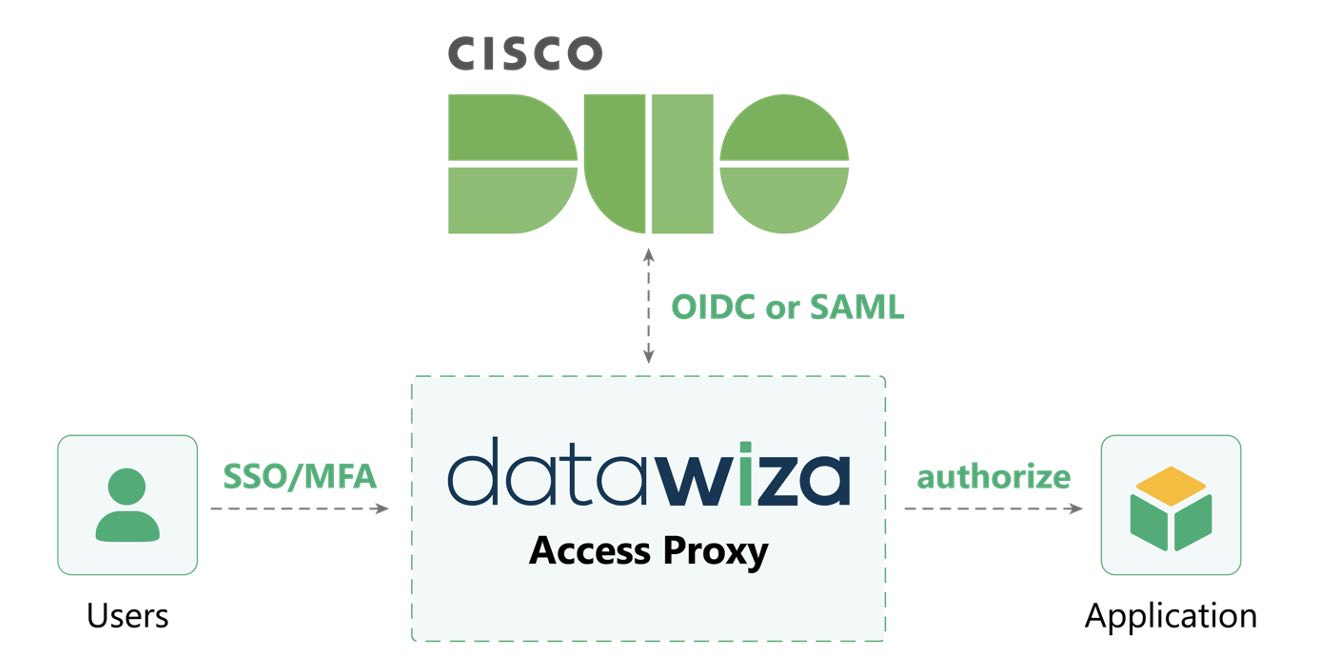 Datawiza Access Proxy functions as a reverse proxy that resides ahead of the applications. It communicates with Duo through OIDC or SAML protocols.

If an unauthenticated user attempts to gain access to an application, their request is redirected to Duo. Here, they must complete the login process, which includes Single Sign-On (SSO), Passwordless and Multi-Factor Authentication (MFA).

Once the login is successful, the Datawiza Access Proxy has the capability to enforce additional authorization, provided it has been configured.

Should the login and subsequent authorization be successful, the user can then access the desired application.
You can deploy, configure, test and implement Datawiza in just a few minutes to provide universal and near-instant SSO, Passwordless and MFA with Duo for all your on-premises and legacy applications – all with no coding or changes to applications.
"Many enterprises that rely on on-premises and legacy applications need a way to add MFA to them without a separate development project. A no-code approach using Duo and Datawiza can save time and conserve resources while eliminating the need for security expertise." - Dr. Canming Jiang, Co-Founder & CEO of Datawiza
The following demo shows how easy it is to use Datawiza to enable Duo with Azure AD for an Oracle app, JD Edwards. Note that Datawiza works with any web app.
With Datawiza, you can easily connect all your on-premises and legacy applications to Duo to immediately improve your security profile. Datawiza provides:
"Instant application protection" for on-premises and legacy applications – meet compliance and cyber insurance requirements today

Extend the life of existing investments – greater security without ripping and replacing

No SDK/no coding/no changes to applications – configure each application with Duo's zero trust product

Secure forever – created by security experts, so no need for new security expertise, no risk of introducing vulnerabilities

Easy integration – works with cutting-edge cloud-native technologies, such as containerization and Kubernetes
Visit the Datawiza site to learn more!