Industry Events
One For All: Simple, Secure Access to All Microsoft Apps (and More)
Odds are your organization uses Microsoft applications for some business critical function. Maybe it's Windows environments or productivity with Office 365.
Thousands upon thousands of organizations are Microsoft shops. As such, there's a rising need to protect access to Microsoft applications. This is especially true as organizations migrate applications from on-premises to the cloud and begin adopting the principles of zero-trust security, which shifts access decisions to outside of the traditional secure perimeter. 
A zero-trust model for the workforce focuses on authenticating users and checking the security posture of their devices before granting access to applications. It helps mitigate the risk of unauthorized access and reduces the risk of data breaches, while ensuing user productivity isn't impacted when they access applications.
But zero-trust protection doesn't end with Microsoft. It's imperative to also protect your other applications. You probably have Salesforce, right? Or HR systems? How about payroll? Or supply chain management?
You have a lot to protect.
And while Microsoft licenses include a solution to protect your Microsoft apps, you'll have to search elsewhere to secure the rest of your application environment.
Can you spare the resources, money and time needed to manage two disparate MFA offerings? Should you?
With Duo, you can protect your entire application environment, and reduce your risk surface, without managing disparate access security solutions.
That means you get consistent MFA access to all of your Microsoft applications (Office 365, Windows, Azure) along with your other cloud and on-premises apps – custom apps included. That makes end users' lives easier, as they use the same method to log into all of their applications – Microsoft or otherwise. 
Duo gives you the most extensive coverage of users, applications and devices; a better end-user experience through consistency and ease of use; and faster speed to security with rapid deployment, fastest user adoption and the ability to quickly respond to changing threats.
More than 80 percent of Duo's customer base currently protects Microsoft applications, and a major portion of those are protecting applications outside of their Microsoft environments. 
For example:
University of Wisconsin-La Crosse chose Duo to easily integrate with its existing infrastructure, which comprises Microsoft Office 365, Cisco AnyConnect VPN, PeopleSoft, Canvas, PeopleAdmin and various custom applications.
Securing your Microsoft environment, and all of your applications, with Duo gives all of your users a consistent access security experience and lowers the ongoing cost of management. You also get swift speed to security by customizing security policies for Office 365, reducing user friction, and device visibility without agents. You can also reduce help desk burden and resources with self-service user workflows and native integrations with Microsoft Entra ID, which means there's nothing additional to deploy. 
And with Duo, you get secure access for not only your Microsoft applications, but all of your applications, which results in increased user productivity and a consistent and easy user experience.
Recommended Reading
Try Duo For Free
With our free 30-day trial you can see for yourself how easy it is to get started with Duo and secure your workforce, from anywhere and on any device.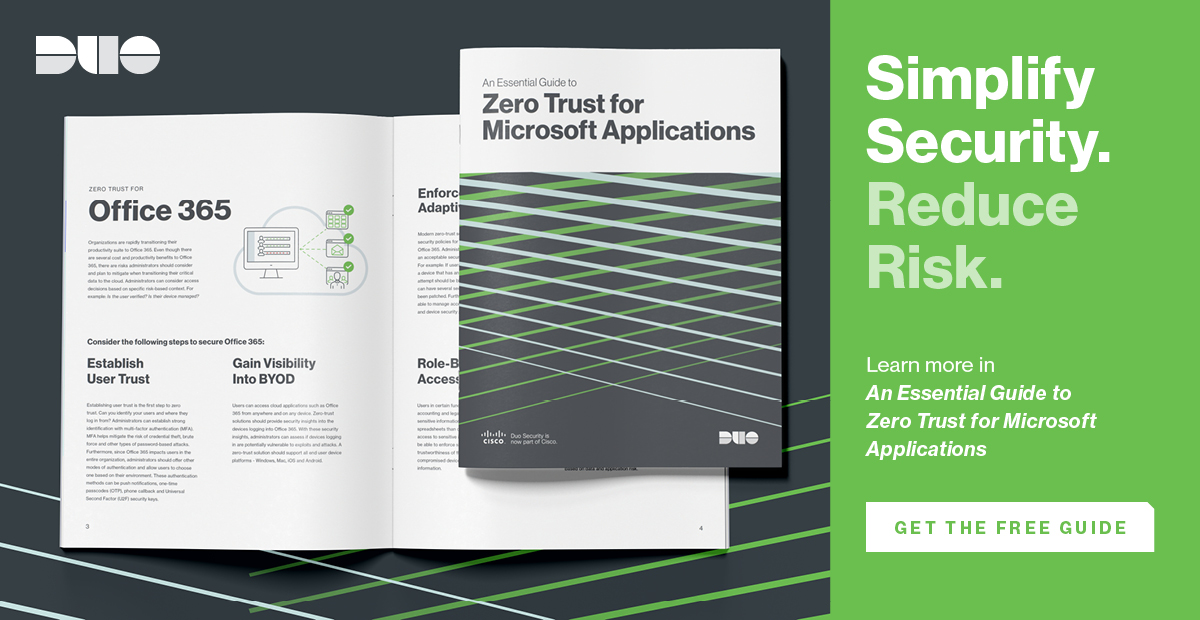 Learn more about protecting your MIcrosoft applications with our new ebook, An Essential Guide to Zero Trust for Microsoft Applications.