Product & Engineering
One Year as Duo's First Content Designer
Approximately one year ago, I was hired as Duo's first Content Designer. You might be thinking: what is Content Design at Duo? It's designing in words, concepts, systems and terminology, voice and tone, and knowing how to apply them to make our products more usable and easier for people to adopt. Content design is about seeking harmony between images and words to tell a rich story in our products. Although it has its own capabilities and techniques, close partnerships with product strategy, product design and design research are indispensable. 
How Content Design Works with Teams
When I joined Duo, I knew my work would largely focus on writing and editing product content to make sure it's accurate, clear and consistent. To be successful as a Content Designer, I'd need to collaborate with Product Designers and feature teams. But as a team of one, if I spread myself too thin and overcommitted, I risked sacrificing the trust of designers, PMs and engineers. That didn't sit well with me. How could I responsibly contribute to these relationships? What activities would help me do that?

In the beginning, I had hypotheses about the dynamics of these relationships. I soon realized I had to work with teams and designers to figure out how to work with them. After a few months, I developed three models for "how I work":

Fully Embedded
Here's where I can bring the most value to teams. Essentially, I'm accountable and function like a Product Designer on the team. While embedded on a single sign-on (SSO) team to work on Duo Central, some activities I did included: 
Regular working sessions with the product designer to iterate on content

One-on-one meetings with the Product Manager and Engineering Lead to better understand the product roadmap and any dependencies or constraints

Reviewing content-related Phab tasks before shipping


At Scale
In this mode, I'm working with a few teams simultaneously that have parallel or intersecting goals. An initiative called "Duo 4" provided the right opportunity to work at scale. I partnered with teams as they worked across common touchpoints, such as the Universal Prompt, Duo Mobile and new user enrollment.

A key activity here was to do a full audit assessing the current state of product content for all touchpoints. I reviewed early prototypes for what would become the Universal Prompt and found that we used a range of words and phrases to talk about authenticating — from two-factor authentication to login session and login request. Inconsistent language could confuse our users and slow them down as they get to their applications.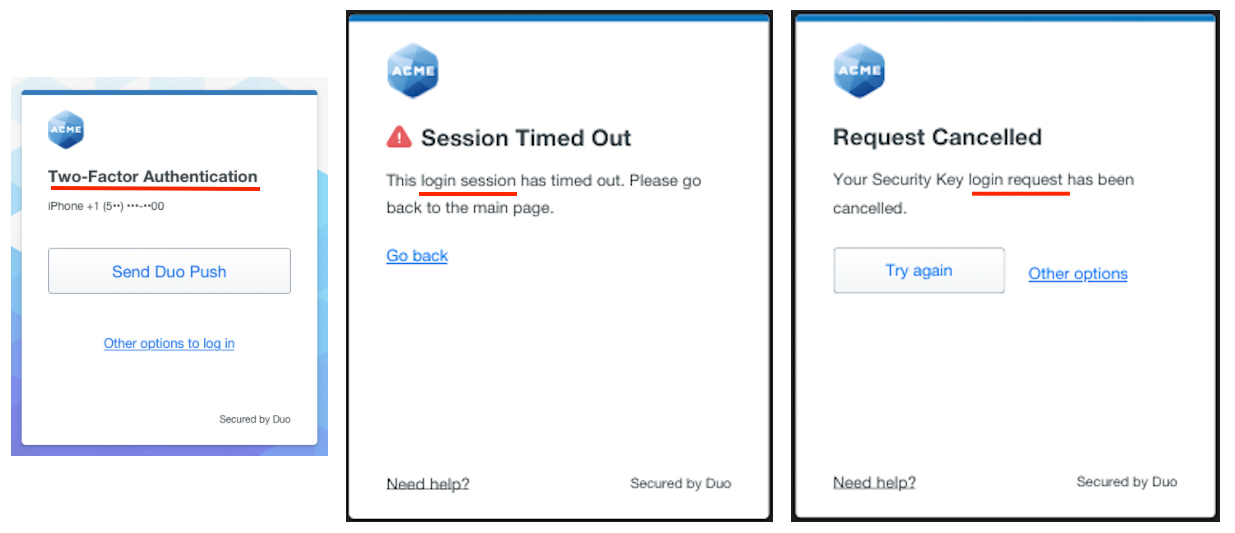 Next, I read out those findings to the Engineering team. Because our end users — many of whom have limited knowledge of security — would use this content to make decisions, I recommended we use simpler language like log in or logging in and verify your identity. Our design research supported this recommendation, too. For example, in one study, when a system admin saw the copy, Are you logging in to Microsoft 365?, they said, "That's exactly the phrasing I use in all of our documentation."
"I was looking over the [mobile] enrollment flows recently. I like how [the Universal Prompt and the self-service portal] are designed with the same language. Feels like one flow (unlike in the past).... [It] starts with the prompt saying Let's protect your identity and ends with Duo Mobile saying Your identity is now protected. LOVE IT." —Omar Abduljaber, Engineering Manager, Endpoint Health, Duo
One-offs and Quick Help
I wanted to make sure to have an open channel for communication with designers, engineers and PMs to ask questions and get quick answers. At first I scheduled weekly office hours, but attendance was lower than I had hoped. As an alternative, I created a content-specific chat channel, which has worked better. It's been a hub that allows for more visibility between feature teams. Folks from different teams will often chime in with feedback or more context. It's also a space where I can drop in resources, links to current topics in content design, and book recommendations by authors from the greater UX content community. 
Content Design and Writing for Our Products
Besides writing for our products and collaborating with teams, I'm also responsible for creating and maintaining guidelines for product content. As a member of the Design Ops team that manages Tellaro, Duo's design system, I wanted to be strategic about where to start with guidelines. I arrived at voice and tone principles. Getting those right would underpin future content guidelines. It would also ensure that content in our product sounds like what's in Duo's broader content ecosystem, from Duo.com to our Documentation and Knowledge Base.
To help define Duo's product voice, I ran a series of workshops with folks from R&D, Customer Support, Global Knowledge & Communities and Product. Through exercises like "Duo is this, but not this", these sessions generated a lot of great conversation and an avalanche of data and digital sticky notes.
From there, I asked the Design Ops team to review and help synthesize findings, then I took this condensed data to a small group of internal content experts. The result was a short but solid list of principles intended to be a "source of truth" for anyone who writes for our products.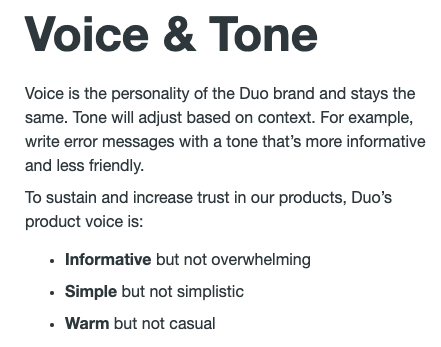 With product voice and tone guidelines in hand, I've since added sections to Tellaro on product writing best practices and guidance on word choice. I'm currently working on accessible and inclusive content guidelines and plan to launch them on Tellaro in the next few months.

What's Next for Content Design at Duo
After one year spent understanding how best to collaborate with product designers and feature teams and co-creating product voice and tone guidelines, here's what I'm planning for year two and beyond:

Help design and run a content-first research project

Create an in-product copy database

Recruit new writers to the Content Design team!
We're seeking top talent! If your passion is collaborating with inspiring teammates, and creating and supporting products that make a difference, we want to hear from you. Check out our open positions!