Industry News
The 2018 Duo Trusted Access Report: Enterprise Remote Access
What does work look like today - and what are the security risks? That's the question we wanted to answer when our Duo Labs research & development team dove into our vast amount of data to analyze user behavior and device health, resulting in our latest report, The 2018 Duo Trusted Access Report: The State of Enterprise Remote Access.
About 11 million users completed nearly half a billion authentications per month, using 10.7 million devices to securely log into 800,000 enterprise applications and services.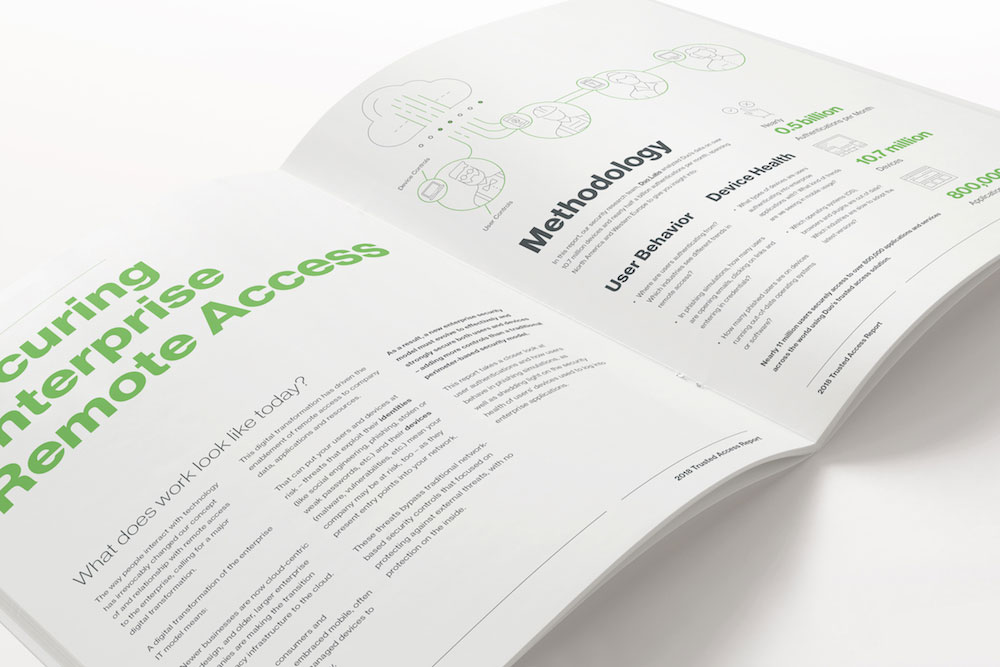 User Behavior
When it comes to remote access, users are increasingly logging into work applications from non-office networks. This is unsurprising, given the global trend toward a more distributed workforce.
In Gallup's poll, State of the American Workplace,* 43 percent of employed Americans spent at least some time working remotely in 2016, a four percent increase since 2012. Plus, these employees are working remotely, for longer periods of time - the share that reported working remotely at least four or five days a week rose to 31 percent from 24 percent.
A Harvard Business Review article found that productivity increased when employees worked from home, attributing a third of the reason for higher productivity to working from a quieter environment; citing offices as extremely distracting places. The other two-thirds was attributed to working longer hours due to working from a more comfortable environment.
Remote work is up - whether it's working from home or potentially other places, like coffee shops, airports, hotel rooms, planes, trains, etc. And that means your users need to be able to access work resources remotely to do their jobs - luckily, the cloud-centric model of applications means they can log in wherever they have a web browser and internet.
With that convenience comes potential risks that anyone can remotely access your company's applications and data, if they're able to steal or guess a user's password (and if your systems aren't protected by multi-factor authentication).
And this can be easily achieved via phishing attempts - the second part of user behavior that Duo Labs uncovered by analyzing 7,483 phishing simulation campaigns conducted from mid 2017 to April 2018 on more than 230,000 recipients via the Duo Admin Panel and free Duo Insight tool.
Check out the full report to find out how many people, on average, opened, clicked on links, entered credentials, or had out-of-date devices in the phishing simulations. Plus, find out how many people work from several different networks a week, and the latest per-industry trends around remote access.
Device Health
Our data shows that macOS/iOS devices are trending upwards, as Windows declines slightly - but the good news is, more devices than ever are finally running Windows 10, the latest version of the Microsoft operating system (OS). The full report has metrics on these trends, as well as which industries are the quickest at adopting Windows 10, and which ones are the slowest to make the leap.
Unfortunately, although improving, there's still a hefty percentage of enterprise devices are still running Windows 7, originally released in 2009. Almost all WannaCry victims were running Windows 7 - roughly 98 percent were running some version of the OS, according to data from Kaspersky Lab.
#WannaCry infection distribution by the Windows version. Worst hit - Windows 7 x64. The Windows XP count is insignificant. pic.twitter.com/5GhORWPQij

— Costin Raiu (@craiu) May 19, 2017
The WannaCry ransomware epidemic that hit the globe in May of last year moved like a worm, quickly spreading across computer networks, encrypting files, denying access, demanding ransom for decryption, and generally wreaking havoc on major healthcare systems, gas and electric companies, telecom businesses and many others.
Not to be overly dramatic or anything, but the ransomware did put the lives and health of people at risk - all because it was able to infect and cripple computer systems running on an out-of-date version of OS. More specifically, the ransomware was spread via a vulnerability that affects the Windows implementation of the Server Message Block (SMB) protocol found in many older versions of Windows. The critical patch for this vulnerability was released in March 2017, meaning many systems were unpatched at the time of the attack.
Check out the full report for even more statistics on Android patching, which browser is most out of date, how many browsers still have Flash installed, and much more.
Zero-Trust Security
Given all of the risks that phishing and malware present to remote access to applications used in the enterprise, the industry is seeing a shift to identity-based controls that verify both the identity of a user and security health of their device.
Known as a zero-trust security model, this framework assures no traffic within an enterprise's network is any more trustworthy than traffic coming from outside the network.
The first steps toward this model include establishing trust in your users' identities with two-factor authentication, and gaining visibility and trust in their devices. The report lists out each step of the zero-trust maturity model with more information about each.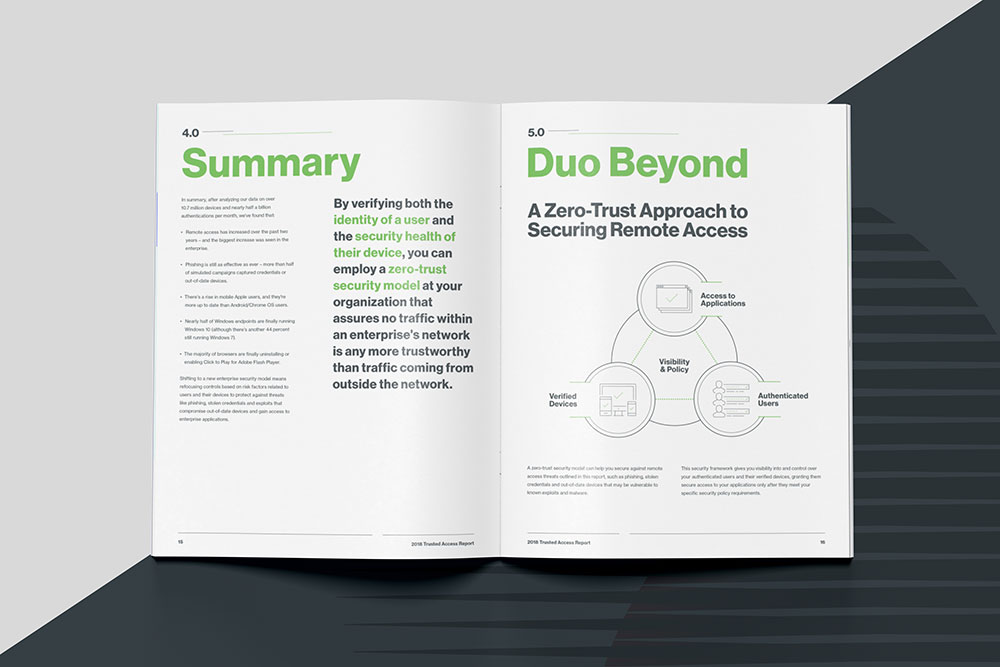 Incidentally, Duo Beyond does just this, helping organizations of all sizes secure access to all applications, for any user, from any device, and from anywhere. Learn more about Duo Beyond and download The 2018 Duo Trusted Access Report.
---
*Sample size: More than 195,600 U.S. employees via the Gallup Panel and Gallup Daily tracking in 2015 and 2016, and more than 31 million respondents through Gallup's Q12 Client Database.