Industry News
It Started With a Sticker: What Site Reliability Engineering for Duo Looks Like
Blake Ellingham is a site reliability engineering (SRE) manager who has worked on Duo for the past five years. Starting in Austin, Ellingham's commitment to building connections with managers and colleagues while understanding the evolving business needs once acquired by Cisco led him to grow engineering teams in London and soon in Sydney.
What prompted Ellingham to pursue a career with Duo and go on these adventures? A sticker. Read on to learn about Ellingham's journey and what site reliability engineering is like at Cisco. If you're ready for a new adventure, check out our open roles.
What is site reliability engineering?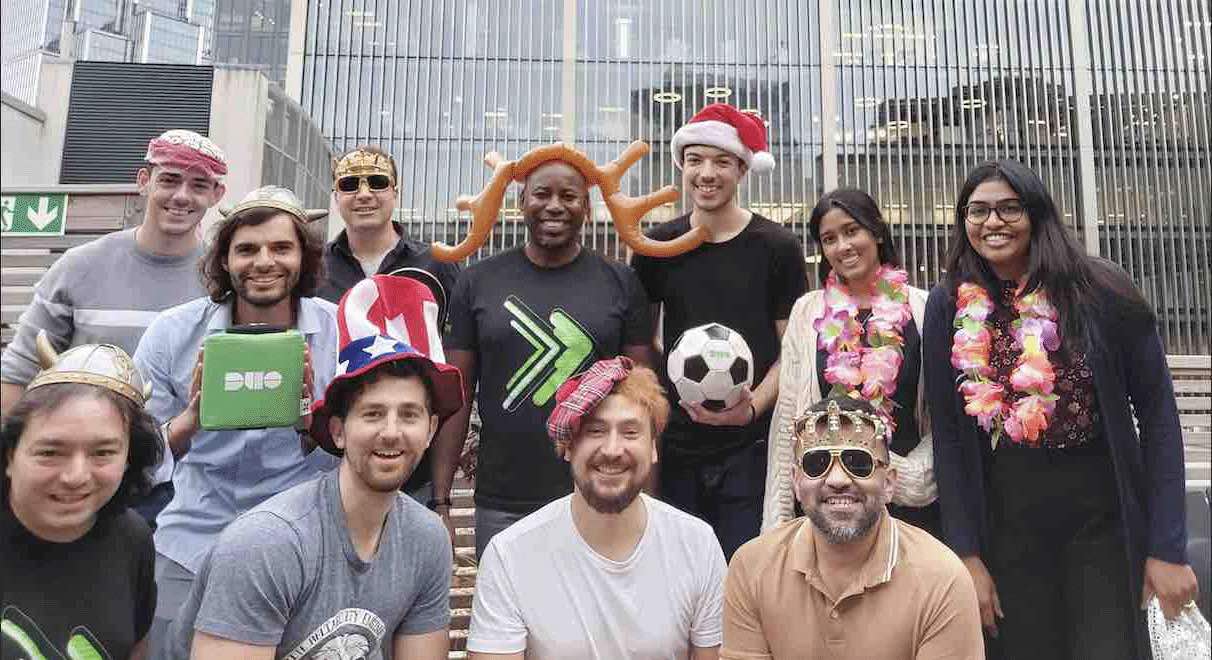 In your current role, what are your typical responsibilities and goals?
Ellingham: What SRE means for us is we run all of our services in the cloud and SRE helps us scale our hardware to accommodate any load from our customers, and we do that by writing software. So we write software that scales hardware, ultimately for the purpose of serving our customers, and we ensure that we do so securely and cost effectively.
Typically my day-to-day is ensuring that the team's set up for success. I also do a lot of recruiting and have hired many people since I joined engineering management. I facilitate career planning and development conversations and manage people's promotions. I also do performance management and make sure that our teams are doing well and achieving our goals. I'm technical myself, so I jump into the weeds sometimes. I like getting my hands dirty in code and code review.
What about this SRE experience has been unique for you?
Ellingham: Before this position, I had never worked for a company that was doing something as important as cybersecurity. Within Cisco, we are protecting very, very important organizations that really need our site to be up, everyone from hospitals to education to large companies. We protect all these organizations and they expect our product to be up and they expect it to be secured. That's where we step in as SREs to ensure that those two things are true.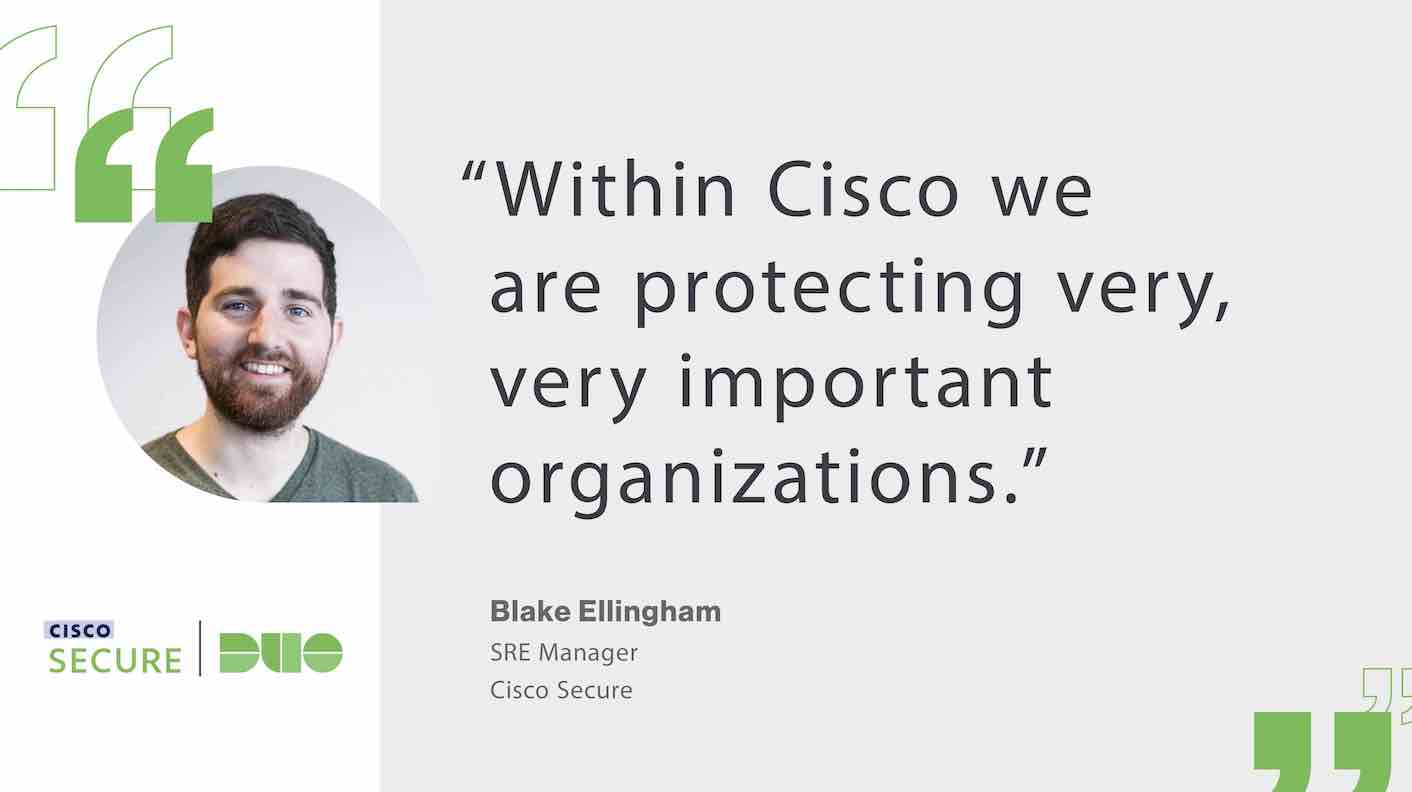 I loved the fast pace and being able to solve problems within the startup world, but I had never experienced what mission critical software used by thousands of customers feels like. It's not a good feeling when we go down, our customers aren't super happy, and they shouldn't be. It's a really important product that we support. So that's been really interesting, and obviously it comes with some pressure, but I think at the same time we do a really good job of supporting one another, so you never feel like it's all on your shoulders, you always have teammates to rely on. Our mission's really awesome, and it's not like we're just helping the big guy either, we have customers ranging from nonprofits to multinational corporations to governments.
Transitions as a company and as a team member, post-acquisition
What do you like most about working here?
Ellingham: I joined about 10 months before the Cisco acquisition, so I got to see a little bit of Duo as a private company and then all the acquisition process into fully integrating into Cisco. That was a great experience and ultimately solidified my desire to be here longer term. To see the professionalism and how it was such an atmosphere of wanting to amplify what we were doing at Duo, it was really cool to see, so Cisco's acquisition process was really excellent.
My favorite thing about our culture is the individuals I work with. We have a really unique team that is very kind and very welcoming. I've had a series of awesome managers that support me well and a series of awesome team members who, together, we get to work on really cool things.
How have you been supported in transitioning to new roles?
Ellingham: I've had awesome advocates and managers throughout my entire time here that have allowed me to explore interests and be okay with taking risks. Ultimately, they took a risk on me to manage a team. Before Duo I was in a startup environment where I guess you could say I was a manager, but at the same time I was kind of doing everything. So I didn't have any professional experience managing people, at least not in a large corporate environment.
But I realized pretty early on that I like that type of work. I liked learning about the business fundamentals, what we were going for as a product organization, and how we were going to sell the product. So, I found engineering management to be a really interconnected role that suited my interests and voiced that I wanted to pursue it. Management was super gracious to give me a try at it, and then invest in me. I've gotten to experience larger scale responsibilities, including starting the team in the U.K. and management's been able to support me through all of that, so it's been really fun.
From the Heart of Texas, Across the Pond, and Down Under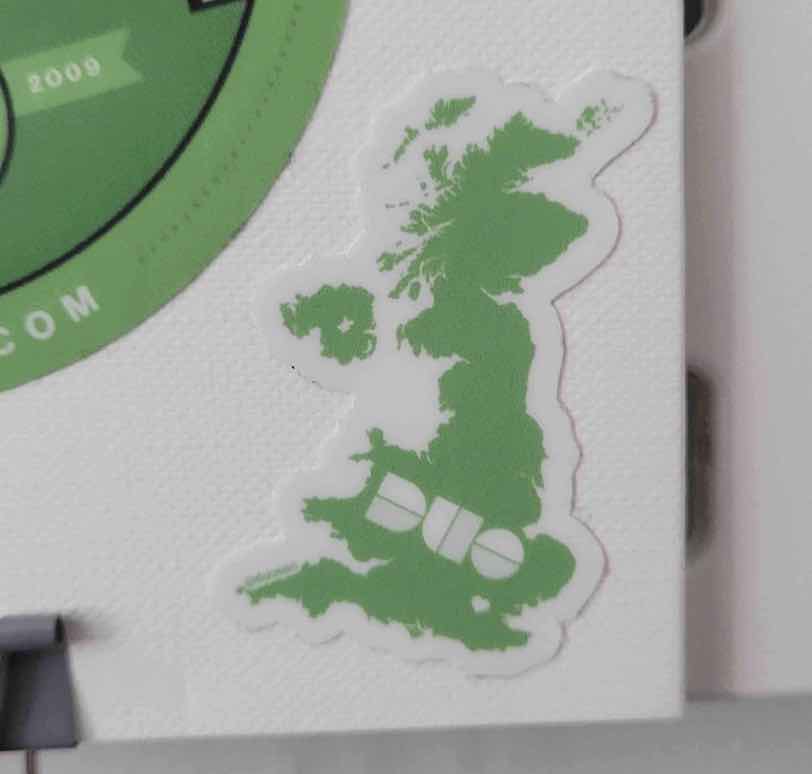 What prompted you to relocate from Austin to London?
Ellingham: I love sharing this story. After my startup started to lose traction and it was time to close down the business, I interviewed at a couple of places, and Duo was one of them. I came into the Austin office for my interview and saw a sticker. It was a map in the shape of the U.K. in our Duo green with a heart on London.
I thought it was really cool that they have an office in the U.K. and that it'd be really fun to work there. So, when my wife and I were deciding what company I should work for, it was actually on a pros and cons list for Duo and I chose Duo.
Working in my role for the first year was great. In my second year, I started having conversations with engineering leadership about the business and that there was an ongoing issue in that engineers located in the U.S. were responsible for our global footprint of customers.
That distribution could involve engineers waking up in the middle of the night to debug something with a customer that's in Europe. So that wasn't very fun, and we wanted to give our engineers the experience of being able to rest and not worry about hours beyond the core U.S. business hours. So the main purpose of my relocating and building out a team was to see if we could solve that issue. I put together a proposal, had it accepted, and worked with my manager to initiate the relocation to the U.K.
How has Cisco supported your relocation?
Ellingham: At Cisco, we have a full team dedicated to employee mobility, so it was actually really simple when it came to getting together the logistics of internationally relocating me. We had a ton of support from the international team and really it was a matter of making sure that we had the approvals in place. They took care of everything and I just provided information and support to that team, and then they took care of all the logistics. My manager also helped a ton at the time, and it was a really smooth process.
Ready to take the leap?
What advice do you have for others who are interested in moving to a new region or trying a new role?
Ellingham: I would say two things. The first is: Develop great relationships such that you can go to your manager, your manager's boss, whomever, and understand where there are opportunities. If I look back at my story, having the relationship I had with leadership was really important so that I could fully understand if there was even a need to satisfy this huge personal desire I had. Relationships are really important.
The second thing is: Understand where the business is going and try to figure out how what you're aiming to do aligns with that. In my story, that was seeing that we were increasing our international footprint for our customers — but we weren't increasing our international footprint for our engineers, and I knew that would create some tension that we could step into and solve.
What did you find most rewarding and most challenging about relocating?
Ellingham: One really cool thing that you get when relocating is a new set of perspectives. You start to understand what other cultures are thinking through. I found that to be really, really enlightening, and we'll get a new set of cultures in Australia, which will be really fun.
On the personal side, I love the process of experiencing somewhere new and starting to build community somewhere new. It can also be challenging. A fair warning is that it can feel lonely sometimes. You're maybe far away from friends or family, but at the same time, the reward of making lifelong friends abroad is really, really fun. So, I would recommend it if you're ready for the challenge.
If you're interested in doing meaningful and impactful work like site reliability engineering, check out our open positions.