Industry News
Educating the British Educators on Protecting Campus Credentials With MFA
It's safe to say when we look back at our university days, the last thing we were thinking about was protecting our campus credentials. Am I right?
There are currently 32,113 schools and 142 universities in the U.K., and according the BESA (The British Education Supplier Association) we have 10,320,811 full and part-time pupils at school. Not to  mention in 2017–18, there were 2.34 million students studying at U.K. higher education institutions. That is a lot of student credentials to give access to. 
In July, Lancaster University reported a phishing attack that affected 12,500 potential students who had applied to the National Crime Agency (NCA) and the Information Commissioner's Office (ICO). Some undergraduate students received fake tuition invoices. 
Furthermore ComputerWeekly carried out an article that stated, "UK universities are continually under cyber attack, with a quarter reporting daily attacks." 
"Poorly defended U.K. university research that is mainly commissioned by government is a top target for hackers, putting national security at risk, a study reveals, underlining the need for better cyber security" — ComputerWeekly.com
How Can Duo Security Help?
Think of us like the Dumbledore of education security. No we don't have a magical wand or a book of zero trust spells, but we do have the tools to implement a simple, yet effective data security solution that will protect both you and your students:
Verify Identity at Every Login - Duo verifies user identities with two-factor authentication (2FA) - sometimes referred to as multi-factor authentication (MFA) - and checks the security health of their devices before granting access to Institution's applications and intranet. This ensures only users and devices that are trusted can access protected data


Easy To Use Authentication Options - Give students and staff frictionless secure access with various options for two-factor authentication (2FA) methods based on their preference – from push notifications to phone callbacks. This ensures all logins are seamless and intuitive.

Reduce the BYOD Risk - Get insight into risky devices accessing your network. Duo checks every device, including user-owned, as it logs in to ensure it's running the latest software and security features are enabled. Block risky devices or notify users to update.

Protect Every App - Duo's trusted access solution supports all popular cloud and on-premises applications, including Oracle PeopleSoft, which institutions use in portals. Duo's single sign-on (SSO) gives users access to all apps from a single web interface for easy access.

Curtail Compromised Accounts - Institutions showed a 96% reduction in compromised accounts after deploying Duo across their student populations. And Duo offers phishing campaigns to raise awareness and ensure students, faculty and staff don't fall victim to phishing attacks.

Cost-Efficient Security - Along with reducing the risk of data loss and protecting applications and data, Duo also helps educational institutions realize cost savings by reducing help desk call volume and support hours.

Compliance Is Our Friend 

With a track record of educational success with the University of Sunderland and York University to name a few, compliance is a top use-case for our customers.  Duo helps meet compliance and security policy frameworks. 
GDPR
The GDPR places emphasis on the access of data and resources, ensuring the right people have access to the right data.  Organisations are required to process personal data securely by means of appropriate technical and organisational measures.  
PCI-DSS
The PCI-DSS standard has always required MFA for remote access, including providing MFA for administrative personnel with access to computers and systems handling cardholder data.
The Information Commissioner's Office (ICO)
The ICO provides guidance on choosing the right authentication scheme for your organisations
National Cyber Security Centre (NCSC)
The NCSC has published advice for organisations on implementing multi-factor authentication (or two-factor authentication) to protect against password guessing and theft on online services.
Customers Come First
We are proud to serve the UK education system and have already had successfully deployments with many Universities. 
But don't just take our word for it, take the free trial today and find out why Duo is the most loved company in security - https://signup.duo.com/trial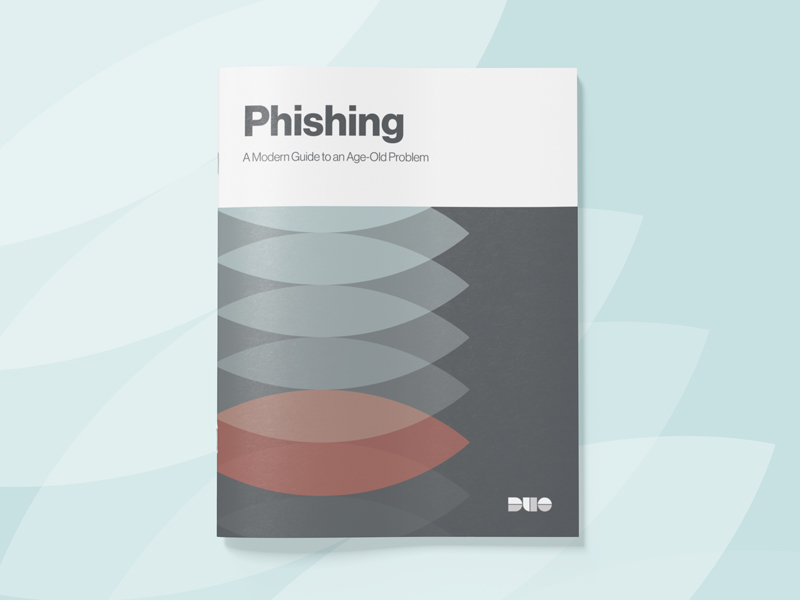 Phishing: A Modern Guide to an Age-Old Problem
This guide gives you a look into:
How phishing works, how it has evolved, and the new tactics used to appear legitimate to users.
Download Free Guide