industry news
Under Pressure: Despite Security Concerns, IT Projects Roll Out
Queen and David Bowie said it best. Trustwave's 2014 Security Pressures Report finds that four out of five IT professionals feel pressured to roll out IT projects, despite concerns they were not security-ready. In addition, IT pros feel pressured to use technology that they feel pose the greatest security risks, including mobile and cloud applications.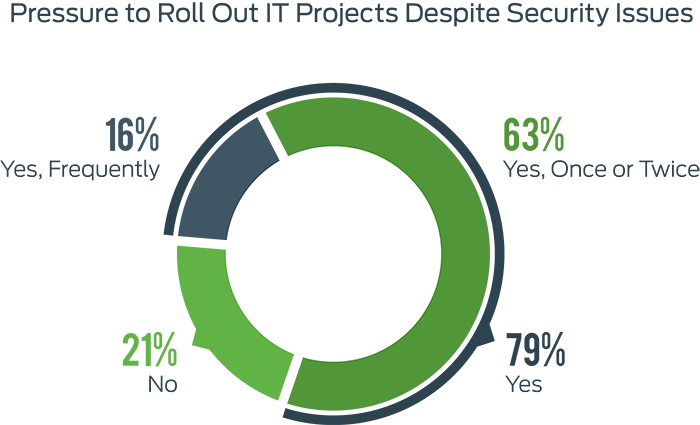 Where is all this pressure coming from? Fifty percent of IT pros say the source is C-level executives, owners and boards of directors.
Added pressure can come from options that IT pros face when choosing sufficient security solutions to solve their security challenges. While traditional security solutions often involve on-site hardware, extensive training and difficult deployments, streamlining security is possible with the right solution. In order to secure new technology like mobile and cloud apps, one must turn to new security technology.
Find out how IT pros can solve the top three operational pressures that they face today with one solution - two-factor authentication:
###Advanced Security Threats
The Challenge: In 2013, 52 percent of respondents felt pressure to keep their organizations secure from external threats, such as targeted malware, data breaches, phishing/social engineering, and zero day vulnerabilities. Another 58 percent were concerned with the theft of customer data, while another 22 percent were worried about intellectual property theft.
The Solution: At 60 percent, phishing and social engineering are some of the top threats that can be easily stopped with the use of two-factor authentication. The objective of these attacks is to steal user credentials, so why not employ a security solution that throws attackers for a loop - adding a second factor requires them to authenticate with a mobile device.
###Adoption of Emerging Technologies
The Challenge: With the rise in adoption of mobile, cloud and big data, IT pros are faced with the challenge of securing user logins and, ultimately, user data with these new data hosting and delivery models.
The Solution: Two-factor authentication provides security for any remote access accounts, including cloud app accounts. For example, Duo Security's two-factor solution integrates with popular cloud apps like Salesforce and Google Apps for easy and effective access security. Read Two-Factor for Cloud Apps for more information.
###Security Product Complexity
The Challenge: IT pros are pressured to use security products with all of the latest features even though a third of them don't have the resources to deploy and manage them effectively.
The report found that 85 percent of IT pros said a bigger IT security team would reduce security pressures and make their job more effectual. Similarly, IT pros have a wishlist of more budget, more security skills/expertise, and more time to focus on security as the top three items in 2014.
The Solution: Find a security solution that doesn't require extensive integrations, expensive hardware installation and management or presents a drain on personnel resources for user training.
Duo Security's two-factor allows for easy drop-in integrations, taking less than 15 minutes to get up and running. Simple self-enrollment options give users a way to sign up and download the mobile app themselves, with almost zero user training necessary. Plus, our two-factor solution is cloud-based, meaning no on-premises software or hardware is required for setup.
As the Trustwave report states:
The 2013 Trustwave Global Security Report identified web applications as the most popular attack vector, with e-commerce sites being the most targeted asset. Web applications often act as a business's digital "front door" and are often connected to systems that contain sensitive data.
Securing the digital "front door" can be accomplished with a security solution that doesn't require a lot of bolts and keys - Duo Security's two-factor lets you authenticate with just one tap of a button.