Industry Events
Black Hat 2021: Better Than Ever (As Always)
You can always expect certain things at the height of a Las Vegas summer: sunshine, sweltering heat, and Hacker Summer Camp. While last year was different because most of the events were either virtual or cancelled, this year is looking up — Black Hat is dipping its toes back into in-person events with a hybrid approach! 
So some of you will be breaking out your hacker t-shirts, dusting off your sneakers, and heading out to steamy Las Vegas for the conference. Meanwhile, if you aren't traveling you can still attend from home, enjoying a different kind of glow from the light of your computer screen.
What does this mean for Duo? You bet your USB sticks we'll be joining the fun, but we're taking it a little slower by participating virtually this year. (Remember: we're all learning to navigate this new approach, which means we're all testing the waters at different rates.)
In either case, whether live or online, this promises to be another exciting conference! Starting with a few days of training on Saturday, July 31 and ending with briefings on Thursday, August 5, Black Hat is back, chock full of informative keynote talks, engaging sponsored sessions, friendly Business Hall exhibits, and more!
Featured Duo Talks
In this talk, Duo Product Marketing Manager Ted Kietzman will share three technical metrics you can use to assess a passwordless solution, highlighting some potential pitfalls of "passwordless" along the way. Join Ted on Wednesday, August 4 at 1:10 p.m. PT to learn what's what when it comes to passwordless, and come prepared to think about the implications of quick response logins (QRLs) and the type of binding necessary for secure passwordless solutions. For more information about how Duo is paving the way for passwordless authentication, visit our Passwordless Authentication page, where you can learn more about our passwordless solution.
Stolen credentials and unpatched software are common attack vectors used by cybercriminals in many types of attacks, including ransomware. Organizations have invested in security tools such as MFA, EDRs, MDMs, VPNs and more to mitigate these attacks. However, for maximum security efficacy, these tools need to be supported with simple processes and great usability.   In this session led by Cisco Secure CISO Josh Yavor, you'll learn about best practices that Cisco implemented to enable secure access for a global remote workforce, providing the best experience for productivity without compromising on security. Join him on Thursday, August 5 at 1:10 p.m. PT to learn more.
All in the Family: Other Interesting Talks
Make sure to keep a spot in your schedule for these other sessions featuring Cisco speakers:
In this talk, Wendy Nather, Duo's Head of Advisory CISOs, and Matt Olney, Director of Talos Threat Intelligence and Interdiction, join forces to present on security operations and incident response. Matt will provide an Intelligence Director's take on the lessons learned from facing some of the most notorious cyber attacks to help answer the question: what makes a world-class incident response program? Wendy will give the CISO perspective on how to build a sustainable, ongoing program using evidence-based practices. 
Making Zero Trust Work in Your Organization
In this live-streamed Dark Reading virtual panel, join Dark Reading editors and top security experts for a discussion that not only explains the zero trust approach, but also offers practical advice on how to implement it in a real-life, operating IT environment. You'll get an overview of the tools required, the processes you need to put in place, and the impact you can achieve by making zero trust a core piece of your cybersecurity strategy.
Moderating this panel is Timothy Wilson, Editor in Chief and co-founder of Dark Reading. Recognized by his peers as one of the top cybersecurity journalists in the US, as well as named one of the 50 Most Powerful Voices in Security by SYS-CON Media, Tim will be sure to keep the conversation candid and engaging. 
During this panel, you'll also hear from:
TK Keanini, Distinguished Engineer, Security Platform & Response, Cisco Systems

Gal Shpantzer, Security Consultant, Virtual CISO, Faculty at IANS

Elena Kvochko, Chief Trust Officer, SAP


Getting Rid of the Password: The Next Wave of Enterprise Authentication
For this live-streamed Dark Reading virtual panel, top experts will discuss real-life strategies you can use to shore up endpoint security and decrease your reliance on passwords. You'll learn about some of the latest multi-factor authentication tools, and hear how other security teams have implemented more effective processes for managing end user access. Tune in Wednesday, August 4, 2:50pm-3:20pm PT.
Joan Goodchild, Senior Editor at Dark Reading, will moderate this panel. Joan has spent more than a decade covering security for a variety of publications, and served as editor-in-chief for CSO online, so she's no stranger to these subjects and won't hesitate to press for forthright answers from the panelists:
Ash Devata, General Manager of Cisco Zero Trust

Andy Ellis, founder and CEO of Duha, Operating Partner at YL Ventures, and former CSO of Akamai

Jim Routh, Cybersecurity Advisor, Former CISO, MassMutual
Even More Passwordless
If you're interested in a demo of Duo's passwordless authentication, look no further than the Cisco virtual booth. Find out how Duo can help you transition to passwordless seamlessly and securely. On your journey to passwordless, build a holistic strategy that reduces authentication friction while simultaneously increasing trust in every authentication.
BSides Is Back, Too!
We were all saddened last year when BSides announced there would be no BSides Las Vegas, but luckily, this year BSides is back with a virtual twist. Happening on July 31 and August 1, this event will include eight tracks covering a variety of security topics, with talks hosted on Twitch and interactive discussions hosted through Discord. Cisco Secure is sponsoring the event — look for our goodbye to passwords video, or if you're interested in careers at Cisco/Duo, stop into the #job-postings Discord channel to see what roles are open.
With so much to look forward to, we can't wait for Black Hat to begin. Until then, stay hydrated, wear that sunscreen (or if you're joining from home, be sure to step away from the screen occasionally!) and get ready for another Hacker Summer Camp adventure.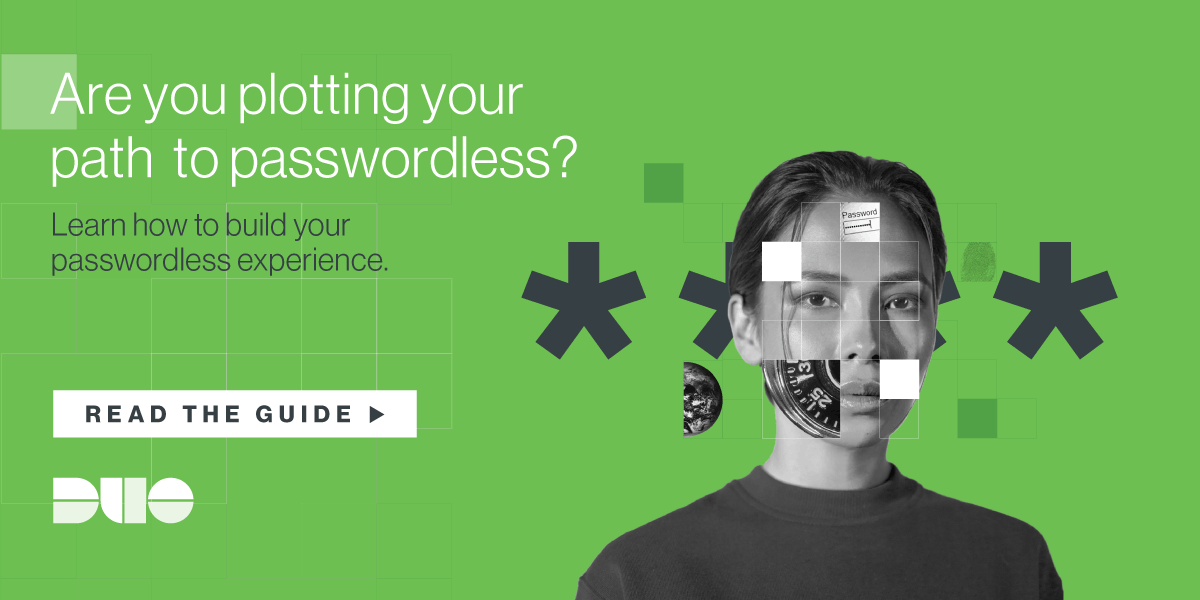 Try Duo For Free
See how easy it is to get started with Duo and secure your workforce, from anywhere and on any device with our free 30-day trial.