Industry News
Bridging the Security Gaps in Healthcare With Trusted Access
Healthcare organizations (HCOs) face unique security challenges. HCOs are often a highly desirable target of hackers; the cost of breaches is more expensive with hefty penalties; they have stricter compliance requirements around data sharing; and the high bar of regulations have a bigger impact if an employee makes a mistake and ransomware is up for the healthcare industry. Securing the healthcare industry is complex.
Achieving the trusted access sweet spot between usability and security is a balancing act for HCOs, further complicated by the increase in patient load, and the pandemic which required many workers to become remote workers overnight. Getting access quickly and easily while maintaining security and obeying regulations is critical to providing optimum patient care.

This report Bridging Healthcare Security Gaps: Better Authentication Improves Controls aims to bring clarity and solutions to these security gaps.

A proactive approach can help healthcare organizations (HCOs) avoid these problems. HCOs can eliminate some of the industry's most serious security gaps by doing two relatively simple things: restricting access to sensitive applications and ensuring the devices used to access them are safe.

"Three things keep healthcare CISOs up at night, first, the industry is highly targeted by cyber criminals. Second, it's highly regulated, and mistakes lead to severe repercussions and fines. Finally, controlling access to sensitive information is more complex in healthcare than in other industries." — Wolfgang Goerlich, Advisory CISO, for Duo Security, now part of Cisco.
We take a deep dive into healthcare security gaps and trusted access. In this report you will learn:
About zero trust and how multi-factor authentication meets the HIPPA requirements for a third factor of authentication.

How a mobile phone app can be used in place of a token or a MDM solution to quickly verify identity and permissions on the VPN or in the cloud

Ways to simplify authentication through SSO and restricted access policies

An overview on how device health monitoring can prevent data breaches
Duo is built on the promise of doing the right thing for our customers and each other. This promise is as central to our business as the product itself. Our four guiding principles are the heart of the sensibility: Easy, Effective, Trustworthy, Enduring.
Download Bridging Healthcare Security Gaps: Better Authentication Improves Controls now and learn how to bridge the unique security gaps healthcare organizations face.

Learn More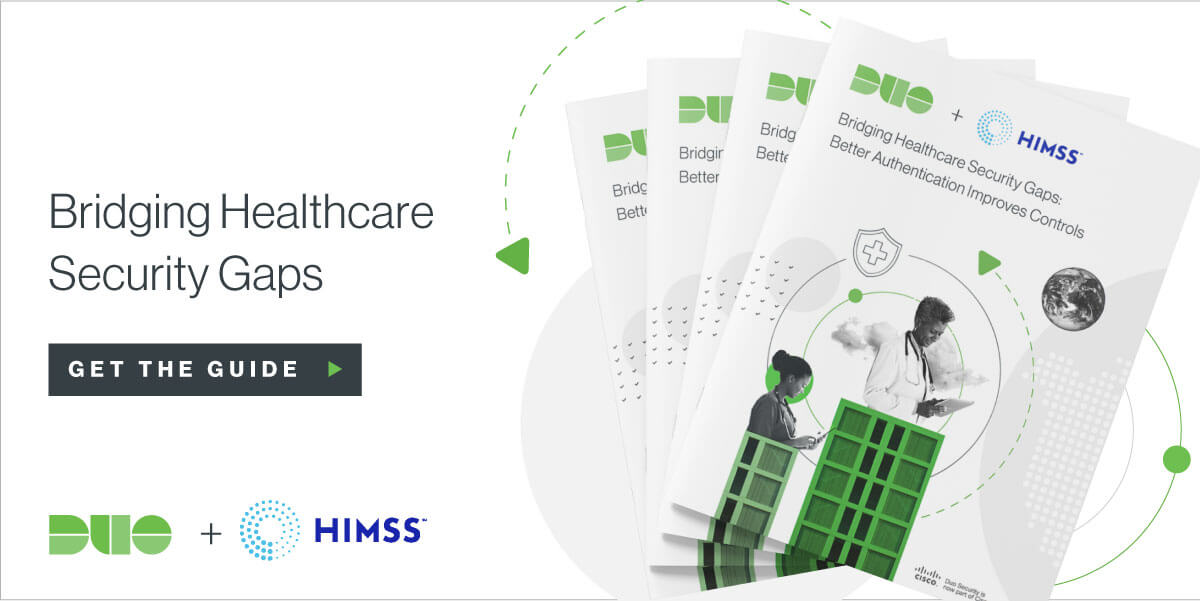 Try Duo For Free

See how easy it is to get started with Duo and secure your workforce, from anywhere and on any device with our free 30-day trial.