Industry News
Connectedness and Culture: My Summer as an Employee Programs Intern
As I write, It's been two months, one day, and nine hours since I began my internship at Duo. In celebration of Intern Week on the blog and my two months-ish milestone, take a step back with me as I reflect on my journey through the virtual doors of Duo!
How did you get here?
A few weeks before my sophomore year in college, I made a last-minute addition to my fall course load: the class Organizational Management in Startups. Not only did I find myself surprisingly fascinated by the fast-paced spontaneous startup environment, I also learned about Duo as a successful Ann Arbor startup.
My interest in people organization began in my senior year of high school, where I had the opportunity to take on a similar, albeit simplified, role. I fell in love with advocating for people and developed the belief that a company's employees are truly its greatest assets. Imagine my excitement when I found not only internship openings at Duo, but coincidentally an opening on the Belonging Team — a more perfect opportunity could not exist! I immediately started working on my application, harboring hopes of working at Duo, and the rest was history.
Okay, so what exactly do you do as an Employee Programs Intern?
Great question! On a broader scale, I help out the Belonging Team with a number of internal programs. More specifically, I work with my manager Emily Boring, Global Events Manager, on Global Events. I've had the amazing opportunity to observe the planning processes behind successful events such as a Fireside Chat with Daniel Dae Kim and the Duo Pride Celebration.A day in my life at Duo is never the same, which I appreciate so much! One day I may spend hours brainstorming projects and writing, stopping occasionally to chat with vendors or ask for peer reviews. Or I may bounce from meetings with my manager to conducting listening tours around Duo and pitching in to help with other Belonging Team projects. Typically, my days are a mix of the two, with ample personal focus time and collaboration time.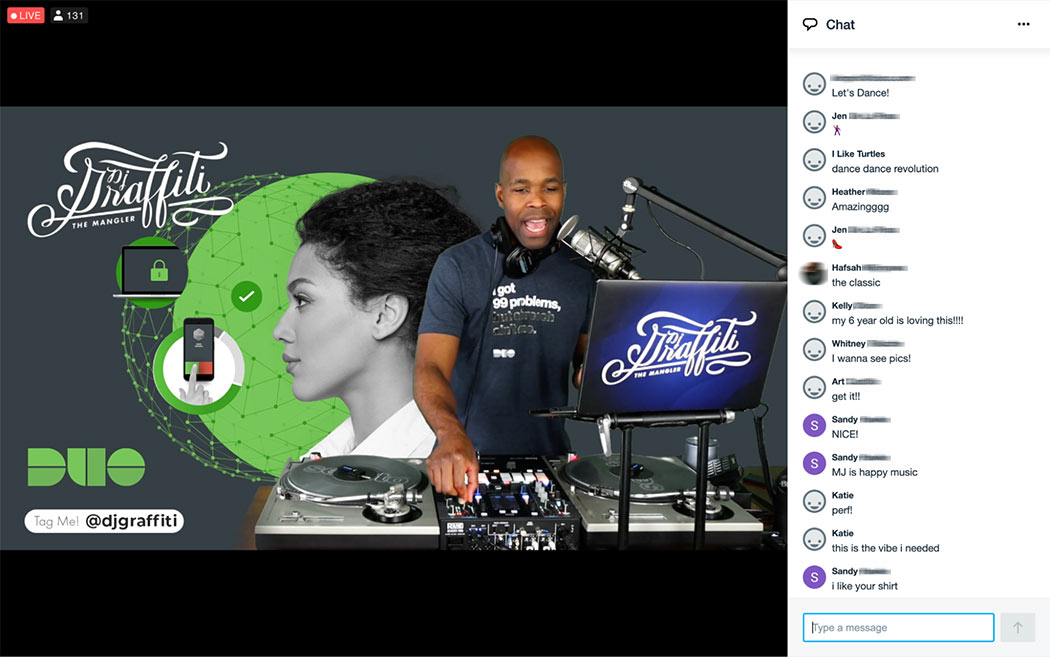 Tell me more about the projects you've been working on this summer!
My main project for summer was to create a virtual summer social for Duo that would bring renewed fun energy and offer opportunities for Duo team members to connect. This culminated in the Duo Decades Party, featuring DJ Graffiti spinning songs from the 1970s to today, plus a throwback outfit contest and other activities.
Other projects on my plate this summer include a guide for virtual team building (coming soon to the Duo wiki) and a virtual event proposal for future company celebrations. 
The Duo Decades Party was a blast! What did you enjoy most about the experience?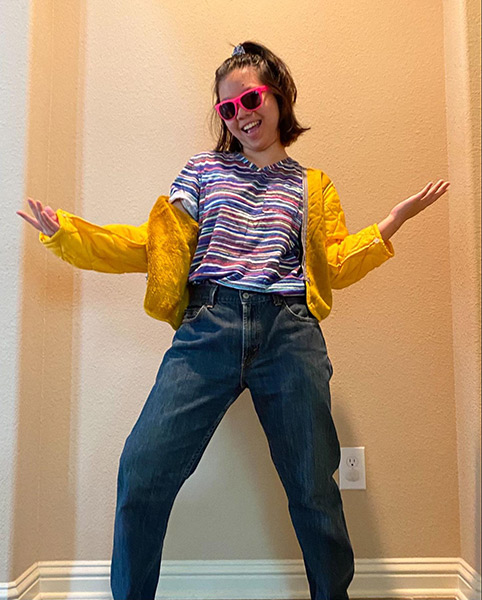 Lucia, Decades Party style
Aww thank you, that makes me so happy! One thing I really enjoyed was adding a creative spin to what I had learned from listening tours, shadowing Emily, and past Duo events. After lots of research and brainstorming, I proposed a few virtual social events and initiated a new project altogether based on needs I had heard from Duo team members!
From Emily, I learned how to build out critical pathways, communicate with key stakeholders, and implement event planning best practices. Where I added a personal touch was in the theme and the various employee engagement activities. DJ Graffiti was so wonderful in running with our messy ideas and pitching in with his own suggestions of. He deserves a huge shout-out! It's absolutely surreal seeing ideas scrawled on a Google Doc come to life and hopefully spread a little joy and fun around the company.
On the other hand, did you run into any challenges? If so, what did you learn from them?

Something people may not know about event planning is that there are a lot of moving pieces. Originally, my main project consisted of a series of three to four events. After continuous discussions with the team, however, the focus narrowed to one event. Even a few days before Decades Party, details were still evolving. It was sometimes tough to navigate changes and feedback, but from this experience I learned the value of getting a diverse set of perspectives.
Without the Internal Communications team (thank you, fellow intern Hannah!), I wouldn't have considered the cadence and tone of communications. I also consider myself lucky to be able to draw on the expertise of both Emily Boring and Head of Employee Programs Emily Reid in designing inclusive and fun social programs.
The best part is that nothing ever goes to waste! For example, one virtual event proposal I built out will make an appearance in a future Belonging Team event. Being flexible and open to new ideas was definitely essential in navigating these roadblocks and helped the experience tremendously. 
What advice do you have for future interns?

The first thing I'd say is to stay organized in whatever way that looks for you. I personally found it super helpful to block out times on my Outlook calendar to focus on completing self-designated action items. I also keep a notebook of notes from meetings that I can refer to later on.
Secondly, be flexible and receptive to feedback. Others may point out things you overlooked or offer creative new ideas. Be appreciative of them, because it helps enhance your work overall, but also feel empowered to stand up for your ideas!
Lastly, time goes by fast — take advantage of the resources available and get to know the lovely and kinder than necessary folks around you!
We're seeking top talent! If your passion is collaborating with inspiring teammates, and creating and supporting products that make a difference, we want to hear from you. Check out our open positions!