Industry News
Customer Success: The Critical Role it Plays in the Customer Lifecycle Approach
As the 2023 Major League Baseball (MLB) season commences, it is remarkably interesting to learn that according to Sportico.com and Forbes.com, collectively, MLB franchises are worth more than a whopping $70 billion. The Yankees alone are worth north of $7.13 billion, but when you consider the reigning American League home run champ resides in the Bronx, that number starts to become plausible.
Though you may be wondering, what does the value of MLB have to do with Cybersecurity? Well, as large of a number that represents the collective value of MLB, it pales in comparison to $600 billion, which according to Gartner, represents targeted global end-user spend on cloud computing, including Software as a Service (SaaS) business model projections for 2023.
While MLB and Cybersecurity are not as synonymous as peanuts and crackerjacks, both share some obvious parallels contributing to impressive financial forecasts.
Common characteristics
Consumption

Flexibility

Experience

Collaborative approach in customer success delivery
When we think of common characteristics in relation to Major League Baseball, items such as ballpark admission, tickets, premium seating, merchandise, and concessions, as well as Regional Sports Network (RSN) television rights all contribute to how the fans interact, experience, and consume those features and services. And whether it is the parking attendant, the stadium usher, the beer sales concession distributor, or the network analyst calling the game, the objective is driving a successful, seamless, collaborative experience rooted in customer experience.
Those same common characteristics mirror core concepts when it comes to cloud computing, Software-as-a-Service (SaaS) consumption models, especially when considering cybersecurity and those solutions and services that Cisco and Duo provide. Core concepts include:
Focus on providing and enabling an improved experience

Implementing subscription pay-as-you-go business models

Providing a flexible variety of subscription/pricing options

Leveraging technology to deliver and scale innovation

Deploying new feature adoption quickly

Increasing customer intimacy
But this doesn't happen in a vacuum. Coordination of roles and responsibilities becomes even more important when executing Cisco's customer lifecycle approach. Just as Billy Eppler, Brian Cashman, Buck Showalter, and Aaron Boone have specific functions respective to their team, the same is illustrated in Cisco's lifecycle approach.
In today's SaaS based subscription engagement model, there is a shift from a linear or finite sales approach to a focus on the customer relationship as infinite and ongoing. The longer and deeper provider teams work with their customers, the greater the value to the organization and customer directly. Value realization is an ongoing process rather than an event and it takes two different sets of objectives and mindsets to succeed.
SaaS-Based Lifecycle Approach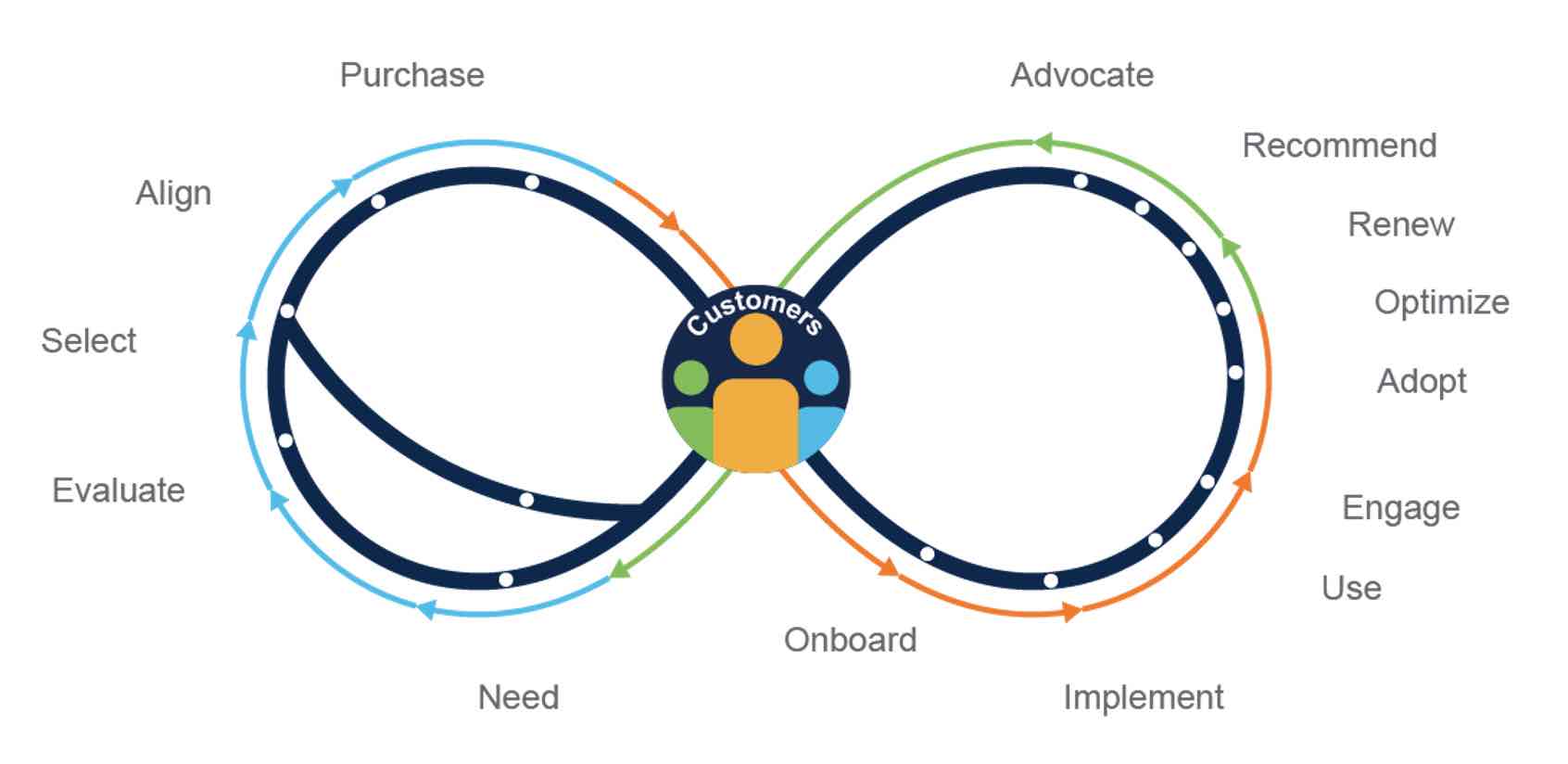 Sales and Marketing will continue to own the activities on the left, but Customer Success now steps in to lead the activities on the right. The primary focus of Customer Success is the experience segment of the customer's journey. Executing on the experience momentum naturally accelerates and strengths the relationship with the customer.
Through this view, Customer Success, and relationship management is not seen as a linear progression, but rather as a figure-eight motion that focuses on generating an experience that does not begin or end, but a continuous motion together.
Customers who subscribe to Duo Care have access to a Customer Success Manager (CSM) and Customer Solutions Engineer (CSE) who help drive key principals in providing exceptional experiences, contributing to a successful customer life-cycle engagement. This lifecycle approach creates improves the value of a Duo subscription for customers, since they can rest easy knowing that they have a partner who's consistently working closely alongside them to ensure the solution helps them achieve their long-term cybersecurity goals.
Critical to the role, Customer Success helps customers to achieve and recognize the value of their cybersecurity investment. CSMs and CSEs will always anchor efforts to the outcomes that their customers strive to achieve. These objectives may include:
Improving quality of service

Lowering costs

Managing risks
To do this, Customer Success will prioritize:
Driving adoption and usage

Solving problems

Recommending resources, solutions, and training (including Level Up)

Making connections

Listening to feedback and being the customer's champion
The Duo Care team works with their customers every day, ensuring they're achieving the expected value from their Duo technology investment.
When preparing for engagement, building trust, and maintaining credibility as an expert and trusted advocate are crucial in the development of the customer relationship and lifecycle approach. Customers are looking for improved experiences aligned to successful business outcomes. To help deliver these experiences, Customer Success has extensive expertise with the following to drive customer business objectives and outcomes through:
Success Plans
Identifying, documenting, and sharing deep-dive discoveries helps us understand customer goals and desired outcomes. This allows us to align outcomes through data sharing and close, ongoing customer collaboration.
Key Performance Indicators (KPIs)
These quantifiable measurements allow us to track, evaluate, and gauge performance with customers over a given period. KPIs should define each of the following: Measurement, goal, source, frequency (which can include leading and lagging indicators), and RACI matrix.
Addressing Barriers
To deliver value to customers, successful organizations use some combination of the following three key ingredients: People, processes and technology. Always plan how your solutions impact customer strategy and desired business management outcomes.
Change Management
We help communicate a logical case, optimize conditions for change, and create stakeholder buy-in.
Quarterly Success Reviews
We provide updates on project status, success plan status, KPIs, business initiatives, critical action items, barriers, and additional areas for value.
Exploring Expansion Opportunities
We drive expansion and renewal opportunities and leverage data analysis to resolve risks.
Working together to achieve customer success
Measuring success is critical to the customer lifecycle approach. This process supports current customer engagement activities and interaction and validates success and progress towards established customer business goals and objectives.
Three key points in measuring success include:
Collecting and tracking customer data

Taking action to improve customer experience and business growth

Aiding CSMs to focus on most critical activities
The Duo Care team is here to make sure that customers get the most from their Duo subscription, helping them meet alignment milestones and long-term goals. Achieving desired outcomes is highly dependent on coordination and execution of a collaborative life cycle team approach, and this concept does not change when pursuing continued customer business or a 28th or 3rd World Series Title.
Good luck!