Industry News
Duo Recognized as a Gartner® Peer Insights™ Customers' Choice for Access Management
Duo is excited to announce our recognition as a 2022 Customers' Choice Access Management vendor on Gartner® Peer Insights™. This distinction is a recognition of vendors in this market based on feedback and ratings from 89 verified end users of our product as of 28th Feb 2022. Overall, Duo reviewers gave us a 4.7 out of 5, with 92% saying they would recommend our product!
Everyone here at Duo is particularly honored to receive this distinction, since it comes from customers – the people we're here to serve.
"Gartner Peer Insights is a free peer review and ratings platform designed for enterprise software and services decision makers. Reviews go through a strict validation and moderation process in an effort to ensure they are authentic. Vendors placed in the upper-right quadrant of the "Voice of the Customer" quadrants are recognized with the Gartner Peer Insights Customers' Choice distinction, denoted with a Customers' Choice badge. The recognized vendors meet or exceed both the market average Overall Rating and the market average User Interest and Adoption."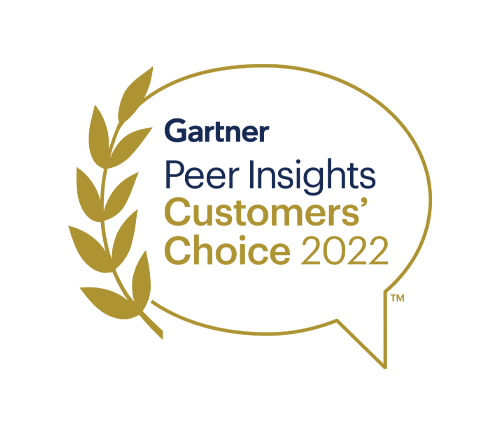 Here are some comments from customers that contributed to this distinction:
"2FA and SSO is an essential for any enterprise company worth their salt and nobody does it better and more cost effective than Duo. From the start of the discovery process the sales team at Duo helped us to uncover extra areas of improvement with our current processes and ensure that we could maximise the value of their Trust Access Management platform. The icing on the cake was how easy it was to onboard all our new users seamlessly and naturally without any friction." – Security Account Executive, Media and Publishing Industry

"We love how simple this is to use for our customers. We love the low overhead of maintenance supporting Duo for our Help Desk. We love that xx check in on us regularly and have answers for every question or get back to us within minutes." – Systems Administrator, Provider Industry

"Duo has been exceptionally easy to implement and deploy. User uptake and engagement was extremely fast and well received with a very low training requirement." – Infrastructure Solutions Architect, Undisclosed Industry
Read more reviews for Duo.
To learn more about this distinction, or to read the reviews written about our products by the IT professionals who use them, please see the Access Management page on Gartner Peer Insights.
To all our customers who submitted reviews, thank you! Your feedback helps us create better products to fit your needs, and we look forward to earning the trust and confidence reflected in this distinction.
If you have a Duo story to share, we encourage you to join the Gartner Peer Insights crowd and weigh in.
The Gartner Peer Insights Customers' Choice Badge, Gartner®, and Peer Insights™ are trademarks of Gartner, Inc. and/or its affiliates. All rights reserved.  Gartner® Peer Insights™ content consists of the opinions of individual end users based on their own experiences, and should not be construed as statements of fact, nor do they represent the views of Gartner or its affiliates. Gartner does not endorse any vendor, product or service depicted in this content nor makes any warranties, expressed or implied, with respect to this content, about its accuracy or completeness, including any warranties of merchantability or fitness for a particular purpose.
Gartner Peer Insights Customers' Choice constitute the subjective opinions of individual end-user reviews, ratings, and data applied against a documented methodology; they neither represent the views of, nor constitute an endorsement by, Gartner or its affiliates.
Gartner, Gartner Peer Insights 'Voice of the Customer': Access Management, By Peer Contributors, 29 April 2022.