Industry Events
Duo Security Wins SC Media UK Award for "Best Authentication Technology"
Duo Security is thrilled to announce that we won the "Best Authentication Technology" award during this year's SC Awards Europe gala dinner!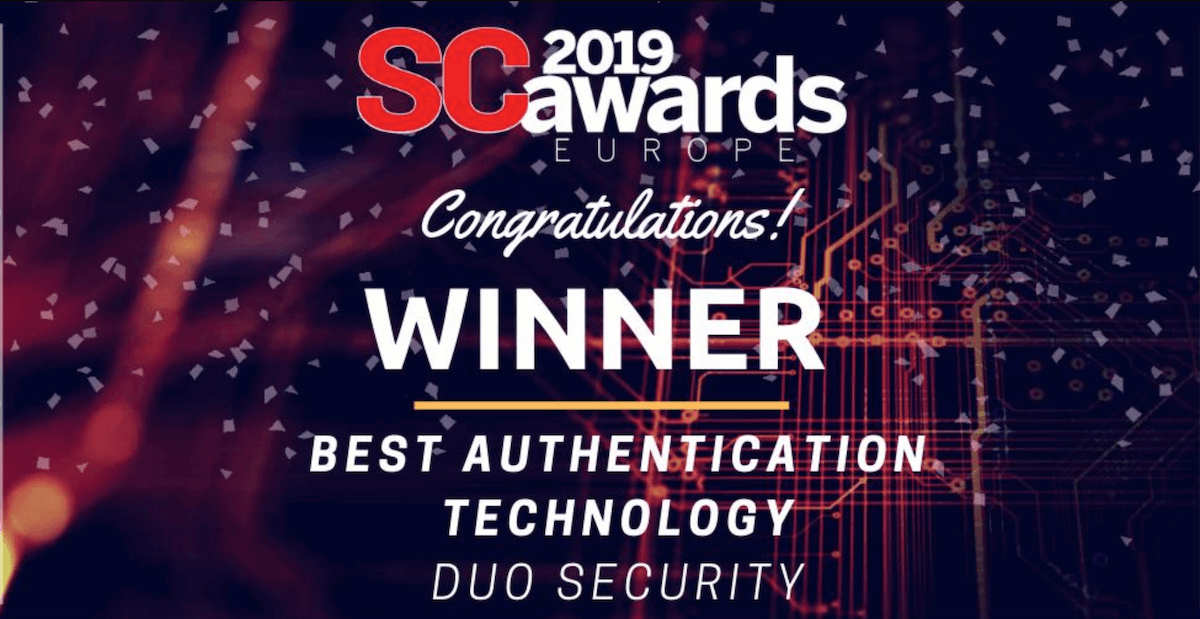 Hosted by SC Media, SC Awards Europe celebrates the achievements of the cybersecurity professionals and companies throughout Europe who strive to protect and secure businesses, customers, and critical data. Entrants are evaluated by a panel of judges against a range of criteria, including customer satisfaction, and then selected for awards such as:
Best Advanced Threat Persistent Threat (APT) Protection

Best Threat Intelligence Technology

Best Behavior Analytics/Enterprise Threat Detection

Best Cloud Computing Security Solution

Best Identity Management Solution
And many more.
This year's SC Awards Europe Gala was hosted at the London Marriott Grosvenor Square on Tuesday, 4 June, during Infosecurity Europe. Cybersecurity professionals from across the continent gathered together to network with one another and recognize the companies and people who have contributed so much to the industry.
Duo is so excited to have received the "Best Authentication Technology" award. To have our technology noted as best in its class is thrilling, not only because it is an honor to be recognized, but also because it means we are achieving our goal of delivering the best security to our customers.
Truly, the security of our customers is what drives everything we do. We want our solutions to enable security without impairing performance, so we've built our simple and effective multi-factor authentication solution with both users and administrators in mind. Our solution is easy to deploy and manage at scale, and allows employees to quickly and securely log into their applications anytime, anywhere with a variety of authentication methods. To learn more about our security solutions, please visit our product page.
Many thanks to SC Media for hosting this event. We are honored to have participated, and will work hard to live up to and maintain our title as we continue providing the "Best Authentication Technology" to our customers.