Industry News
Kinder Than Necessary: Honoring Duo's Community Impact Contest Winners
The first-ever Duo Community Impact Award celebrates our team members who are impacting their communities and making the world a better place. Get to know our five winners, each of whom received a $5,000 grant for Bright Funds, our workplace charitable giving platform, to donate to non-profits they're passionate about.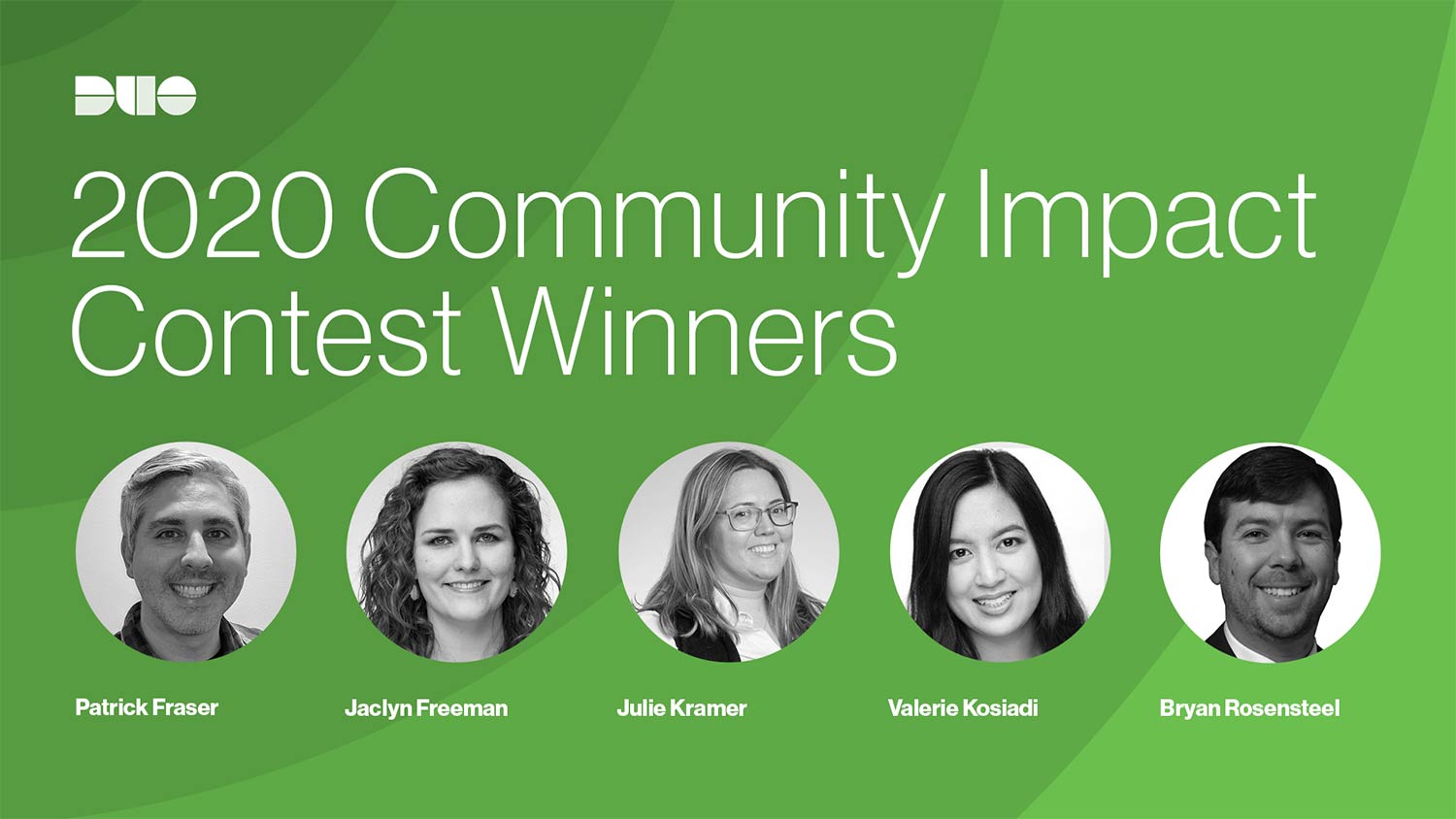 Patrick Fraser
Patrick and his wife serve on the council for Tomorrow's Leaders Central Texas chapter. Tomorrow's Leaders is the Cystic Fibrosis Foundation's (CFF) young professional program, designed to offer like-minded professionals leadership skills and networking opportunities while they make a difference in the lives of those with cystic fibrosis. The mission of CFF is to cure cystic fibrosis, and to provide people living with the disease access to care, allowing them to lead fulfilling lives. Patrick has done it all: event participation, organization, fundraising, marketing, advocacy, and more.
Jaclyn Freeman
As a child, Jacyln and her sister joined their mom on Meals on Wheels deliveries, teaching them early on the impact of a hot meal and a little human touch, especially for their underserved community members. Currently, Jaclyn drives delivery routes monthly for Meals on Wheels PALS (Pets Assisting the Lives of Seniors), along with ad hoc deliveries throughout the month. She also organized two volunteer days for her Duo team in Austin this past holiday season to pack up holiday gifts for all of the pets!
Julie Kramer
Julie has been instrumental in making Cisco check-ins, Duo all-hands meetings, and other events more accessible for other deaf and hard of hearing employees. From connecting the dots within Cisco to include a real-time ASL interpreter and closed captioning, to leading ASL learning sessions for the Duo community, she has gone above and beyond to foster a culture of belonging. Outside of work, Julie is very active in the deaf community and helps educate and provide assistance to families with deaf children. She's also eager to get involved in Deaf Arts Festival (DAF), a platform for arts workshops, exhibitions, and performances.
Valerie Kosiadi
Valerie works with I'RAISE International Girls & Boys in New York, NY, where she does survey design and administration that measures the psychological and mental health impact of COVID-19 and racial injustice incidents on NYC adolescents. She also does international pro bono work with Freedom Business Alliance, a global network that invests in the personal and professional development of human trafficking survivors, by coordinating and helping to sell face masks created by survivors from Thailand, Bolivia, India, and Israel. Locally, Valerie volunteers with City Impact, organizing food pantry volunteering events with friends and creating care packages for people experiencing homelessness in San Francisco's Tenderloin neighborhood.
Bryan Rosensteel
Bryan volunteers with Project Healing Waters Fly Fishing (PHWFF), an organization dedicated to the physical and emotional rehabilitation of disabled active military service personnel and disabled veterans through fly fishing and associated activities including education and outings. When all in-person meetings and events were canceled, he led the effort to make meetings virtual and move from a biweekly to weekly meeting schedule. Bryan has supported these sessions for more than four months on his YouTube channel, VA Fly Tying, and the positive reactions have cemented his belief that helping in our communities can come in a variety of ways.
With so many amazing submissions, we couldn't help highlighting three more honorable mentions! Each of these Duo team members, along with all of the nominees for the Community Impact Contest, earned a $150 Bright Funds grant to donate to non-profits they're passionate about.
Kyle Lady
Kyle has been involved in the Membership & Chapters Committee of Eta Kappa Nu (HKN), the honor society for electrical and computer engineers, and is the chief advisor for the UM chapter of Tau Beta Pi, the engineering honor society. He supports the chapter officers by mentoring the leadership team, providing one-on-one advice to officers, and coordinating long-term initiatives and relationships with university staff. Kyle also supported the Detroit Water Project's partnership with the Michigan Independent Citizens Redistricting Commission by notarizing commission applications (for free!) as they worked to increase the diversity of the applicant pool.
Zoe Lindsey
Last August, Zoe spearheaded communication and promotion to Duo team members around donation and donation matching information for a US Immigration Support Fund campaign. Her efforts inspired the Duo community to give $17,000, which General Manager Dug Song subsequently matched. Additionally, on her own social media page, Zoe offered to personally match any donations for LGBTQIA+ or Black Lives Matter organizations made by her friends. In the community, Zoe hosts and DJs a weekly drag show in Ann Arbor that has grown into a welcoming, celebratory space for LGBTQIA+ youth.
Maddie Webb
Maddie has raised more than $25,000 for organizations during the Black Lives Matter fundraising movement, collecting donations from her friends and family via social media outreach. By leveraging Bright Funds' matching gifts, she's multiplied her impact to support multiple causes that she's passionate about. And through it all, Maddy spreads positivity that inspires her teammates and broader community to take action.
We're hiring! If your mission is collaborating with inspiring teammates, and creating and supporting products that make a difference, we want you! Visit our Careers page to learn more.