Product & Engineering
Make It Your Own: Brand Customization With Our Universal Prompt
In the security industry there is an adage that usability needs to be sacrificed in the name of increasing security. The equation has traditionally been zero sum: increase usability, decrease security and vice-versa. However, at Duo we work hard to give customers fine-tune control over their security posture while maintaining and improving a user experience that is simple and easy to use.
Customization & The Universal Prompt Project
A major initiative that advances the Duo product on both the security and usability fronts is our Universal Prompt project. The project touches many aspects of Duo, but focuses on drastically improving Duo's web-based authentication interface. The interface, or prompt, is a core component in delivering our secure access solution.
Many of the benefits of this project will be apparent to end users out-of-the-box. For example, the new Duo Universal Prompt will be simpler and more intuitive. However, there are also some significant changes that customers will be able to implement as a choice, specific to their preferences and individual environment.
"A consistent request we've heard from customers is, 'we want more flexibility around customizing the authentication prompt. We take requests like this seriously at Duo." — noted Scott Christopher, Authentication Product Manager at Duo.
There are many reasons to request customization, but we find that our customers want to provide the most seamless security experience to their end users.
One important driver of the customization request is ensuring that end users can clearly identify that they're authenticating at the right spot. Multi-factor authentication is the purposeful addition of a step in the user authentication experience, but that step need not be abrupt or startling.

Customers invest significant time (and money) teaching their end users to spot and avoid phishing attacks, and our forthcoming changes will make sure that the Duo authentication experience can be customized to be as familiar as possible.
To accomplish this goal, Duo is building out functionality that will enable customers to provide both branding and language customization.
Infusing MFA with White Label Branded Elements
On the branding front, customers will be able to select a company logo and background image to display in the Universal Prompt authentication experience.
This way, end users can reference these images (icons and imagery of the brand they know) to help assess safety of their authentication. Customers will also be able to select a specific accent color that aligns with their branding to be used throughout the authentication prompt and mobile app experience.
When system administrators are setting up Duo to protect applications, they will also have the ability to provide familiar and consistent names for these applications. By keeping things consistent end users can easily identify that they are authenticating into the right application.
Customize Help Desk Information to Guide Users Effectively
Sometimes end users get stuck during the authentication experience and need help gaining access to their applications. As another way to customize the prompt, customers can include company-specific help desk information that could include a phone number, website address or email address, so that end users can quickly get the help they need.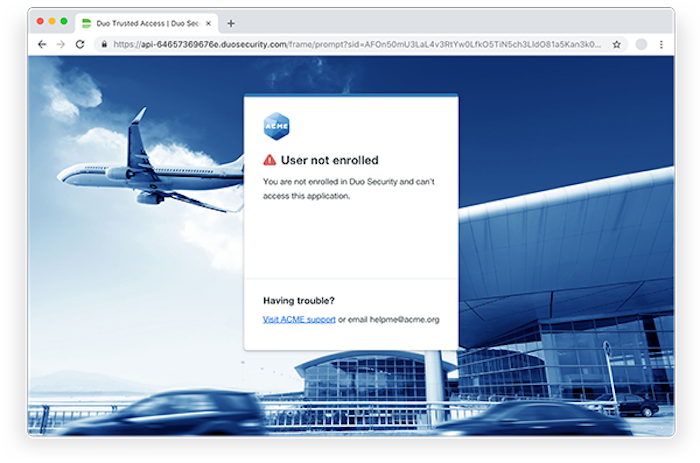 Our customers work hard to brand their end users' work tools and expect the same of Duo.
With Duo's new Universal Prompt customization, end users will be able to assess that they're in the right place and get help if they need it more easily and quickly.
Display Local Languages With the Universal Prompt
Ensuring that users are familiar with the branding is one important customization — but for our customers that work globally, leveraging a local language is also top of mind.
With the Universal Prompt, additional language support will be enabled for end users. While translating words and phrases is one important consideration in providing language support, the task requires a thoughtful approach to a variety of other components as well.
For example, considerations like iconography, colors and location context are all important factors in user interfaces that must be accounted for when supporting additional languages and regional contexts.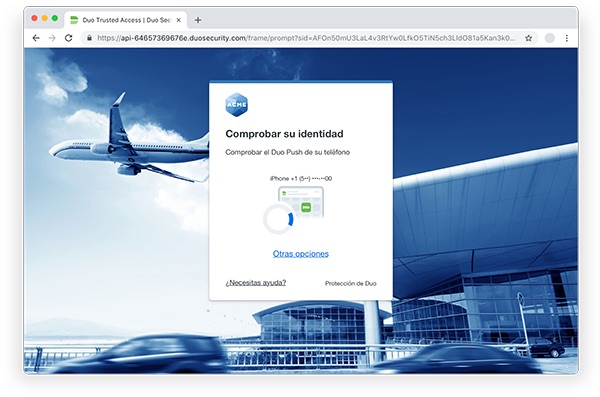 Today, the Duo Prompt is available in English, French and German. With the introduction of the Universal Prompt, Spanish and Japanese will also be supported for end users, with plans to support up to 20 languages. 
Previously, the end users' language was set by a configuration in the Duo' Administration Panel. 
However, with the Universal Prompt, the prompt will reflect the language the end user sets in their browser or their device, provided it is a language supported by Duo. 
Increasing Customization Improves UX and Security
The Universal Prompt Project is broad in scope. It not only increases security, but it also improves the overall end users experience with improved design and accessibility. On top of that, Duo is providing customized branding and additional language support to the new authentication prompt so that end users have a seamless, familiar, and secure experience accessing the applications they need.
What's Next?
We've got a lot more to tell you about the Universal Prompt Project, so look for regular blog updates as we delve into more detail on each component of this project.
As we get closer to making these changes generally available, we will provide guidance on planning your migration to the Universal Prompt, including:
Communications templates for your organization and end-users

Updated documentation and Duo Knowledge Base articles

Tools in the Duo Admin Panel to track your progress
Try Duo For Free
With our free 30-day trial and see how easy it is to get started with Duo and secure your workforce, from anywhere and on any device.