Industry Events
RSA Conference 2020: Explore the Human Element of Security With Duo
Something big is happening in February 2020, and Duo has been hard at work getting ready!
We're not talking about Valentine's Day, or Presidents' Day, or even Groundhog Day (though all of those are great, too). No, we're getting pumped for…
RSA Conference 2020, happening Monday, Feb. 24 through Friday, Feb. 28, along with all the other incredible events occurring in San Francisco that week.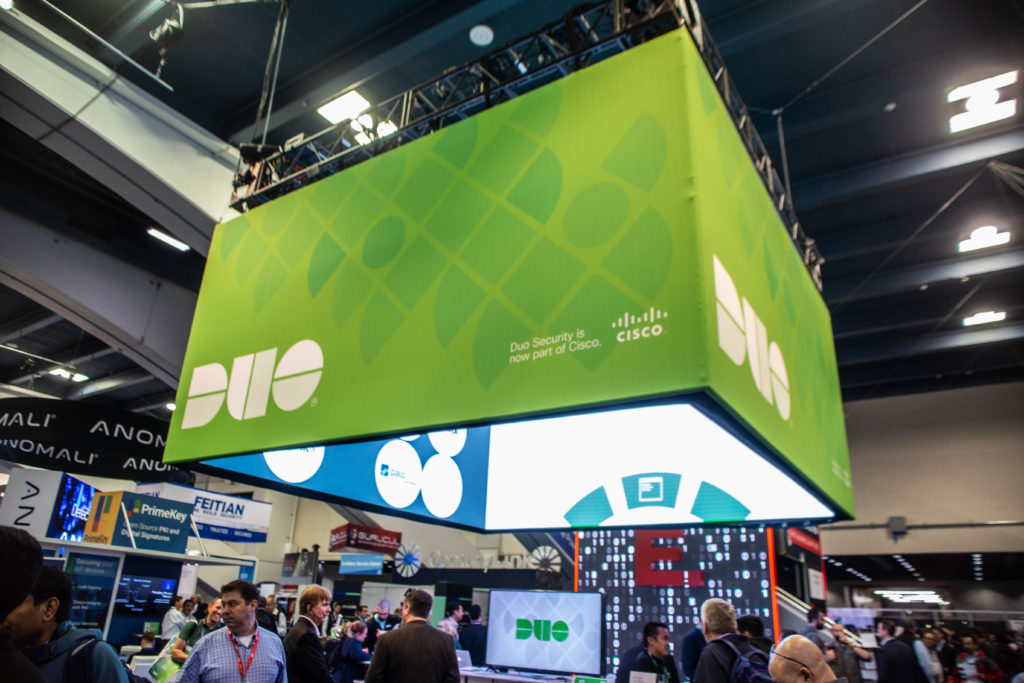 This year's RSA Conference theme is something near and dear to Duo's heart: the Human Element, which focuses on the value of people in the infosec community. Like RSAC, Duo believes that your best security resource is people – not just practitioners and admins, but all the end users in our organizations impacted by our security decisions. 
Passwordless Authentication
You've seen us talk about the journey to passwordless in these posts and through resources like webauthn.io and webauthn.guide. Ask to see a demo of passwordless authentication at the Duo booth. The building blocks for passwordless are now in focus, and we're excited to share our perspective of the steps customers should take to fulfill it. Come ask for our Product Team or Sales Engineers for a demo of passwordless.
Also, if you want to hear more about our vision for true passwordless, stop by the Cisco Booth 6045N at 5:40 PM on Tuesday as Steve Won, Group PM for Authentication, gives a booth talk about the journey to passwordless.
See Wendy Nather's Keynote
Wendy Nather, Duo Head of Advisory CISOs, will speak to the Human Element in a keynote focused on democratizing security. Catch her talk on the West Stage at 8:55 a.m. on Tuesday, Feb. 25, where she'll advocate for radical change; discuss how democratizing security means thinking differently about the people we serve; and explain that users are powerful industry drivers, not "the weakest link."
Other Hot Happenings
Other things we're particularly excited about during RSAC week include:
Keynote speaker, Mary T. Barra, Chair and Chief Executive Officer, General Motors Company – with Duo's roots in Michigan, we're always excited to see a Michigan native on the San Francisco stage, so we're looking forward to her West Stage keynote!

The RSAC Women's Networking Reception on Tuesday evening (Feb. 25), which celebrates the contributions of women in science and technology

Brian Roddy, VP of Engineering at Cisco Umbrella's talk "Brokering Peace Between Security and Networking: How to Secure SD-WAN" on Tuesday, Feb. 25

Cisco's Michele Guel, Distinguished Engineer and Security and Privacy Strategist, and Deepika Gupta, Security Architect/Technical Leader, Information Security, are leading the lab session "Privacy Engineering Demystified – You Too Can Be a Privacy Engineer" on Thursday, Feb. 27 at 2:00 p.m.

Jonathan Fox, Director of Privacy Engineering at Cisco, will host a Threat Modeling Privacy session at 9:20 a.m. Wednesday, Feb. 26 in Moscone West
The Expo
Between sessions, don't forget to head over to South Expo to find Duo at booth #1835 to chat with friendly Duo team members eager to talk about the security topics we all hold near and dear, including:
Product leaders who directly establish our roadmap 

Engineers, researchers, and designers who shape and develop our products 

Implementation and support folks familiar with varied use cases 

Cybersecurity experts who are driving the future of security practices 

Sales and marketing pros who can brainstorm solutions that fit your needs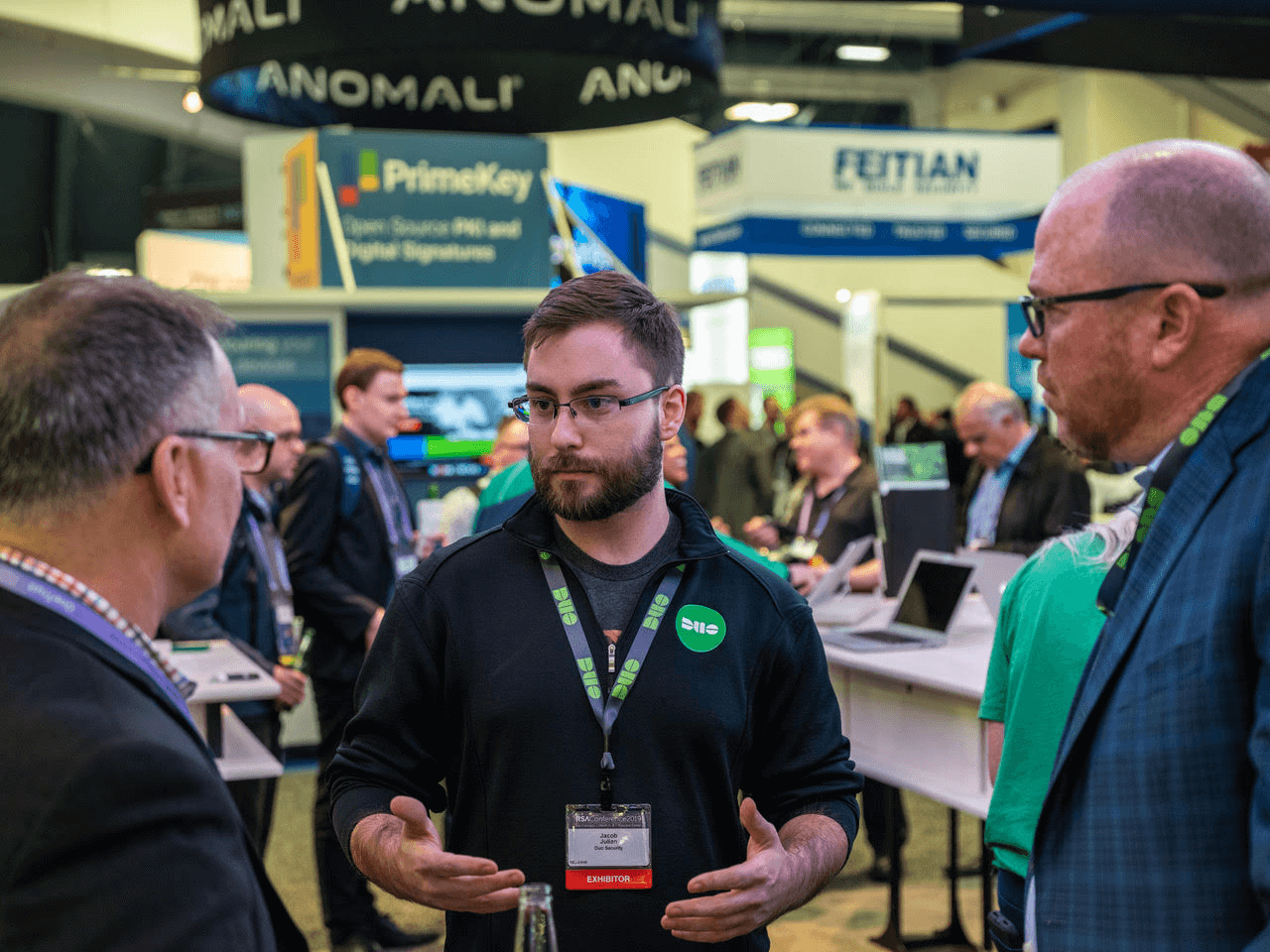 With our diversity of expertise and knowledge, we'll walk you through an interactive demo of our security solutions, or show off our easy-to-use admin panel (the friendliest admin panel in security!), which provides admins from newbies to experts with an intuitive configuration of applications, users, MFA devices, and more. We're also happy to discuss how Duo's zero trust for the workforce solution factors into the greater Cisco Zero Trust framework. 
But Wait, There's More...
Additionally, we'll have some fun new things to show you, like our new Device Health application, which checks the security hygiene of laptops and desktops. You can also get a free mobile security checkup, or pick up one of our great giveaways, like a t-shirt or a signed copy of Andy Greenberg's new book, Sandworm.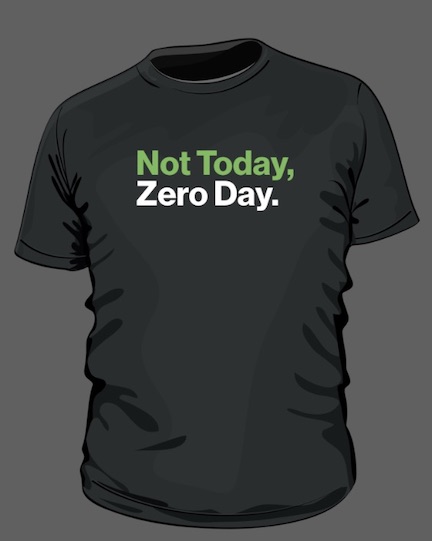 Cisco Awesomeness Abound
While you're in our neighborhood, make sure to swing by the Cisco Umbrella booth #1027 to say hello and learn more about flexible, integrated security for how your business accesses the internet.
The fun doesn't stop in South Expo, though! Between South and North Expos, you'll find the Cisco Threat Wall, where you can play the DevNet game. In this role-playing adventure, you'll find out how unsecured Internet of Things (IoT) networks can be exploited by hacking into one yourself! 
After you've finished your takeover, join a group for a free tour through the RSA Conference Security Operations Center (SOC), where you'll get a view of real-time traffic on the Moscone Center wireless network. If you're interested in a tour, please reach out to your sales representative for more information. 
Finally, stop by Cisco's booth #6045 in North Expo, where you can watch brief presentations throughout the week on various security topics, such as our practical approach to zero trust with Duo for the workforce, Tetration for workloads, and SD-Access for the workplace. There will also be several product demos, including some from our friends at Meraki, on the Meraki Systems Manager, Cisco's MDM solution. 
The Cisco booth is also the place to pick up your Cisco Party wristband – but you'll want to be sure to register first (registration link coming soon). This Customer Appreciation Event is on Wednesday, Feb. 26 at August Hall. Join Cisco and Duo for a night of music, food, drinks, and plenty of dancing! If you're interested in attending, please reach out to your Duo sales rep, or request a formal invite from adr@duo.com!
BSidesSF
Of course, if you're in town the weekend before RSAC, you won't want to miss the 10-year anniversary of BSidesSF, held Saturday, Feb. 22 through Monday, Feb. 24. There will be plenty of great talks here, including some interesting presentations on how security teams are handling DevOps and containers, as well as another one of our favorite topics: zero trust. 
CSA Summit at RSA
Cloud Security Alliance is bringing back the CSA Summit for its 11th year on Monday, Feb. 24 to share best practices in cloud privacy and security. This full-day event will be followed by the CSA Member Appreciation Night at Galvanize, sponsored by Duo and Umbrella. Stop by to network, grab a drink, and catch up with your fellow infosec peers. (Register here!)  
Yes, there really are so many things to get excited about in February. And how fitting that the last day of RSAC is Feb. 28, which is National Sleeping Day – after all the networking, learning, and celebrating, a much needed rest.
Until then, we're ramping up our efforts and energy to make this year's RSAC a blast. We look forward to seeing you there!