Press Release
February 8th, 2017
Duo Security Delivers 135% Annual Recurring Revenue Growth and Brings Aboard Top Security Leaders from Facebook, Etsy, 451 Research, Workday and More
Duo's 135% ARR Growth Places It Among the Fastest-Growing Software-As-A-Service (SaaS) Providers in the World
ANN ARBOR, MI. -- February 8, 2017 -- Duo Security, the leading cloud-based Trusted Access provider and one of the fastest growing information security companies in the world, today announces financials publicly for the first time - reporting $73 million in annual recurring revenue (ARR) for 2016, a 135 percent increase from the $31 million achieved in 2015. This is the fourth straight year the company has more than doubled its ARR and the first year the company is cash-flow positive.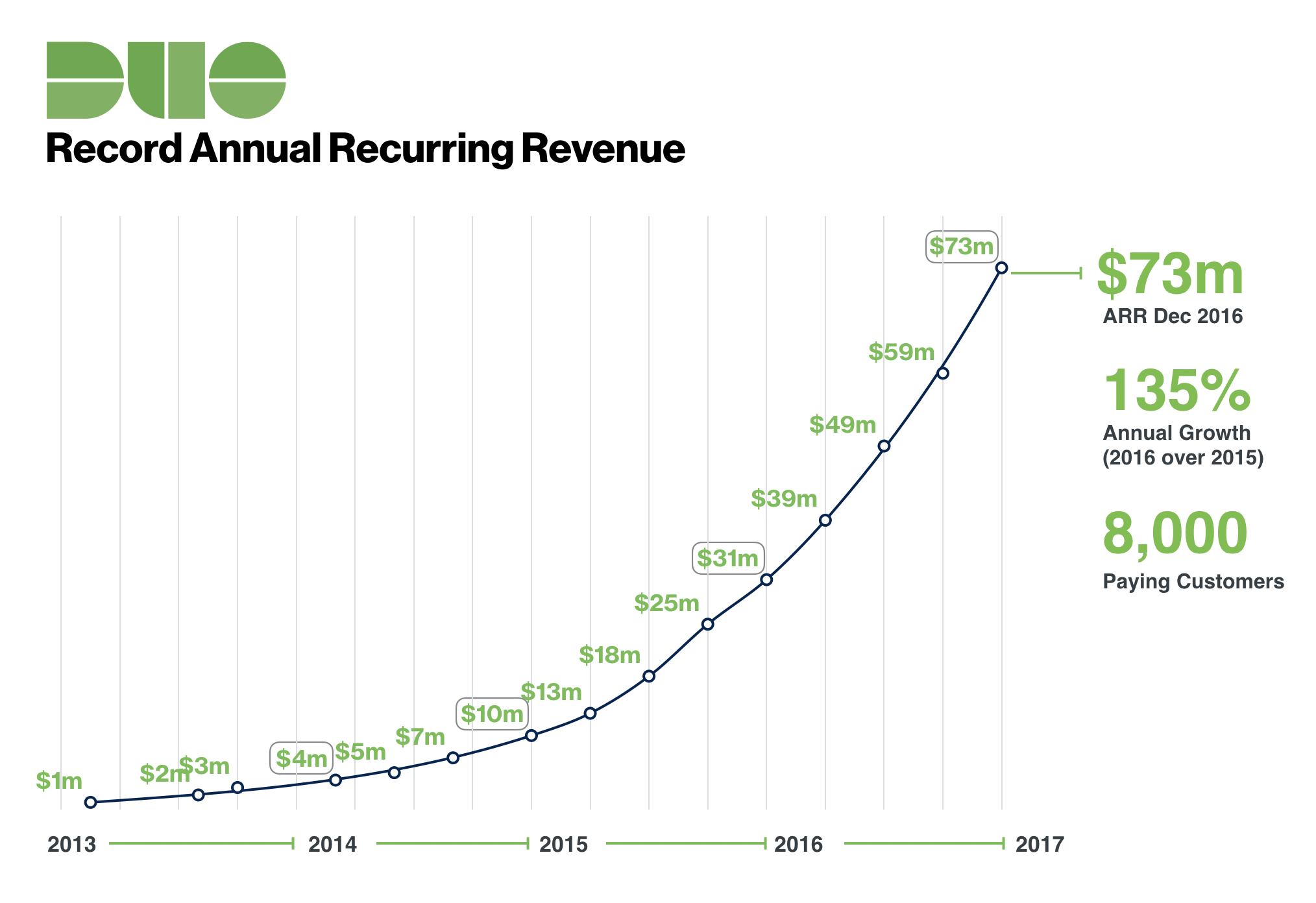 Quadrupling its user base to more than five million in 2016, Duo protects more than 8,000 paying customers and manages more than six million authentication events per day.
In conjunction with the company's first-ever release of revenue figures, today, Duo unveiled Duo Beyond, the first major commercial implementation of Google's BeyondCorp framework that drastically improves and simplifies the security management of how employees and devices access critical corporate applications. Information on a user's physical location or network alone is no longer adequate in enforcing access security. With Duo Beyond, enterprise customers can allow for remote access to their on-premise resources without using a virtual private network (VPN) or network access control (NAC) application.
The Highlights of the 'Most Loved Company in Security':
Among Fastest Growing and Most Financially Efficient SaaS Companies Globally
2016 ARR: $73 million, marking a 135 percent increase from 2015, resulting in greater than 100 percent growth for the fourth year in a row.
Cash Flow Positive: After only six years in business, Duo was cash flow positive in 2016, a rarity at this stage in a company's life cycle.
Highly Efficient Financials: Duo has spent less than one fourth of the $49 million total capital raised - because they don't need to. This is in stark contrast to many others in the market.
Quadrupling User Base Across More Than 100 Countries
2016 Users Rapidly Increase: Duo protects 8,000 paying customers, more than five million users and manages more than six million authentication events every day, marking quadruple growth of users since 2015.
Protecting the World's Largest Organizations: Duo now protects organizations such as Altegra Health, American Public Media, Betsson, Bolton NHS Foundation Trust, Citizen's Union Bank, Clarient, Day & Zimmerman, Duke University, Etsy, Facebook, Premira, Proquest, Threadless, True Religion, University of Michigan, University of York, Virginia Tech, Yelp and more.
Highest Customer Net Promoter Score (NPS) in Industry: More customers are signing on than ever in large part because more customers would recommend Duo than nearly any other tech company in the world. Recent surveys show that 98 percent of customers would recommend Duo's security solutions, resulting in a 68 NPS, far and above the industry standard.
Rapidly Growing Teams + Recruiting Top Security Leaders
In addition to significant growth in its customer base, Duo added an office in Austin, Texas, complementing its Ann Arbor, Michigan; San Mateo, California; and London, England locations. It doubled its staff in 2016 from roughly 200 to nearly 400 and plans to hire more than 150 in 2017. Additionally, Duo is attracting security industry luminaries from across the tech spectrum such as:
Brian Lindauer, former Senior Research Scientist at the CERT Division of Carnegie Mellon University's Software Engineering Institute
Wendy Nather, former Research Director at Retail Cyber Intelligence Sharing Center and Research Director at 451 Research
Ian Sharpe, former Senior Manager of Security Engineering at Workday
Rich Smith, former Director of Security at Etsy
Josh Yavor, former Head of Corporate Information Security at Facebook
Redefining the Security Industry
While bringing on new customers with unique needs and resources, Duo has kept innovation top-of-mind and has continued to disrupt the traditional security industry with a slew of fresh offerings.
In 2016, Duo:
Introduced Duo's secure single sign-on, the only SSO solution that checks security hygiene of devices at every login, without agents.
Introduced Duo Insight, a free phishing simulation tool allowing organizations to phish their own companies in under five minutes to determine its risk from phishing attacks.
Was the first vendor to integrate with Google's Chrome Verified Access API for ChromeOS Devices.
Secured access to the Microsoft cloud for email, remote desktop and directory services.
Helped protect healthcare organizations from ransomware attacks in a single step while also being confirmed by the Drummond Group to help institutional practitioners meet EPCS two-factor authentication compliance requirements.
Discovered critical security vulnerabilities in Acer, Asus, Dell, HP and Lenovo laptops and disclosed those to the vendors for remediation.
Dug Song, Duo's CEO and Co-Founder commented, "This last year at Duo was one of exceptionally strong growth - both in revenue and offerings for our customers. With our focus on innovating - as seen by today's launch of Duo Beyond, the first commercial implementation of Google's BeyondCorp architecture - we are confident that Duo will continue to deliver exceptional offerings for our customers and deliver strong results."
"With a 98% satisfaction rate and an NPS score of 68, we're passionate about continuing to be the most loved company in security," said Song. "Through continuous innovation, Duo works every day to help make security easy and effective."
Read Duo Security Takes On Traditional VPN and NAC Industries With First Major Implementation of Google's BeyondCorp Framework: Duo Beyond to learn more about Duo's latest product release.
About Duo Security
Duo Security is a cloud-based Trusted Access provider protecting the world's fastest-growing companies and thousands of organizations worldwide, including Dresser-Rand Group, Etsy, Facebook, K-Swiss, Paramount Pictures, Random House, SuddenLink, Toyota, Twitter, Yelp, Zillow, and more. Duo Security's innovative and easy-to-use technology can be quickly deployed to protect users, data, and applications from breaches, credential theft and account takeover. Duo Security is backed by Benchmark, Google Ventures, Radar Partners, Redpoint Ventures and True Ventures. Try it for free at www.duo.com.
Media Contact
Meredith Corley & Jordan Fylonenko
Duo Security
Press@duo.com