Press Release
February 15th, 2017
Duo Security Honors Extraordinary Achievements in InfoSec at Third Annual "Women in Security" Awards
Federal Trade Commission Attorney, Whitney Merrill, and Eastern Michigan University Student, Katelyn Coberley, receive Industry and Academic Awards for Security Leadership
SAN FRANCISCO - February 15, 2017 - Duo Security, the leading cloud-based Trusted Access provider and one of the fastest growing information security companies in the world, today announced Federal Trade Commission attorney, Whitney Merrill, and Eastern Michigan University student, Katelyn Coberly, are winners of its 2017 Women in Security Awards. Now in its third year, Duo's Women in Security Awards recognize the contributions women make to transform the information security industry.
Duo Principal Security Strategist Wendy Nather presented Merrill and Coberley with the Industry and Academic Awards, respectively, at a special ceremony held last night in front of a capacity crowd of 500 infosecurity industry luminaries, leaders and reporters during the 2017 RSA Conference. Both women received registration and travel accommodations to the conference and a $2,500 stipend.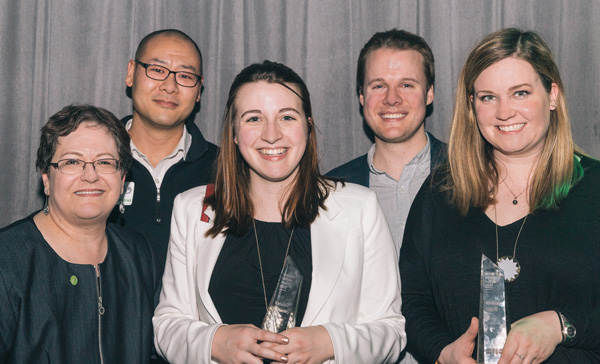 "We hope to inspire the next generation of leaders in security by raising the visibility of women whose work has lifted our community," said Dug Song, Duo Cofounder and Chief Executive Officer. "Whitney's achievements at the intersection of security, privacy, and law benefit us all, helping to set the bar for how our industry should protect the rights of users, and educating the community to such issues via her Crypto & Privacy Village at DEFCON."
"Katelyn has been a tireless champion and organizer of a security community in Michigan that is inclusive and welcoming," continued Song. "We celebrate them not only for the impact they've had in their respective areas, but for their dedication to the success of those around them."
Women in Security Awards winners are chosen by a panel of information security leaders including Song, Nather, Jon Oberheide, Duo Cofounder and Chief Technology Officer; Parisa Tabriz, Google Princess of Security; Scotland Symons, Microsoft Senior Security Architect and Rachel Sitarz, Cyber Inform CEO. Selection criteria is based on:
Significant contributions to the fields of information security and privacy
Exceptional knowledge, leadership and professionalism in technical, academic or commercial industries
Community involvement
Providing mentorship, and encouraging the empowerment and success of women in the security industry and related causes
The Winners
Industry Award: Whitney Merrill, Federal Trade Commission attorney, called in her nomination, "a force to be reckoned with," leads the charge at the intersection of information security and law and is widely regarded as a leader in the protection of individual rights and privacy. Starting her career as a summer intern at the Electronic Frontier Foundation (EFF), she went on to co-found the Crypto & Privacy Village, a staple at numerous security conferences. At the FTC, Merrill works on a number of consumer protection issues involving false advertising, deception, privacy and data security. Merrill's extensive research on data mining with Android APIs was published in the Network & Distributed System Security (NDSS) symposium, among other notable academic projects. She received her Masters in Computer Science from the University of Illinois at Urbana-Champaign and her law degree from the University of Illinois College of Law. During her time at UIUC, Whitney was an Illinois Cyber Security Scholar and a member of the Illinois Security Lab.
Academic Award: Katelyn Coberley, EMU student, was described in her nomination as, "the lifeblood of the Information Assurance program at Eastern Michigan University." Coberley was a digital leader and on-campus advocate for technology education, and one of the cofounders of the Women in Information Assurance program at EMU, which promotes cybersecurity awareness, education, training and professional development. She also led initiatives such as Digital Divas, a conference that attracts more than 500 female students annually to explore different fields in technology, and was an active member of EMU's Cyber Collegiate Defense Competition team. Coperley graduated magna cum laude with honors from EMU in December 2016 and is widely considered a rising star by her peers.
Past honorees include Parisa Tabriz, Chrome Security Manager at Google; Rachel Sitarz, Graduate Assistant at Purdue University; Scotland Symons, Senior Security Architect at Microsoft and Jennifer Granick, Director of Civil Liberties at Stanford's Center for Internet and Society.
Nominations for the 2018 Duo Security Women in Security Awards will open in September 2017.
For more information, please visit www.women-in-security.com.
About Duo Security
Duo Security is a cloud-based Trusted Access provider protecting thousands of the world's largest and fastest-growing companies and organizations, including Dresser-Rand Group, Etsy, Facebook, K-Swiss, Paramount Pictures, Random House, SuddenLink, Toyota, Twitter, Yelp, Zillow and more. Duo Security's innovative and easy-to-use technology can be quickly deployed to protect users, data and applications from breaches, credential theft and account takeover. The Ann Arbor, Michigan-based company also has offices in San Mateo, California; Austin, Texas and London. Duo Security is backed by Benchmark, Google Ventures, Radar Partners, Redpoint Ventures and True Ventures. Try it for free at www.duo.com.
Media Contact
Meredith Corley & Jordan Fylonenko
Duo Security
Press@duo.com