Industry News
The CARES Grant: Don't Leave Money on the Table
Security leaders are always on the lookout for funding sources to support their security programs. Often, security budgets are constrained to an unacceptable degree — and getting creative with where to look for funds is part of the leader's job description.
When COVID arrived, and the workplace went offsite, some security leaders saw their funding increase as they had to enable a secure remote workforce. They accelerated existing programs and introduced new ones, trying to ensure that new locations didn't mean less security.  

For many in the public sector and education budgets were cut. There was no additional funding, and many existing programs were put on hold. When this happens, what is a security leader to do?

Security Funding Through the CARES Act 
One option is to apply for grants through the CARES Act. The CARES Act allows for spending to support remote work and enhancements to technologies for the COVID response.   
If that doesn't say "security" then I don't know what does. So what kinds of security programs might benefit from a CARES grant?  

Qualifying Security Programs
Technology Refresh: According to the Cisco Secure Outcomes Report, keeping your technology as current as possible is an effective way to ensure a strong security posture.  This could be devices, networks or remote access technologies.  While you're there, enabling all the functionality of Duo's Device Trust will make sure your endpoints remain securely configured.

Know Your Users and Their Devices: Implementing or accelerating your MFA program, extending it to all enterprise applications and users, is a sure way to reduce the likelihood of data theft, ransomware, and other immediate threats. On the backend, you can use the data to assist your incident response capabilities. Two benefits for the price of one.

Improve Your Compliance: Regulations are always changing, and always expecting more from the security program. Having the ability to continuously monitor your controls is already here for some of us, and just around the corner for the rest. Investing in solutions that allow real-time control management is a terrific way to improve your security, and your compliance.
CARES Act Funding is Still Available
The Center for Digital Government (CDG) notes that there is a large amount of CARES Act funding still available. Under the broad spending guidance of broadband access, equipment purchases, remote work and learning infrastructure, there are lots of opportunities for institutions to leverage these funds to further their security programs. 
Center for Digital Government Brief
The CDG (Center for Digital Government) has created a brief with examples of how federal, state, local and educational institutions are using their CARES funding to enhance security. Check it out for ideas for your own organization.  
Webinar
For more information, join our webinar "Security at Every Age: Designing Remote Access for K-12 Networks" on March 24 at 5:30pm EST. In this webinar you will learn:
How a zero-trust access strategy can easy the shift to hybrid or remote work

What you need to know about CARES Act Funding, and how to find more information for your state's program

Why it's important to build a security-conscious culture through security that end-users understand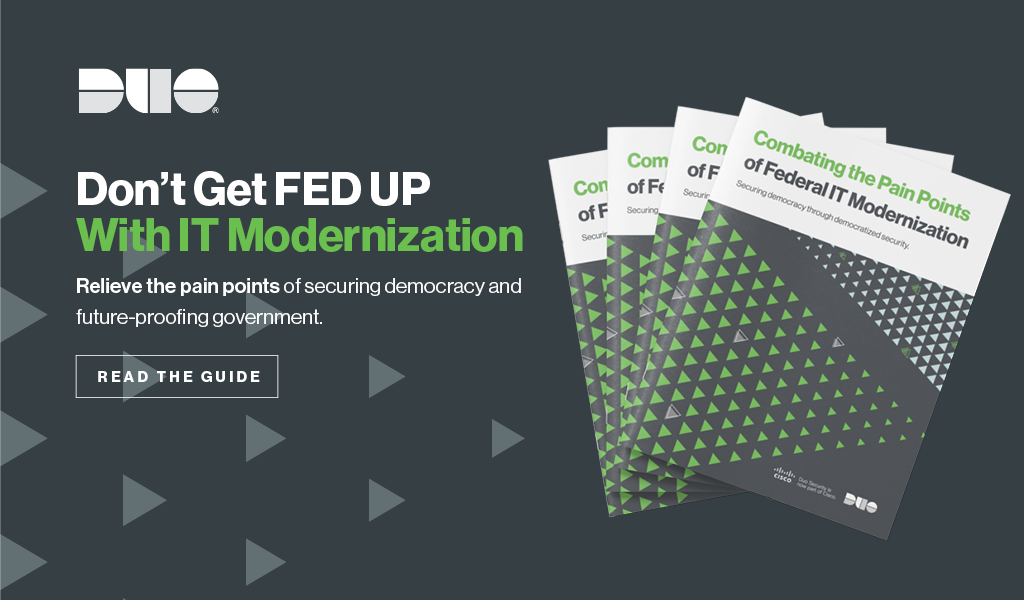 Try Duo For Free
With our free 30-day trial and see how easy it is to get started with Duo and secure your workforce, from anywhere and on any device.