Add robust two-factor authentication to your VPN, email, web portal, cloud services, etc. with Duo. After successful primary authentication, your users simply approve a secondary authentication request pushed to our Duo Mobile smartphone app. Users may also authenticate by answering a phone call or by entering a one-time passcode generated by the Duo Mobile app, a compatible hardware token, or received via SMS.
Getting Started
To give Duo a try, just follow these steps:
Follow the steps on screen to configure two-factor authentication for your Duo administrator account.

Add a backup phone number to your Duo administrator account.

Use your new administrator account to log into the Duo Admin Panel.

Decide which service, system, or appliance you want to protect with Duo. The Applications page lists all resources that are linked and protected by your Duo service.

Then, use our documentation to configure the Duo application on your service, system, or appliance.

Enroll your users in Duo. We provide several methods for enrollment, such as importing from an Active Directory domain. Some applications also support self-enrollment by users when they access the protected service.

Your Duo administrator login can't also be used to log into the service or device now protected by a Duo application, so don't forget to enroll a user account for yourself!

Start authenticating!
Next Steps
Now that you've experienced the ease of adding Duo protection to one application, your next step is planning a full Duo deployment.
We've prepared a Liftoff guide that walks you through the stages of a typical organization Duo rollout.

Our Liftoff guide includes timelines and milestones, configuration best practices, tips for employee communications and training your support staff, and more!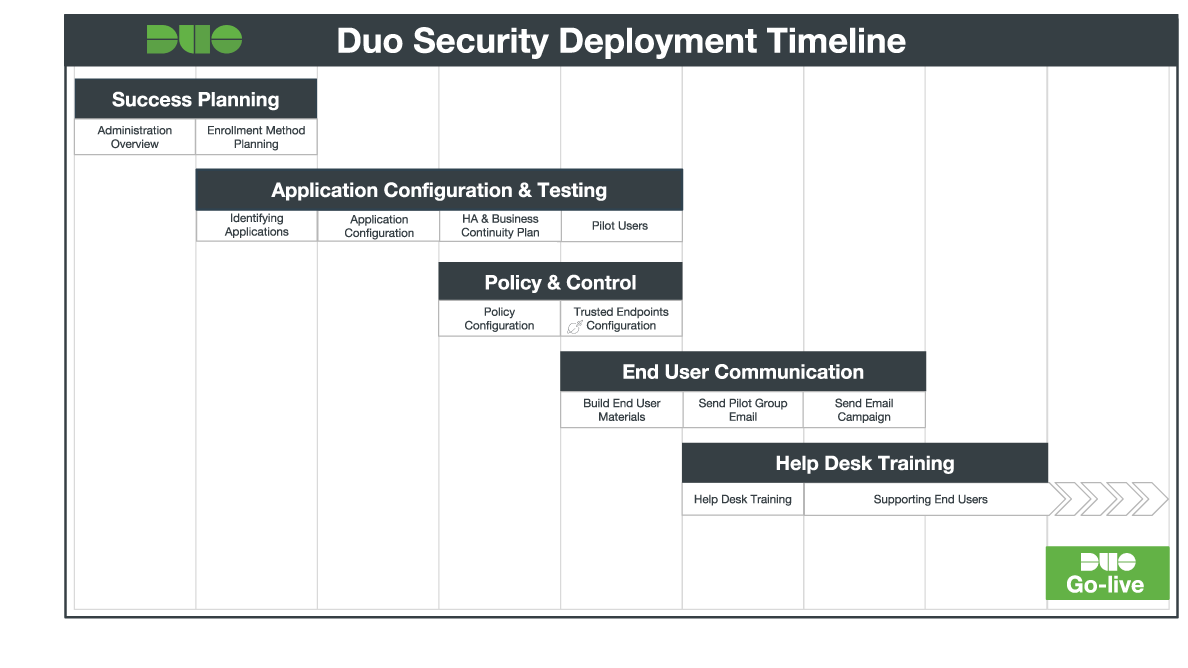 Questions? Check our administration documentation, knowledge base, or contact Support for help.
Ready to Get Started?
Sign Up Free